Choosing a photo organizing software should be based on some features like having different organizing methods and its good ability to search by file name or keyword tags, color or number ratings. You should also look for a program that comes with an online backup manager. That way your photos will be protected in case something happens to your computer. Of course, you want to keep a clean photo collection, so find a program that allows you to find and delete duplicate photos.
Choose organizing software that is compatible with the same image files that you most frequently work with such as JPEG, TIFF, GIF, PNG, RAW and PSD this allows you to make more controlled and advanced edits to your images.
Choose software that has batch processing features because when uploading large numbers of photos, this tool enables you to enhance all of your images at once. If you plan on using your organizing software to make advanced edits, make sure it works in layers, saving versions as you go, as this allows you to make changes while protecting the original image.
Best Photo Organizing Software
The following is a list of organizing software, the first two are free.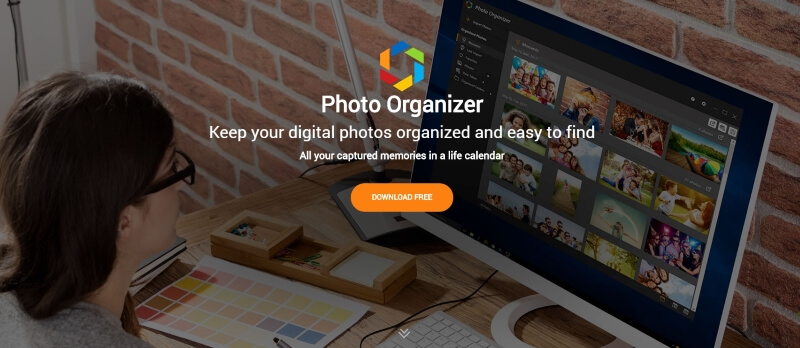 Photo Organizer scans your computer for image files that are scattered all over your system and organizes them at a specified location or folder, based on its metadata. You can create subfolders to segment images based on month,  shooting date, camera model, etc. What's more, you can even delete duplicates photos with ease.
Photo Organizer allows you to change the names of multiple photos at once while they are being organized, based on the date of shooting, camera model, etc. and arranges them in different subfolders. It also ensures that is no redundancy in your photo gallery. While your photos are being organized, duplicate images are automatically removed.
If you're not satisfied with the changes made by Photo Organizer and want to undo them, simply use the 'Revert' option and send all images back to their original locations. This would also remove any changes to filenames and other related metadata to their original state as well as restore duplicates.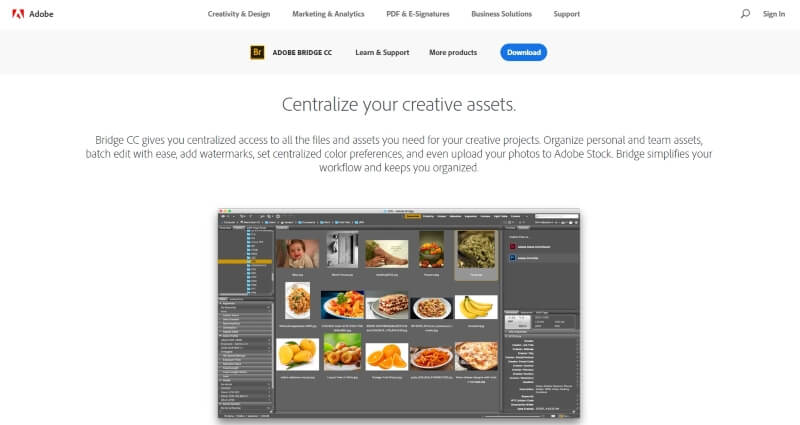 It is a free organizer, you have to create and sign-in to your Adobe ID account (free), then you are able to download the latest version that never expires, and it doesn't require any of the paid subscriptions to Creative Cloud (CC).
Bridge CC gives you centralized access to all the files and assets you need for your creative projects. Organize personal and team assets, batch edit with ease, add watermarks, set centralized color preferences, and even upload your photos to Adobe Stock.
The bridge doesn't use a centralized database to keep track of each photo you want to manage. So, there is no import process at all to gain access to your photos and videos. Instead, you will be working with them where they are currently being stored on your storage drive(s). The bridge allows you to rate your photos with stars, add keywords, assign text/color labels, create stacks, and generate slideshows.
Between the built-in Metadata Panel or the floating "File Info" Window, you will have complete control over all of the metadata fields. (Such as Camera EXIF, IPTC, Video and Audio Data, GPS, etc.)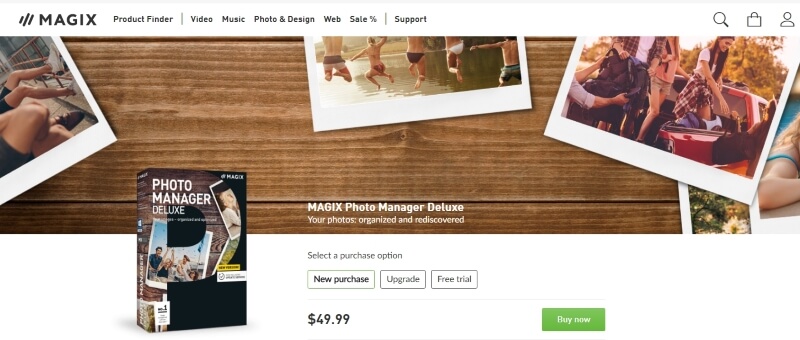 Magix can fetch all the photos on your computer within a few seconds and bring them to one place. The key features of this application are.
Advanced import options, it lets you directly import photos from your camera, and can Import your images from various cloud services. Upload photos and videos via Wi-Fi directly to Photo Manager from your smartphone. It has some basic editing tools, such as cropping, resizing optimization and red-eye removal. It allows you to create a photo album anywhere on your computer and allow you to easily move photos there. This tool also allows you to organize photos on your computer by removing duplicates.
Intelligent filter feature for quick access
Describe your images with names, locations, and memories
Intelligent filter feature for quick access & automatic sorting
Facial recognition for an unlimited number of people
Image optimization: Quick and easy optimization of exposure, focus, and color
Presentation: Create slideshows and enhance them with travel route animations
Automatic backups & password protection archive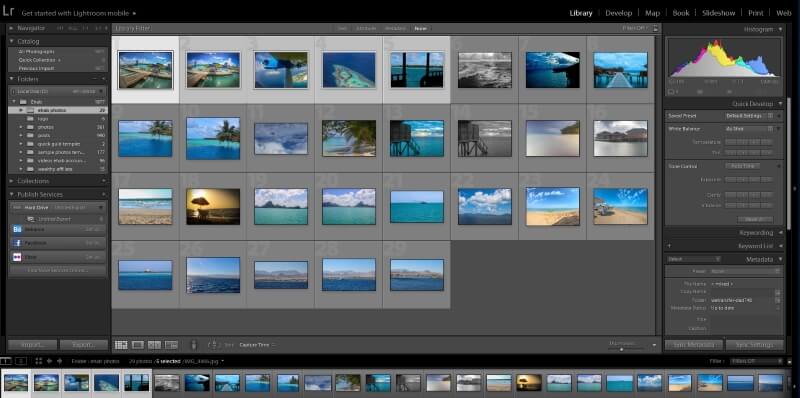 Lightroom is the best organizer in the market because it is a database-driven, which means that it catalogs all of your images in an intelligent way, using keywords and metadata to sort and store information about each photo. This makes it easy for you to search for and find your images without having to manually page through all of the directories your hard drive.
Lightroom also reads the metadata for each one of your images, which includes your camera's make and model, the date and time the image was taken, and the settings you used when capturing the image (aperture, shutter speed, ISO, etc.) All that information is stored in a "catalog," which is Lightroom's word for its database.
When you import your images into Lightroom you can choose to add information such as keywords (the name of the person photographed, for example, or the name of an event), flags and your own personal star rating for the image. You can also add location information if you enable GPS on your camera.
After importing your photos to Lightroom, you can search your library by using your file name or keywords you added when you imported, or you can search by the number of stars you gave the image or the make and model of the camera you used. You can also combine search criteria to exclude or include certain results. Search criteria are pretty advanced, so as long as you made good use of keywords and file names it should be very easy to find what you're looking for.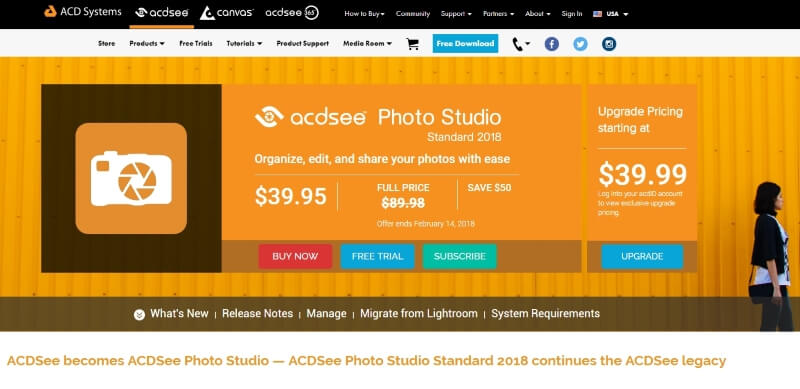 It comes in three versions; the basic one is the "Standard" which contains the assets manager and some basic photo editing tools. The second one is the "Professional" with more editing tools. The third one is the "Ultimate" that includes more editing tools.
For the scope of this post, which is the organization part, I'll discuss the standard one.
Photo Studio Standard 2018 continues to offer trusted, efficiency-driven digital asset management tools paired with photo editing essentials for the practical amateur.
ACDSee allows you to organize your photos in a variety of ways, such as using keyword tags or color labels. You can also give your photos number ratings so you can easily sift through your best images. The organizational interface is intuitive and easy to navigate. The program allows you to regulate your photo collection by viewing and editing metadata, and it can search for and delete duplicate images. It can handle 86 different file formats, like RAW, JPG, TIFF and PSD it can also import images from different camera types, scanners, and flash drives. Acdsee Photo Studio has 54 filters, making it easy to give your photos an artistic feel. You can also perform basic edits, including red-eye removal, cropping, resizing and color adjustments. This program does a really good job of keeping your photo's image quality high after making an edit. The batch processing feature saves time by making the same edits to multiple images at once. You can create slideshows using your favorite photos and share your photo and video projects to Facebook and Flickr. There are a few basic printing templates to help you create the projects you want. ACDSee Systems offer an online photo gallery, but you have to pay to use it.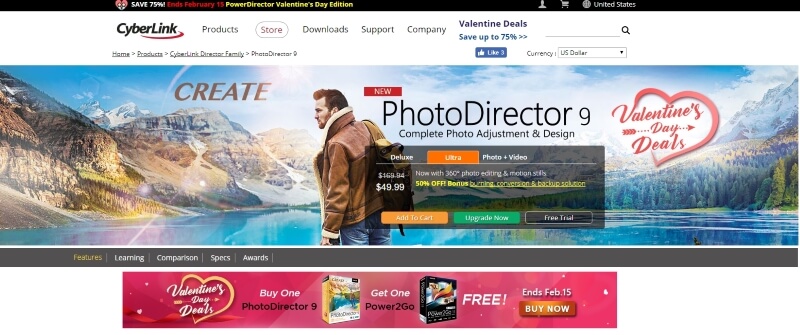 You can organize your photos by keywords, color labels, star ratings, and categories; however, you cannot organize them by calendar date. The metadata is fully viewable and editable so you can remember what setting your camera used to capture your favorite photos. You can choose how frequently the backup manager reminds you to save your photos, which offers up some peace of mind. This program has a wide range of basic and advanced editing tools and allows you to work in layers.
One of the nicest features allows you to import video files and turn selected stills into photos. This feature combined with the face swap tool can also help you get the perfect photo by exchange a blinking or frowning video still for an open-eyed or smiling expression.
There are 42 effects filters and other auto-editing capabilities to help you quickly enhance your photos. You can pull images directly from flash drives, cameras, and scanners without leaving the interface. It supports RAW, JPG, TIFF and PNG files. But it does not support PDF, PSD or GIF files. You can upload your photo directly to Facebook or Flickr.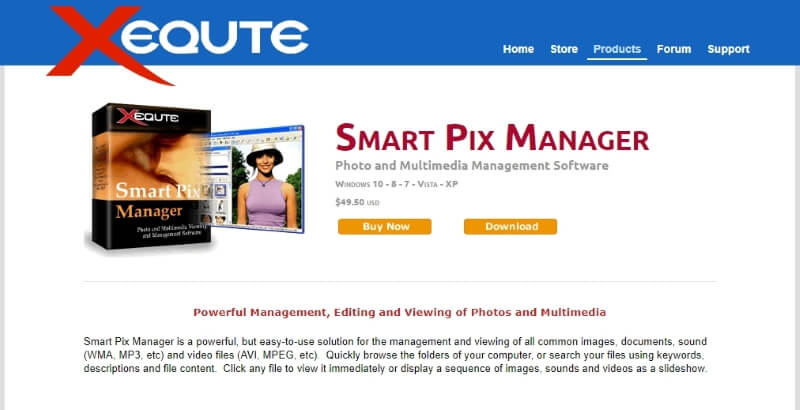 Smart Pix manager offers all the organizational features you could want at a lower price. If you need help using the program, the wizard can walk you through various functions. This software allows you to directly import images from flash drives, cameras, and scanners. The program isn't compatible with as many file types as some other photo organizing software, but it does support 22 different file types. Compatible image files include RAW, JPEG, PSD, PNG and TIFF. A few basic editing tools are available with this program. This includes the ability to resize, crop and rotates photos as well as the ability to remove red-eye, sharpen and make color enhancements. Its batch-processing capabilities can save time by making the same edits to multiple photos at once. When you are done perfecting your images, this program can help you create slideshows with your images.
It won't let you post directly to any social media sites, but you can email them to family and friends. Smart Pix Manager has one of the widest selections of printable templates, including larger-than-life 10-footprints.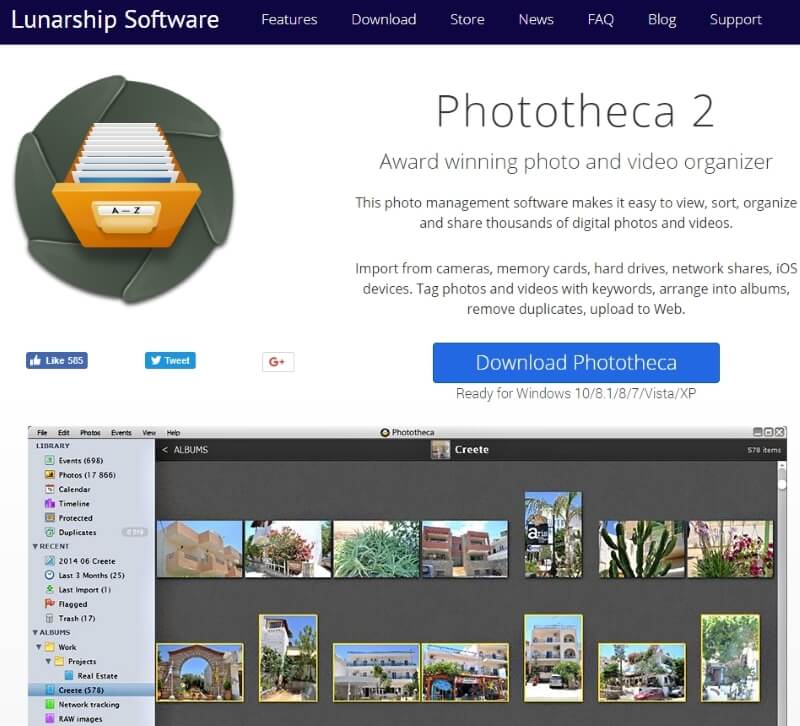 The software can import photo files from cameras, memory cards, hard drives, network shares, iOS devices. You can build your own photo library, refined and transparent, structured the way you like. Some of the features of this application are really appreciable such as you can adjust the size of thumbnails and you can edit photos in full screen. Some of the key features are:
Tag your photos with keywords, friends, and places where your photos were taken
Filter by camera model or date
Correct wrong timestamps on photos if the camera had the wrong date setup
It detects duplicates for you
You can check where the original photos are and where the copies are.
An auto-update of recently added files.
Supports multiple video and image formats.
Related Posts
What is The Best Way to Store Digital Photos
Recommended Software
Adobe Lightroom & Pricing plan
Thanks for reading, I hope you enjoyed the article if you have any questions just post them below & I will be happy to answer you.
If you enjoy the site, don't forget to subscribe, we will only inform you when a new article is posted.