The simplest and most straightforward lighting method for Macro Photography is to use natural light exclusively, without using any artificial lighting or flashes. On the plus side, natural lighting tends to look nicer than artificial light. And if it is used at the right times of day, it can be simply beautiful. However, with the small apertures, fast shutter speeds required for sharp macro photos, natural light sometimes just isn't bright enough. Also, when working with natural light, you need to position yourself to take advantage of the best available angle.
Natural light is great for macro photography when there is enough of it at the right time because most bugs simply move too much and continuously change shooting angles, and many prime macro subjects such as reptiles and invertebrates are more active at night; when there is not much ambient light available. So, for most high-magnification macro photographers, it just isn't an easy option. Most professional photographers will consider using the artificial lighting methods instead.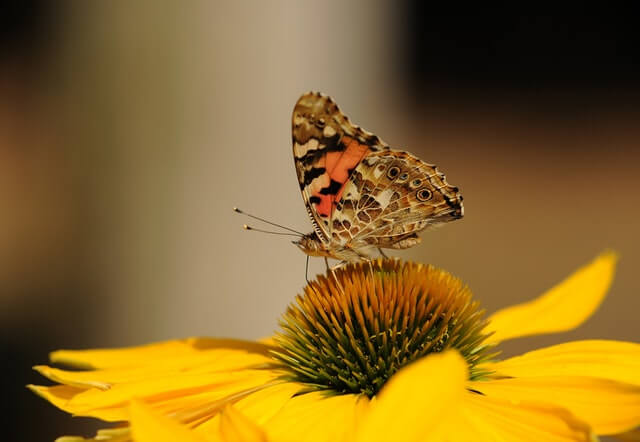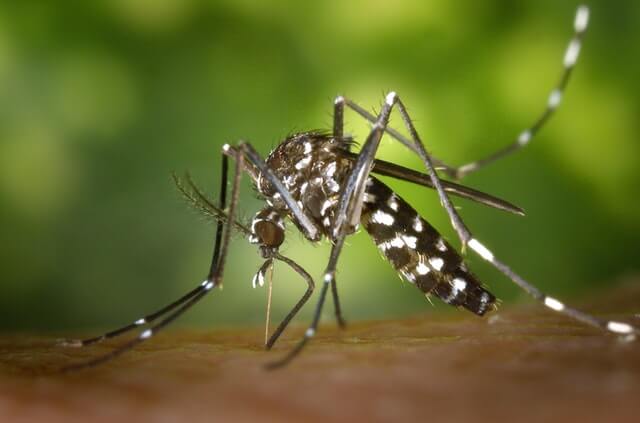 There are three types of artificial lighting systems for the macro photographer, Speedlite Flash, Ring light and Dual flashlight.
Ring light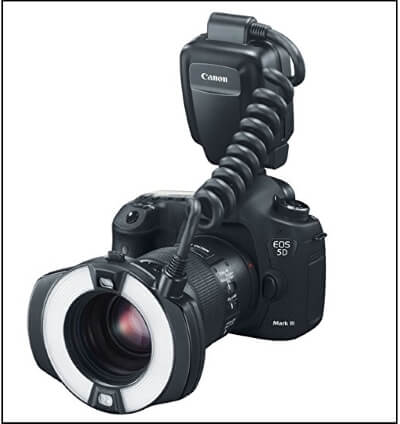 Ring lights are one of the most common lighting solutions for macro photography because they are the best combination of price/performance available. They have two sets of lighting sources (the light ring is divided into two independent halves), so you can adjust the power of each half individually. Their limitations can be explained in the following two points:
They came in a low light power; most ring lights simply cannot produce enough light, they actually limit your camera setting and force you to use either high ISO values or a wider aperture.
They produce a circular catch light, although this is fantastic look, it becomes annoying to have bright circles bouncing off any shiny subject that you photograph
They need a lens adapting ring
Aside from these limitations, ring lights tend to produce fairly well-lit images. In terms of the quality of light, I would recommend it to a beginning macro photographer. However, the quality of light is not the only important aspect of a macro photo — the quantity is equally important, and this is where ring lights generally are limited.
Neewer Macro TTL Ring Flash Light with LED AF assist lamp for Canon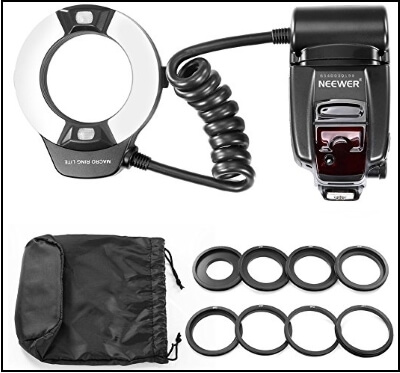 Product highlights:
Guide No.: 14/46(ISO100, in meter/ft.)
Effective Distance: Approx. 20cm-5m
Color temperature: 5500K
Flash coverage: 80° degrees in either direction
Canon MR-14EX II Macro Ring Lite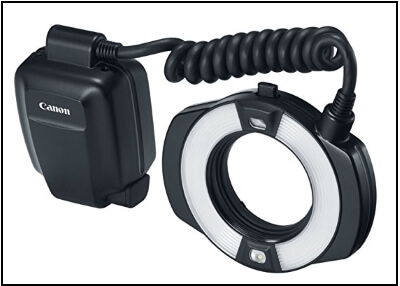 Product highlights:
Twin-tube ring lite designed for close-up photography with EF Macro lenses
Shorter recycling time and reduced size
Easy operation with an illuminated dot-matrix LCD panel for easy flash settings in any lighting condition
White LED focusing lamps and two forms of modeling flash permit preview of lighting effects
Custom Functions: Twelve (in addition to any on camera) set on flash LCD, plus three Personal Functions
Dual flash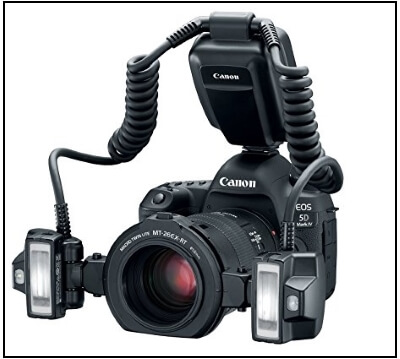 If you are looking for studio light setups like portrait photographers use, they commonly use a minimum of three lights (the main light, a fill light, and a background/accent light) for portraiture. Such a complex setup makes it easy to control how the shadows and highlights fall on a subject, leading to more effective photos. It makes sense, then, that macro photographers also would prefer to use multiple lights whenever possible. Although few systems allow the use of more than two flashes, some products exist that allow high-quality macro photography with two flashes. You can easily position the direction of light coming from the two flashes; also you can control their power. When used with appropriate diffusers, the quality of light from a dual flash can be the best option.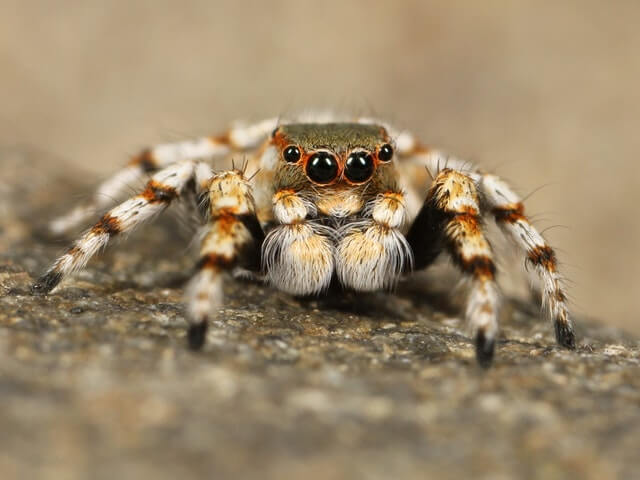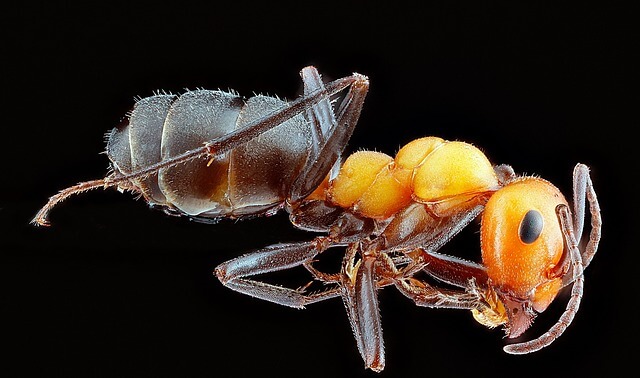 The biggest drawback to a dual-flash solution is the price, in addition, most photographers already have a normal flash, too, which can be easily diffused and used also in macro photography.
Canon Macro Twin Lite Mt-26Ex-Rt Camera Flash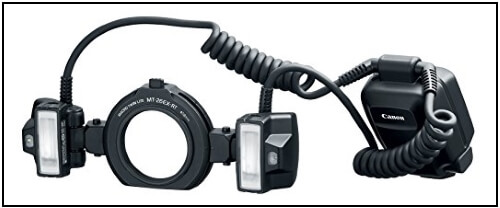 The Macro Twin Lite MT-26EX-RT is compatible with all EOS Digital SLR cameras and is designed to work with Canon's EF and EF-S Macro lenses. It combines two rotatable, detachable flash heads that can be controlled independently to provide an amazing sense of three-dimensional light. Extensive, multi-source lighting setups are made simple thanks to radio transmission wireless flash capabilities. Operability is enhanced with improvements across the board including two removable diffusers, a new LCD screen and smart, redesigned controls.

YONGNUO YN24EX TTL Macro Ring Flash/ LED Macro Flash Speedlite with 2 PCS Flash Head and 4 PCS Adapter Rings for Canon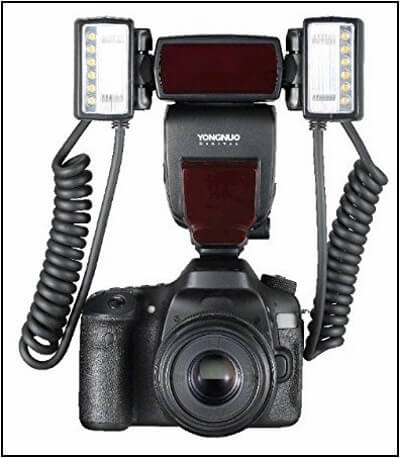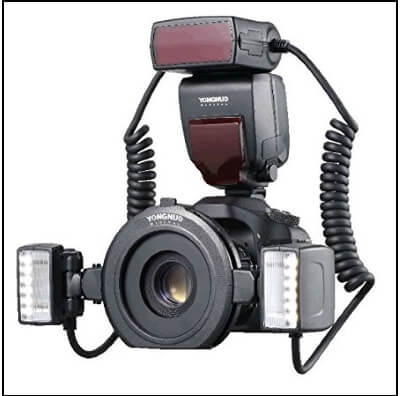 Product highlights:
Supports Exposure Compensation, FEB, Rear-curtain sync, FE Lock, FE lock, Modeling Light, Canon camera menu accessible; Supports flash radio, and the flash tubes A and B can be adjusted together or individually, which can create shadows on the subject to make the photo with engraving effect.
Equipped with a large-size LCD display, the flashing function can be checked and set more clearly and visually, which will be more convenient for use; High brightness LED focus assists light to allow focus more easily.
YN24EX is equipped with a standard PC synchronous interface which allows you to use synchronous flash by using a PC synchronous line; Supports the lens of the following filter size: 52mm, 58mm, 67mm, and
YN-24EX is provided with an external power socket to meet your higher demand for recycling time and no longer miss the wonderful moments; When the sound prompt system is enabled, different sound modes will prompt different working conditions of the Speedlite so as to allow you to focus on the shooting process (Note: the sound can be turned off).
YN-24EX can automatically save your current operating settings to convenient for your next use; The recycling time for full output just takes 3 seconds, and you can get a high-speed current-return experience even without using brand new batteries, which will only take 4-5 seconds.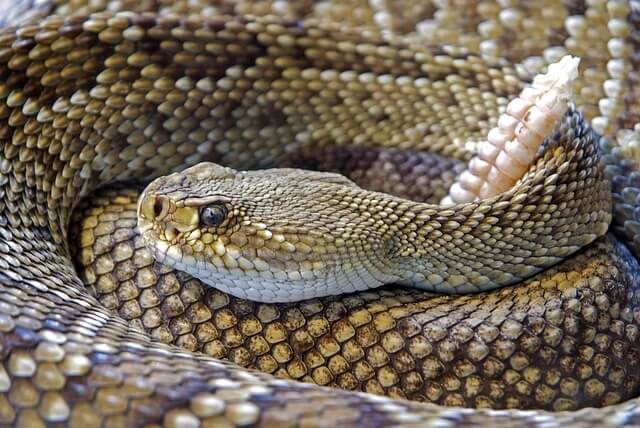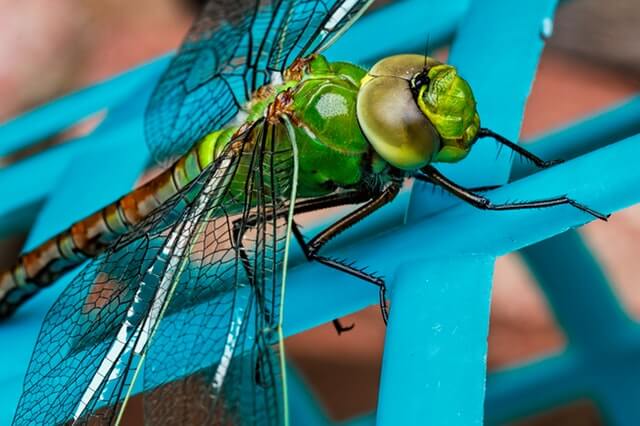 Speedlite Flash
Speedlite flashes are the most commonly used flash type in photography. They are available in a wide variety of sizes, guide numbers (power), and prices. And they are used in different types of photography. They can also be used in macro photography. Unlike ring flashes, Speedlite flashes have shoe fittings that allow them to be mounted to a variety of brackets/tripods. They can easily be used off the camera and triggered by either another external flash wirelessly or by direct cable from the camera. There is some interesting information on how to choose a flash and how to use them, in the flash photography category of this site.
Because regular flashes produce hard light, they are commonly used with a flash diffuser to soften the flashlight and/or to increase the light size, also they can be used by bouncing the flashlight. However, even with a good diffuser, your lighting is limited to a single direction. Although this isn't terrible, you can improve the quality of your light by using another off-camera flash.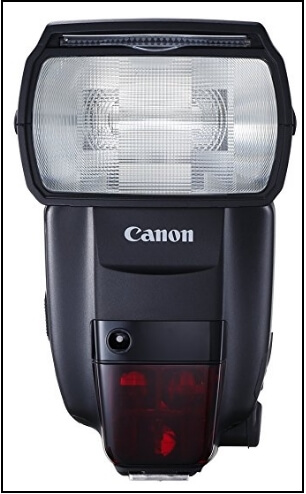 Product highlights
4 GHz Wireless Radio Transmission
Compatible with Canon E-TTL / E-TTL II
Guide Number: 197′ at ISO 100 and 200mm
Zoom Range: 20-200mm (14mm with Panel)
Tilts from -7 to +90°
Rotates Left & Right 180°
1-1.5x Improved Continuous Shooting
High-Speed, 1st & 2nd Curtain Sync
Bounce Adapter & Hard Color Filters
Runs on 4 AA Batteries
YONGNUO YN600EX-RT II Flash Speedlite for Canon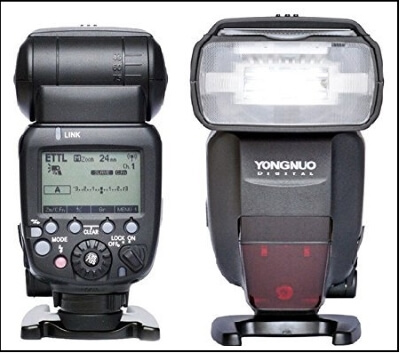 Product highlights:
The YN600EX-RT II is updated from YN600EX-RT, Supports optical transmission and wireless radio transmission flash shooting, the YN600EX-RT II can be used as a master unit to control the flash mode, exposure compensation, flash ratio, number of stroboscopic and stroboscopic frequency.
Supports wireless radio transmission flash shooting, cooperate with the YN600EX-RT(II), Canon 600EX-RT(II)/430EXIII, one YN600EX-RT II can be used as a set-top master unit or remote slave unit, totally 15 channels for an option, realize TTL, manual flash, and stroboscopic flash.
In the optical transmission flash shooting, the YN600EX-RT II can be used as a master unit to trigger the YONGNUO and Canon EX series flash (excluding the YN585EX), supports 4 channels, realize wireless TTL, manual flash, and stroboscopic flash.
One YN600EX-RT II can respectively receive the wireless signal of master unit YN600EX-RT II, YN568EX II,600EX(II)-RT,580EX II, C command and Canon 7D/60D/600D cameras built-in flash wireless signal, realize wireless TTL, manual flash, and stroboscopic flash.
YN600EX-RT II as a professional creative high guide number Speedlite supports TTL/M/Multi flash and can realize TTL, manual flash, the highest shutter synchronous speed is up to 1/8000.
Sto-Fen Omni-Bounce OM-ET Flash Diffuser (for Canon 600EX-RT & Yongnuo YN600EX-RT)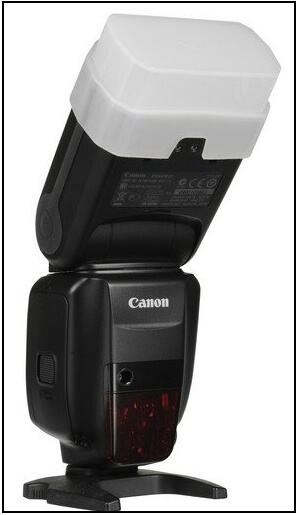 Flash Diffuser Light Softbox by Altura Photo (3 packs)
On Budget?
Sometimes, Photography gear can be very expensive for a lot of people. However, Keh is a great option to get used gear for a reasonable price as well as selling and trading your equipment. Read the full review here.
Related Posts:
How To Use Flash In Photography- The Full Guide
Off-Camera Flash for Beginners
What Is The Use Of A Flash Diffuser? – Simple Tutorial
Flash Photography Tips – Tricks & Techniques For Better Photos
Thanks for reading, I hope you enjoyed the article if you have any questions just post them below & I will be happy to answer you.
If you enjoy the site, don't forget to subscribe, we will only inform you when a new article is posted.