Introduction
The Sigma 85mm f1.4 ART is a unique modern Len that emphasizes creative expression over compactness and multi-functionality. It gives high-contrast and sharply defined images that have a nice background. It hasn't been around for long but it is already rated among the sharpest lens you can get on the market. Sigma, the company behind this product, has a long reputation for delivering durable and exceptional lenses. Its focal length of 85mm is also known for its indescribable compression and ultimate portrait utility. This lens is short enough to deliver in tight shooting spaces and versatile enough to be used in other genres like photojournalism.
Pictures and parameters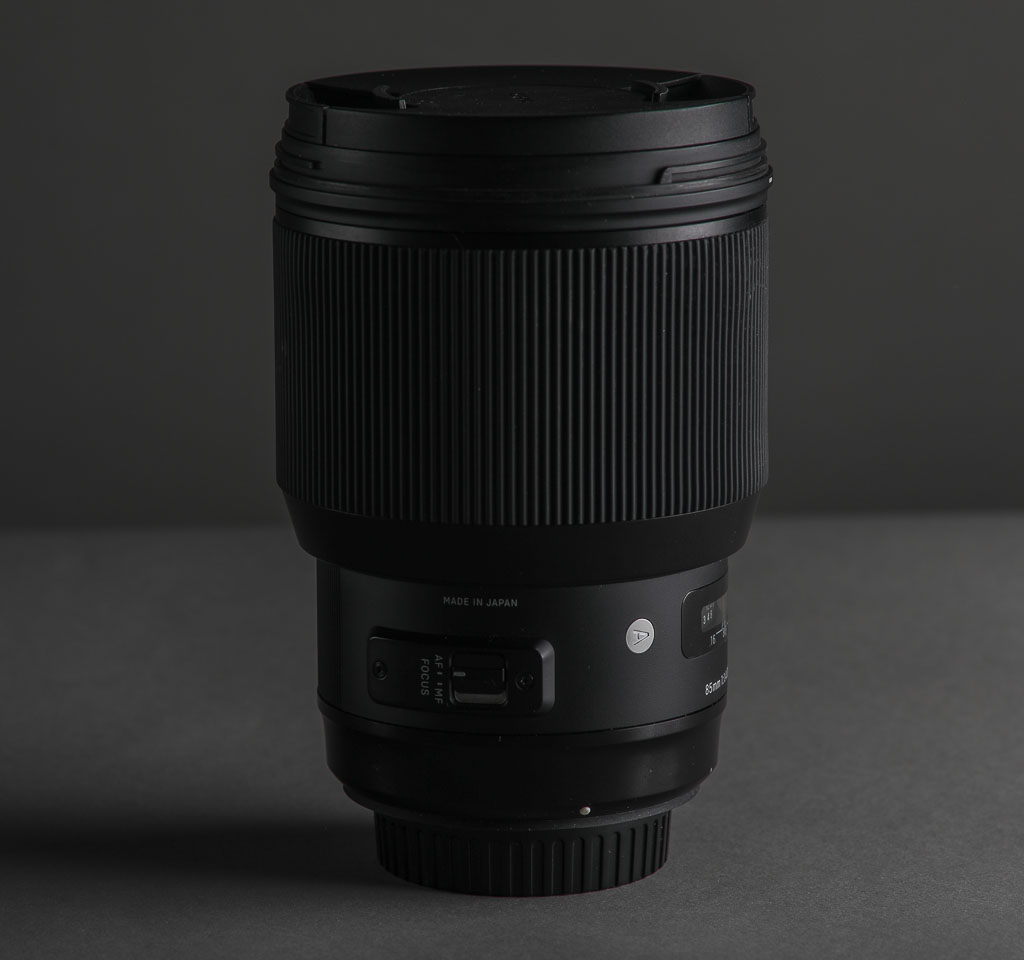 Credits to Ehabphotography.com
The lens comes with a focal length of 85mm. The lens angle of view is 29 degrees while its maximum aperture is f/1.4. and has a filter diameter of 77mm. The closest focusing distance for the lens is 0.85m while its maximum magnification is 1:8.3. It comes with a minimum aperture of 16 and an SSM type autofocus. The lens construction consists of 11 elements in 8 groups and 11 diaphragm blades. Its dimensions are 107.5 mm by 89.5 mm while its weight is 820g.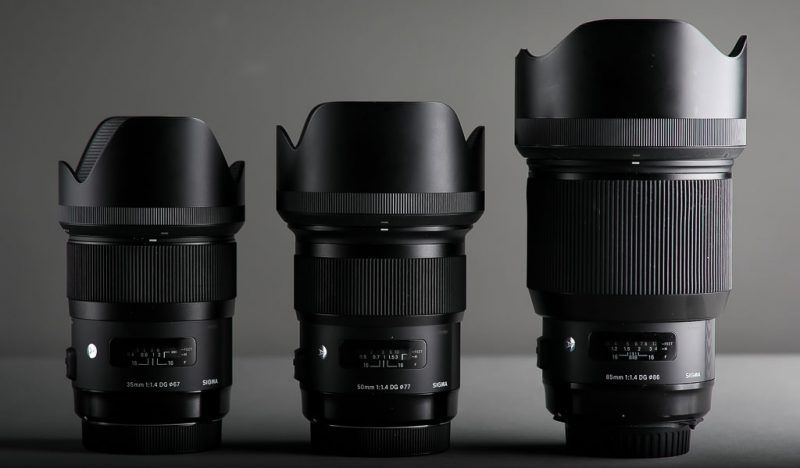 85mm size compared to the 50mm & 35mm with lens hoods attached.
Credits to Ehabphotography.com
Build quality
The Sigma 85mm f1.4 lens has a complex construction that meets high optical standards. It feels really nice in the hand despite its massive size. Mounting makes it more manageable and simpler to work with. The lens construction uses one spherical element, two Low Dispersion glass elements, and one anomalous partial dispersion element. Some rubber gasket protection has been included to assist in securing both the lens and the camera during coarse weather. A muscular manual focus ring has also been included to offer a whole gripping surface for your hand. The lens body begins with a dark plastic ring that widens gradually as it moves away from the mount. A white dot on the ring makes it easier to align the lens with the camera.
Image resolution (MTF Charts)
A wide aperture and useful focal length would only make sense if the image resolution is great. One way of testing the image quality for these lenses is to use MTF charts. These charts help to bring out any visible flaws. The Sigma 85mm f1.4 art lens performs well at f/1.4 on these charts. At f/2, they have a slight contrast improvement. The example of such a chart is shown below. From the chart, we can see that the MTFs at the maximum relative aperture reach about 41 lpmm which is way above the decency level which is always around 30 lpmm. The resolution rises quickly and gets to about 69.1 lpmm at f/2.8. This is slightly better than those obtained from Sonnars FE 2.8/35 and Sonnars FE 1.8/55 models.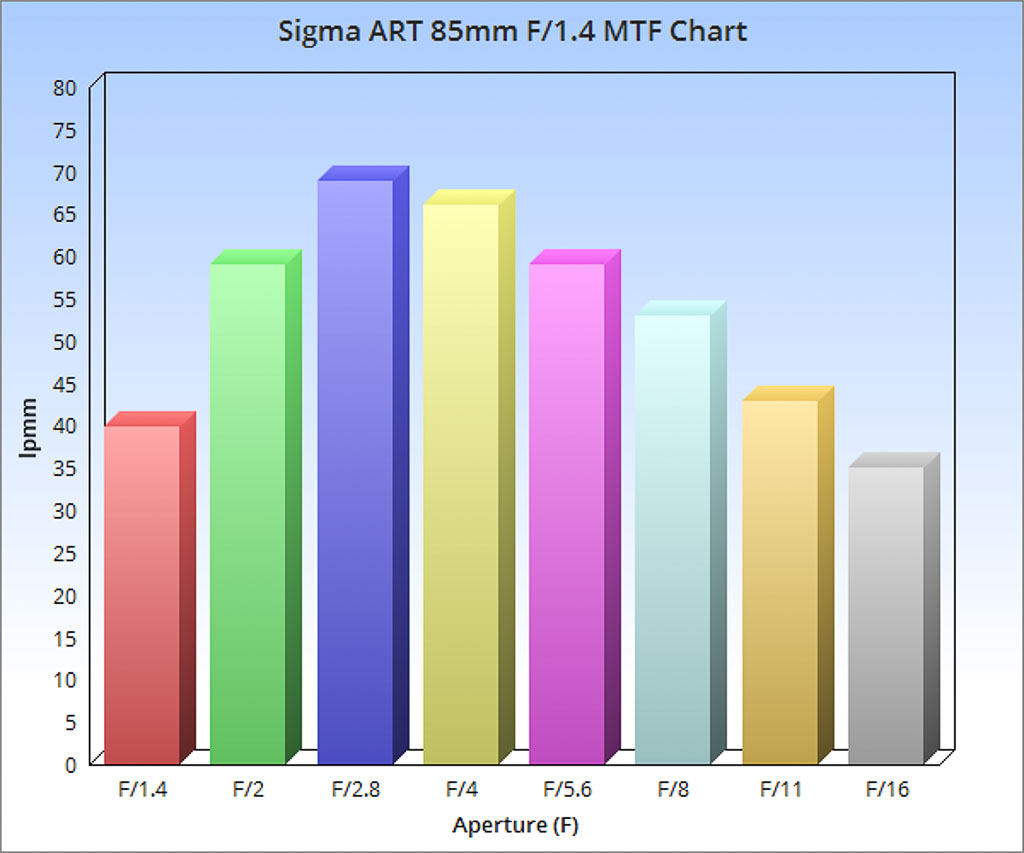 The results above are achieved at the frame center of a full-frame sensor, of course, the sharpness decrease at the edge of the frame, in most cases but for the Sigma art 85mm F/1.4 it's still above the decency level even on the frame of the edge @1.4 the result is 35 lpmm and increases a bit to be stable at 45 lpmm in those apertures (2,2.8,4,5.6 & 8) which is something special, not all the lenses can get those great results.
To read more about MTF charts have a look to this article>> The Camera Lens Evaluations- MTF Chart Explained<<
Chromatic and spherical aberration
In terms of resolution performance, we have seen that the Sigma 85mm f1.4 art lens performs pretty well and fits most modern portrait lenses. The longitudinal chromatic aberration (CA) correction for this lens is close to that of the previous constructions. It is however distinct as it remains visible at the maximum relative aperture. This is quite impressive considering the 3 low dispersion elements that have been included in its optical construction. Its spherical aberration has some slight problems and tends to worsen the images as you approach the maximum relative aperture. These problems can be noticed in the slight focus shift that occurs in the focal spectrum.
Distortion
The distortion tests conducted on the Sigma 85mm f1.4 art lens have yielded -0.08 percent for the APS-C/DX and -0.36 percent for the FF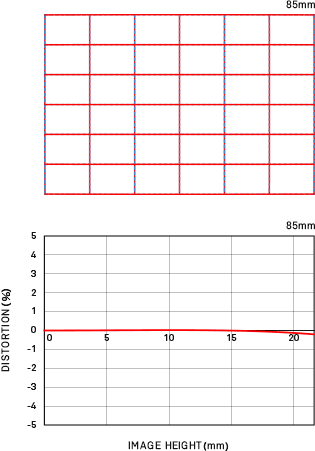 Coma, astigmatism, and bokeh
The Sigma 85mm f1.4 art lens doesn't have a strong coma correction that influences the shape of the point-like light sources. The diode gets slightly deformed whenever the lens approaches the maximum relative aperture. The deformations are clearly visible at f/1.4 and f/2.0 and but tend to disappear at f/2.8. The coma aberrations tend to lower the image resolution even in daylight photos. Astigmatism refers to the average difference between the horizontal and vertical MTF function values. It is less pronounced in the Sigma 85mm lens and has a moderate value of 8.5 percent.
Vignetting
The physical dimensions of this lens are significant enough and it allows it to achieve good vignetting performance results. They can be seen at the maximum relative aperture once they reach -0.75 EV. They tend to disappear and reach -0.20 EV and -0.07 EV at f/2.0 and f/2.8 respectively.
Ghosting and flares
At maximum relative aperture, this lens does not catch light artifacts or flares. A considerable loss of contrast is, however, visible and it can easily spoil your shot. The overall contrast tends to improve on stopping down but this actually increases the intensity of the flares. This problem is directly connected to the complex nature of its optical construction.
Autofocus
The autofocus mechanism of this lens is silent and can only be heard as the low whirr of a moving optical system. This mechanism is reliable enough and doesn't cause any problems in a well-lit studio.
Sample Shots
Compared to Rivals
Compared to other lenses in the market, the Sigma 85mm f1.4 Art Lens is quite well constructed. It is also one of the biggest lens options you can get on the market and works well for assignments requiring large lens elements.
Summary
The Sigma 85mm f1.4 Art is quite a great lens with a positive performance. It has a solid casing that is weather resistant. The quality of the images acquired by this lens is quite good whether it is on the APS-C sensor edge or the frame center. The lens has moderate distortion, slight astigmatism, and imperceptible lateral chromatic aberration. The vignetting on the APS-C sensor is quite low. The out-of-focus areas for this lens are quite nice while its autofocus is silent and quite accurate. The only issue that can be identified with this lens is a noticeable full-frame vignetting.
Pros:
Solid Lens
Sharp even at the frame edge
Low spherical aberration
Low Coma
Unnoticeable distortion
Low Vignetting on Crop Sensors
Cons:
High distortion on full-frame
The lens is very heavy
Calibration might be needed (like most of the ART lenses)
Bonus Tips
Don't insist to shoot wide open unless the lighting situation is very bad, you can still get a beautiful bokeh shooting at F/2 or F/2.8 and you will avoid the risk of missing the focus.
You might consider looking at Sigma Dock to Calibrate your lens, have a look here on how to calibrate your lens
My Overall Rating (Out of 10)
Build Quality: 9.5
Auto Focus: 9
Versatility: 8.5
Sharpness: 9.5
Price/Quality ratio: 9
Thanks for reading, I hope you enjoyed the article if you have any questions just post them below & I will be happy to answer you.
If you enjoy the site, don't forget to subscribe, we will only inform you when a new article is posted.