Teenagers have diverse needs. Whether they're into first-person action videos or contemplative fine art photography, there's a camera for their talents. also, you can motivate them to check out expresswaycine.com for hiring camera equipment & test shooting. I've picked the five best digital cameras for teens to help them start their beginner photography journey. From interchangeable lenses to all-on-one zooms, you'll be able to find just the right teen-oriented tech here!
The 5 Best Digital Cameras for teens
Nikon D3500
Canon EOS Rebel T8i / 850D
Canon PowerShot SX420
KODAK Printomatic Digital Instant Print
Sony DSC-W800/B
APEMAN A79
1) Nikon D3500
Entry-level DSLR cameras are often a teenager's first introduction to the world of interchangeable lenses. And the Nikon D3500 is one of the world's most popular DSLRs for a very good reason!
The 24-megapixel APS-C sensor is large enough for professional work. The light-gathering potential of these sensors is also much greater than that of smaller ones, even before you reach the impressive maximum ISO of 25,600. 
And when paired with a wide aperture lens you can get that shallow depth of field look in portraits and macro images. The button layout and menus are extremely intuitive for beginner photographers and laid out in a way that makes manual diving a thing of the past.
Vloggers will love the Full HD (1080p) video quality at 60 fps, which makes for crisp, smooth YouTube videos. And you have the option of two excellent kit lenses, depending on whether your teen values a walk-around focal length or extra reach. You can choose between the 18-55mm /3.5-5.6G VR or the 70-300mm f/4.5-6.3G ED.
Sensor Size: APS-C
Resolution: 24 megapixels
Weight: 365 grams
Additional Features: Nikon interchangeable lens mount, 921k-dot fixed LCD screen, ISO range of 100-25600
Video Quality: Full HD at 60 fps
Price: Check On Amazon
2) Canon EOS Rebel T8i / 850D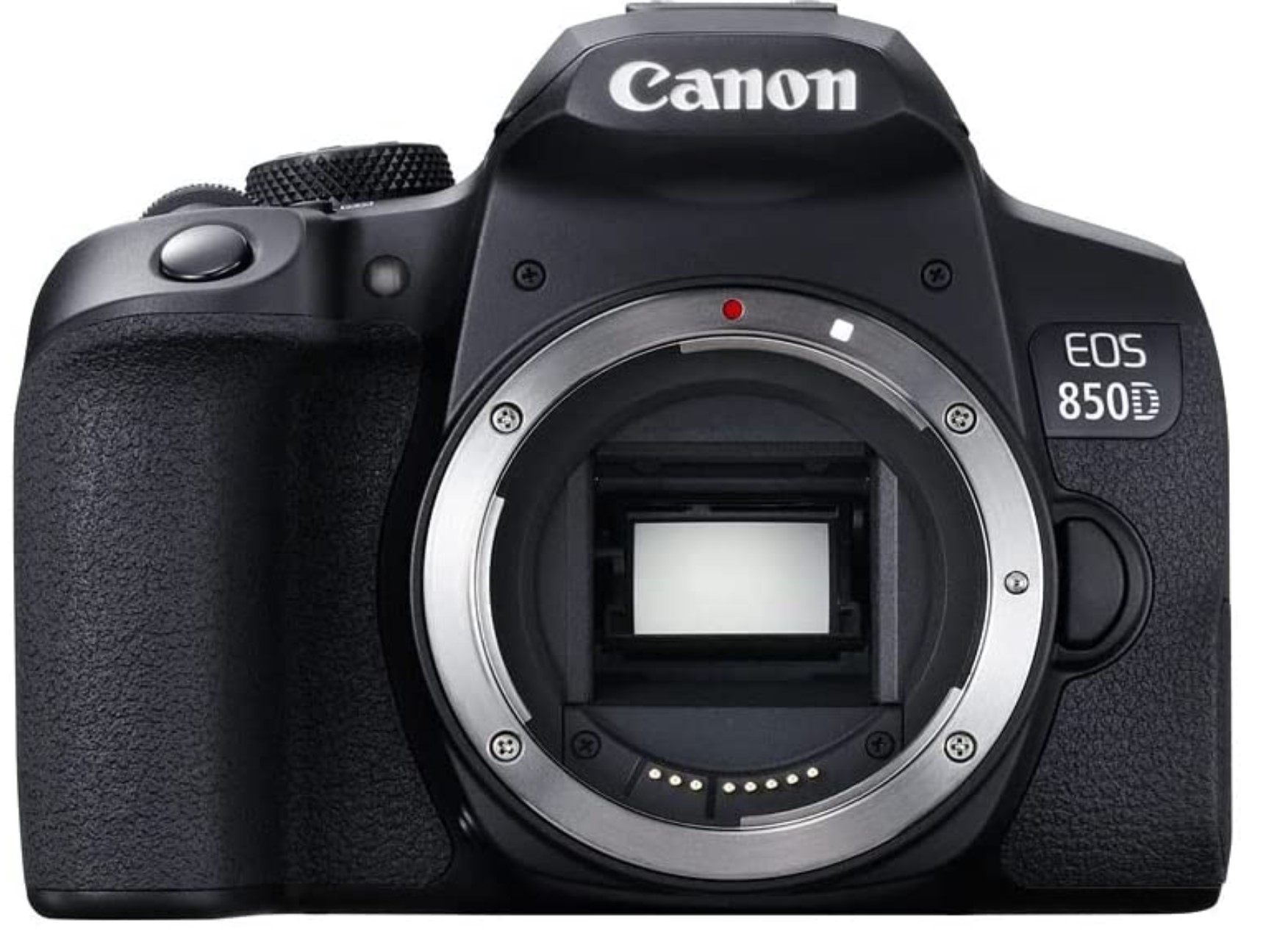 The Canon EOS Rebel T8i is a DSLR camera that is suitable for both novice and advanced photographers due to its versatile features. It has a 24.1MP APS-C-format CMOS sensor and DIGIC 8 image processor, enabling it to capture high-resolution stills and UHD 4K video recordings.
Its ISO sensitivity range of 100-25600 makes it adaptable to various lighting conditions. The camera's Dual Pixel CMOS AF feature ensures quick and precise focusing when capturing both movies and stills in live view mode.
Additionally, the camera has a 45-point all cross-type phase-detection system that facilitates fast and accurate focusing when capturing stills using the optical viewfinder.
1MP APS-C CMOS Sensor
DIGIC 8 Image Processor
0″ 1.04m-Dot Vari-Angle Touchscreen
UHD 4K24p Video, Vertical Video Support
45-Point All Cross-Type Phase-Detect AF
Dual Pixel CMOS AF with Eye Detection
ISO 100-25600, Up to 7 fps Shooting
Built-In Wi-Fi and Bluetooth
220,000-Pixel AE Sensor
Price: Check On Amazon
3) Canon PowerShot SX420 IS Digital Camera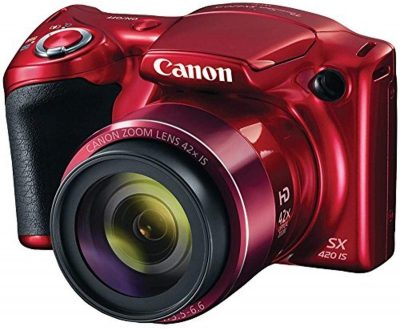 Sometimes changing lenses around can be too much of a hassle. If you know your teen wants variety but not too much fuss, a bridge camera like the Canon PowerShot SX420 IS might be a good compromise.
One of my favorite features of the PowerShot SX series is the incredible zoom lens that these cameras include. This model uses an astounding 24mm to 1008mm equivalent field of view, allowing you to capture both wide-angle shots and far-distant telephoto images. It's perfect for teenagers who enjoy walking around taking photos of a little of everything. 
And with 20 megapixels of resolution, there is plenty of detail even for medium-sized prints. The camera can even record HD video (720p), though Full HD and 4K video is preferred for YouTube uploads. The camera is simple and intuitive to use, with a slimmed-down menu, attractive color modes, and an affordable price for an entry-level model!
Sensor Size: 1⅔ inch 
Resolution: 20 megapixels
Weight: 325 grams
Additional Features: 42x stabilized optical zoom lens, built-in flash,
Video Quality: Full HD video
Price: Check On Amazon
4) KODAK Printomatic Digital Instant Print Camera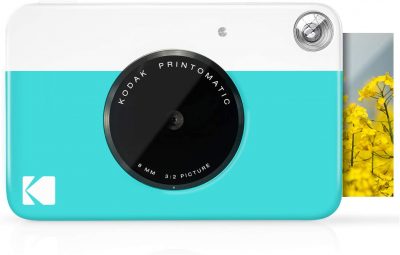 Polaroid photography has never truly gone out of fashion. There's something about instant physical prints that people simply love. The ability to pocket the KODAK Printomatic and take it to parties and other social functions to hand out images to friends makes it a fantastic digital camera for teens!
The camera uses a 5-megapixel sensor and f/2 lens that records an image and then prints it directly to 2×3" photographic film. It's essentially a hybrid between a digital camera and a photo printer! Best of all, the images can be saved to a Micro SD card, giving you the flexibility of printing or also sharing via social media. An LED automated TTL flash provides extra exposure when shooting indoors.
Print costs are quite reasonable as well, with Kodak film coming in at around $.50 per print; other brands can cost as much as $1 per print. Just remember that the camera automatically creates prints each time you shoot, so compose carefully!
Resolution: 5 MP
Weight: 226 grams
Additional Features: Polaroid printing, 5-megapixel digital sensor, LED flash
Price: Check On Amazon
5) Sony DSC-W800/B 20.1 MP Digital Camera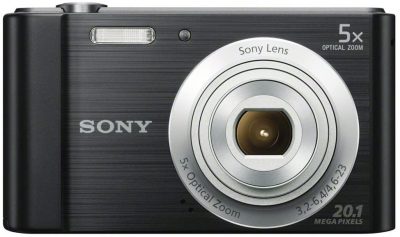 As a small sensor compact camera, the Sony DSC-W800 is on par with the best smartphones in terms of pure image quality. But image stabilization is something that not every phone has, preventing handshake from causing motion blur when using slow shutter speeds. And the 360-degree panorama mode allows you to take still images in a series and stitch them together, all in camera.
The 5x optical zoom allows you to flexibly compose images and it also has a further 5x digital zoom within in case you need extra reach. And if you're in need of basic video then the DSC-W800 records in HD resolution (720p) at up to 30 frames per second. It's an ideal pocketable camera for a teen photographer in training!
Sensor Size: 1⅔ inch 
Resolution: 20 megapixels
Weight: 125 grams
Additional Features: 5x stabilized optical zoom, 5x digital zoom,
Video Quality: HD video at 30 fps
Price: Check On Amazon
6) APEXCAM Action Camera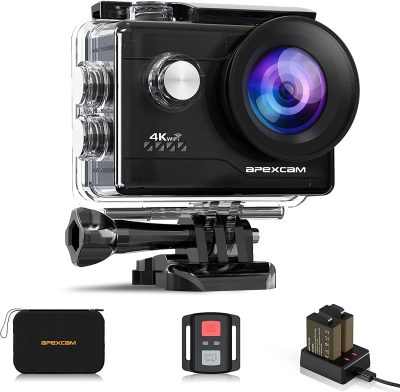 If you're looking for a more affordable GoPro alternative that still gives you the majority of that brand's features, there's no better camera than the APEXMAN! For starters, we have our first 4K 30 fps-capable digital camera for teens! The included sensor uses a 170° field of view and a respectable 20 megapixels of resolution for photos on the move.
If underwater photography is important then the included hard case seals the camera down to 40 meters of depth. And once you return to the surface you can pair the camera to your smart device for rapid uploads via WiFi and Bluetooth. Apeman even includes a 64GB SD card, two batteries, and a foldable backpack to get your teen out and record as fast as possible.
And if the standard video isn't to their taste, the following video modes are possible with the A79: time-lapse, slow motion, and loop recordings! The A79 is one of the best digital cameras for teens if they happen to be a photographer on the move!
Resolution: 20 megapixels
Weight: 500 grams
Additional Features: Waterproof housing included, 4K30p video, several video recording modes, 64 GB SD card + backpack included
Video Quality: 4K video at 30fps
Price: Check On Amazon
Can't afford a brand-new camera?
Sometimes, Cameras can be very expensive for many people. However, Keh is a great option to get a used one at a reasonable price. Read the full review here.
Thanks for reading, I hope you enjoyed the article, in case you have any questions just drop them below & I will be happy to answer you.
Featured image by Lens & shutter.
If you enjoy the site, don't forget to subscribe, we will only inform you when a new article is posted.