Sony lenses for the a6000 are a lot, so choosing the best one for your body can be confusing. Small and reasonably priced, the Sony a6000 doesn't skip out on image quality. It's 24.3 megapixel sensor works best with sharp, high quality lenses. Fortunately, the Sony ecosystem is full of great lenses to pair with this mirrorless marvel! Take a look at some of the best Sony lenses for the a6000 below!
Sony Lenses For A6000
Best Sony Lenses for a6000
Sony E 16-55mm f/2.8 G APS-C Lens
Sony E 70-350mm f/4.5-6.3 G OSS APS-C Lens
Sony E 10-18mm f/4 OSS APS-C Lens
Sony E PZ 18-105mm f/4 G OSS Lens
Sony E 24mm/1.8 ZA Lens
7artisans Photoelectric 35mm f/0.95 Lens
Rokinon 12mm F2.0 NCS CS Ultra Wide Angle Lens
Let's talk about each lens in depth.
1) Sony E 16-55mm f/2.8 G APS-C Lens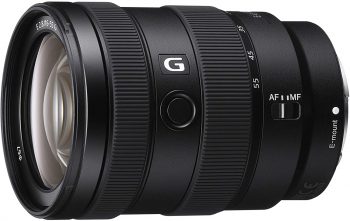 A good f/2.8 standard zoom is the mainstay of the photography world because it can capture everything from moderately wide to moderately distant. And the f/2.8 aperture lets you get some shallow depth of field and good low light performance. In short, it's the best generalist zoom you can get!
The Sony E version is razor sharp across the focal range and at 494 grams, it's one of the lightest APS-C f/2.8 zooms around. While it is weather sealed, you'll need to pair it with a weather sealed camera to have the ability to shoot in the rain or dusty conditions without fear.
And with 9 aperture blades the out of focus areas (bokeh) generated is extremely soft and pleasing to the eyes. This helps mitigate the disadvantages APS-C cameras have when it comes to shallow depth of field!
2) Sony E 70-350mm f/4.5-6.3 G OSS APS-C Lens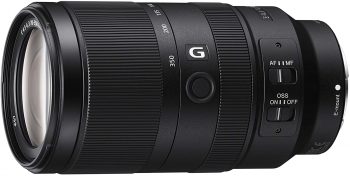 If you're looking for a light, stabilized telephoto zoom lens, this Sony E-mount design is perfect for the a6000. The 70-350mm range lets you get sharp images of distant mountains, wildlife, and other impossible-to-reach targets.
Stabilization is especially important for slow-aperture telephoto lenses. Thankfully you get several shutter speed stops of correction to allow for slower shutter frame rates. This is also one of the few dust and moisture-resistance Sony E lenses out there!
The only real drawback is the variable f/4-6.4 aperture, which makes exposure sometimes a challenge in low light conditions. However, this acts as a tradeoff, keeping the price and weight down. And in most lighting conditions this aperture range is more than enough for well-exposed images!
3) Sony E 10-18mm f/4 OSS APS-C Lens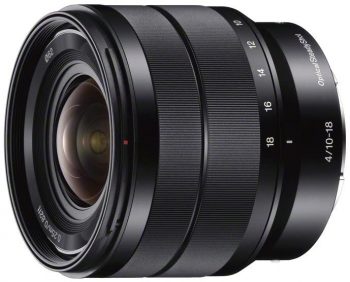 If you could only choose a single wide-angle lens for your bag, the Sony E 10-18mm f/4 would be my choice. The 10-18mm field of view covers almost the entire wide-angle spectrum. This makes it a perfect architecture, landscape, and travel photography lens. And at 225 grams it takes up next to no space.
The Optical Steady Shot system also ensures your handheld shots are stabilized and kept sharp even at low shutter speeds. This lens is sharpest at the wide end but it does vignette slightly at f/4. Closing down the aperture to f/5.6 or greater gives you no light falloff and a crisp final image!
4) Sony E PZ 18-105mm f/4 G OSS Lens
If I need one zoom, a short range travel zoom is my personal favorite lens to pack. Unlike superzooms, they don't have a ton of optical compromises. And the constant f/4 aperture ensures your exposure is consistent regardless of the focal length.
Modern f/4 zooms are not only smaller than the more expensive f/2.8 lenses but usually stabilized as well! Sony's OSS (optical steady shot) system negates motion blur from hand shake and lets you shoot several shutter stops slower than you normally could. I do wish this lens were weather sealed but for that, you'll have to look into a Sony FE (full-frame) lens like the 24-105mm f/4 G OSS. But in terms of cost and weight, this APS-C version is a much better match to the a6000!
5) Sony E 24mm/1.8 ZA Lens
If you're going to have only one prime lens, it should be a 35mm equivalent (24mm on a6000). And the best of the bunch is the Sony E 24mm f1.8. This lens uses the Zeiss Sonnar element optical formula for superior subject dimensionality and presence. Photos have an added sense of realism that only comes with the best Zeiss glass!
The fast aperture gives this lens plenty of light-gathering potential. Yet at 225 grams it's much lighter than you'd expect for such a wide-angle, fast aperture lens! Its small size makes it a swift, discreet choice for street, travel, and documentary photographers who want one prime lens that can do it all with no loss of image quality. Zeiss lenses are never cheap but in terms of image quality, you always get what you pay for!
6) 7artisans Photoelectric 35mm f/0.95 Lens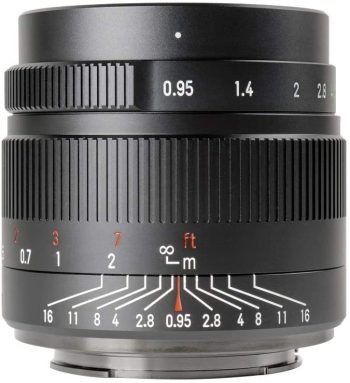 Bokeh (out-of-focus blur) is a property that's best maximized on full-frame sensors. However ultra-fast prime lenses can help you achieve the kind of shallow depth of field that's normally out of reach on the a6000's APS-C sensor!
At f/0.95 this lens lets in a ton of light, requiring ultra-fast shutter speeds (or neutral density filters) in the daytime. But it's unmatched in terms of blur potential and the 50mm equivalent view is perfect for classic portraits!
The Mitakon is a manual focusing lens. However, when paired with the Focus Peaking feature of the a6000, manual lens use is a breeze! The lack of autofocus motors keeps the price down as well!
A fan of swirly bokeh? see here my top picks of the best lenses.
7) Rokinon 12mm F2.0 NCS CS Ultra Wide Angle Lens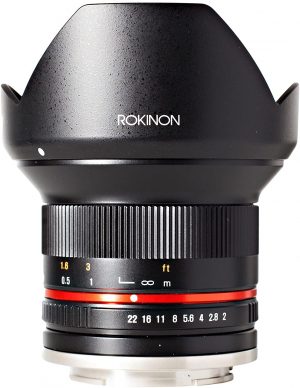 The Rokinon 12mm f/2 is the gold standard for landscape, architecture and travel photography. As sharp as it is wide open it improves with the aperture closed down a little. And even though this is a manual focusing lens, you hardly need autofocus when using a wide-angle. You can zone focus from a short distance away from you to nearly infinity thanks to the extremely large depth of field.
The near absence of chromatic aberration in the edges of the frame and f/2 aperture makes this possibly the best Sony lenses for the a6000 if you're into astrophotography! Inexpensive and extremely wide, this lens deserves a place in every photographer's bag!
Can't afford a brand-new lens?
Sometimes, Lenses can be very expensive for a lot of people. However, Keh is a great option to get a used one at a reasonable price. Read the full review here.
Thanks for reading, I hope you enjoyed the article, in case you have any questions just drop them below & I will be happy to answer you.
Featured image by Cameraegg.
If you enjoy the site, don't forget to subscribe, we will only inform you when a new article is posted.