As we all know lighting is a major part of photography, a simple lighting tool that is commonly used for beauty shots, portraits, and macro photography is the ring light. It features a number of small led bulbs forming a circle or just one circular fluorescent bulb. When used in photography, it emits even, diffused lighting that helps eliminate shadows, and it creates an attractive catch light on a subject's eyes. You can position this light in front of the subject, with the camera situated in the middle of the ring. Smaller ring lights can also be mounted on the camera lens for macro photography.
What is A Ring Light?
A ring light is basically a flash mounted in a large circle. There is a hollow circle in the center where the camera lens is held to attain maximum light from the ring. It can flash or be continuous and is generally made up of rows of LED lights that form one large ring.
The sizes can vary. Small ones can fit around your lens, while large ones may need their own weighted stand. It can be used as an off-camera flash. Most often, they are used in studio settings. But you can easily use the smaller ones outdoors and on location as well!
It was developed in 1952 for medical/dental reasons. Therefore, the actual purpose was to take dental pictures but then its use extended to includes many genders of photography.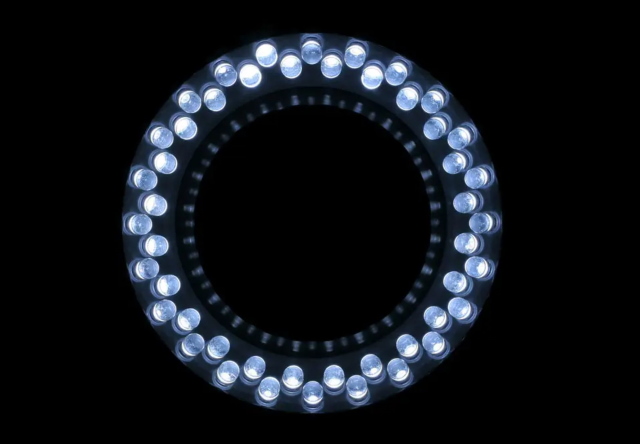 What photography genders can benefit from ring light?
The most appealing benefit to using a led ring light is that it helps to eliminate harsh shadows, and provide soft, even lighting on your subject's face. That is why ring lights are popular in portrait photography. In addition to common studio lighting, a professional photographer or videographer may use a ring light to ensure their subject's face is evenly lit with a pleasing, soft light.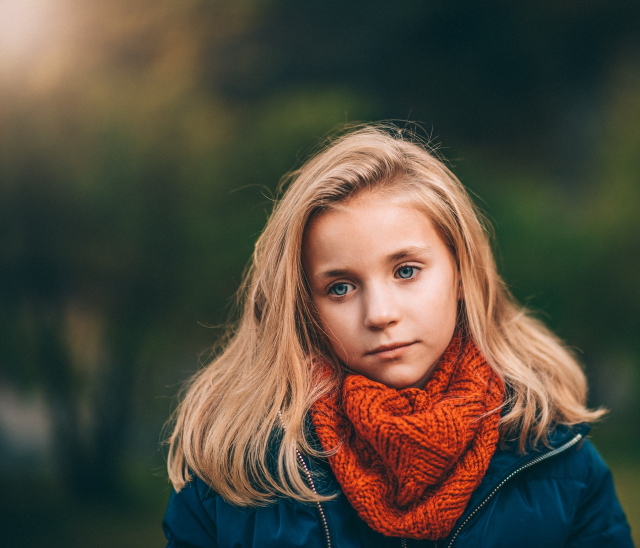 Photo by Janko Ferlic from Pexels
Ring flashes and continuous ring lights are popular among fashion portrait photographers. The circular lights are placed around the camera lens to reduce shadows and create interestingly shaped catchlights in a model's eyes. Fashion and beauty photography uses ring lights very often.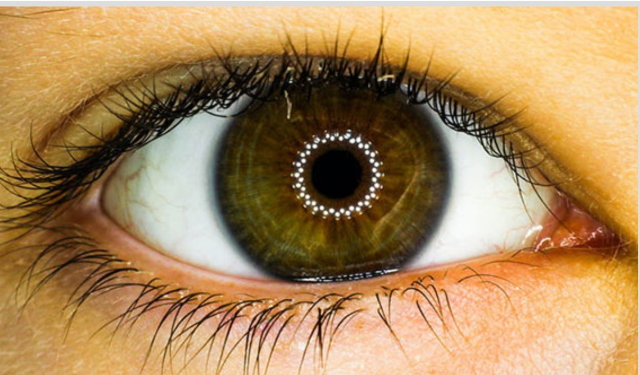 Photo by Axel Naud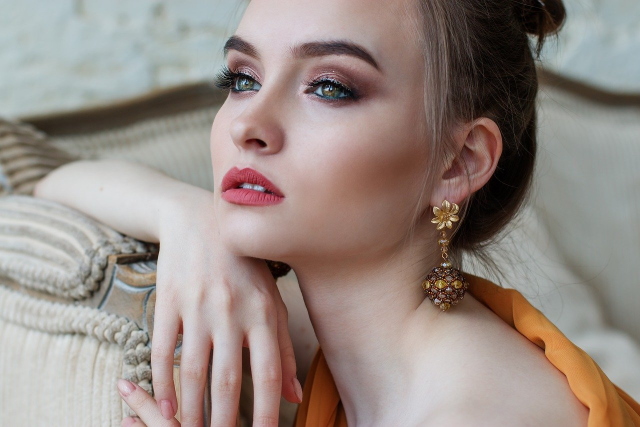 Image by Anastasia Gepp from Pixabay
Ring light used largely with macro photography because it eliminates shadows, and lets you no longer have to worry about creating any distracting shadows, as you get closer to the subject.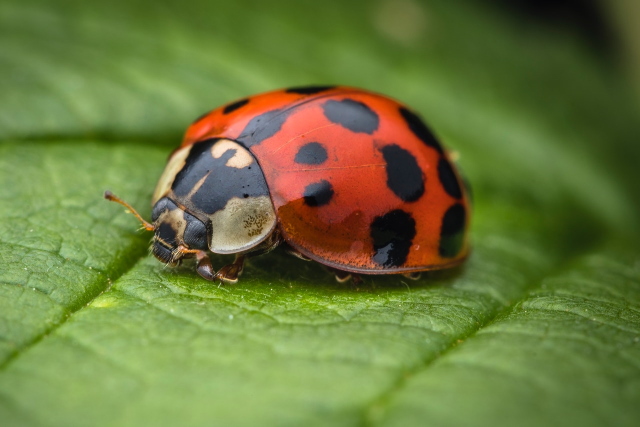 Photo by Michael Willinger from Pexels
When using a ring light in food photography, you bring in a large light source that evenly lights the subject, providing a reliable light source with some great result.
While shooting with one light can be someone limiting, it can still give great results for things like food and other still life objects. s.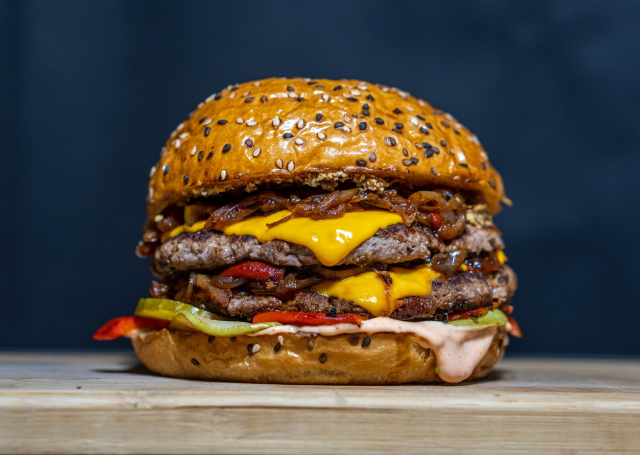 Photo by amirali mirhashemian on Unsplash
A ring light can be used for product photography because you can set the light up at a certain distance away from the products and achieve beautiful lighting that matches up on every shot.
Putting your camera right in the center of the lighting ring will eliminate any possibility of glare or shadows appearing. A ring light will expose every part of the product you are photographing while still separating it from its background. This naturally softens the image and making the product stand out.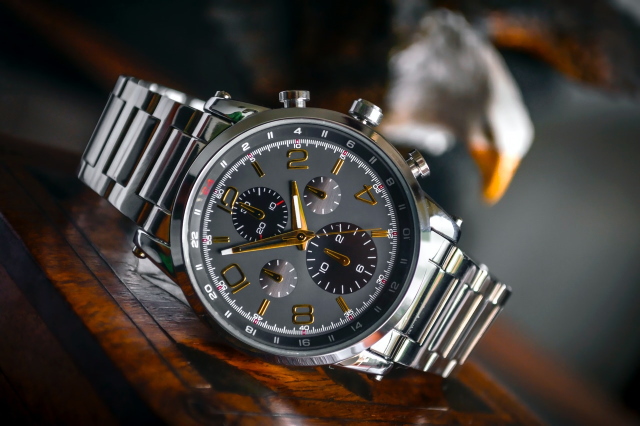 Photo by Fernando Arcos from Pexels
Most people now have an incredibly powerful and high-quality camera built-in into their phones, and use it for anything from capturing wonderful views on their travels to making sure to get the best selfie possible.
A LED ring lights are an increasingly common photography accessory. Some selfie ring lights attach directly to your smartphone. Other ring light kits may include a tripod stand, a gooseneck, and a charger in addition to the LED ring light itself. Even the best phone camera can struggle in low or dim lighting conditions, especially the front-facing camera which you usually use for selfies. Ring lights for smartphones add light. This helps to improve the already outstanding images you can take with your phone
Since most ring lights can produce a daylight color rating of 54000k, this source of light is perfect for makeup application especially on an overcast day or when natural light is not available.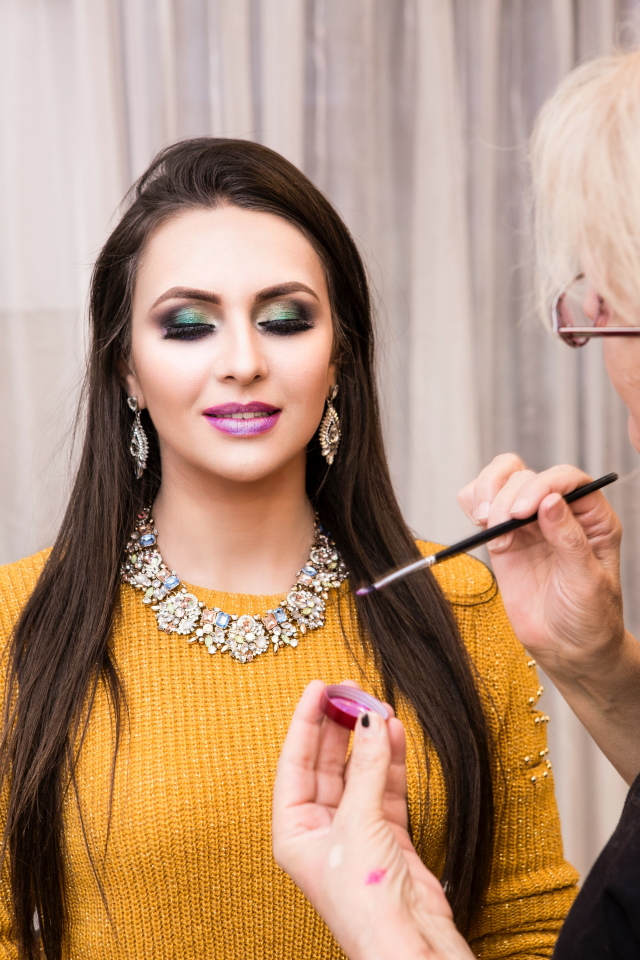 How To Use a Ring Light?
The traditional way of using a ring light is to use it around the camera lens to capture the focus in the eyes. Nevertheless, you can use it as any light source from any side of your subject. If you manage to place your light properly, you can get unique results. However, most photographers like using it the traditional way. High-end ring lights give you the ability to shoot under low ISO conditions and longer focal distances. They can greatly reduce your post-processing time.
What should you look for when choosing Ring Light?
Before you buy a ring light, you need to consider the factors below:
If you plan to use them occasionally, consider getting a model at a lower price point.
If your specialty is portraiture, product, or food photography, you may consider a bigger investment for heavier use.
Build quality and durability
Consider your intended use of the ring light; if you work in a studio, your gear most likely does not take too tough of a beating. However, if you work on location and often stuff your gear into a backpack or case, sturdier gear will be a better investment for you to withstand all the handling.
Many photographers need to travel long distances to reach the locations for their shooting schedules. It's always better to buy ring lights that are lighter in weight and less bulky. Buying huge setups and then not being able to carry them around for your photo shooting is not a wise investment.
Make sure you check the availability of its replaceable bulbs.
Being able to adjust the light intensity is vital. Before purchase, check whether you can adjust the light strength. Make sure it has enough adjustments to offer you the flexibility you'll need. Buy a ring light that gives you a wide range of aperture settings to work with so that you can take amazing shots while using ring lights.
It is also important to check the temperature of the produced light, and if there are options for adjusting that. In some situations, you might require warmer or cooler lights than usual. Having a color temperature dial on the ring light will make your white balance post-processing much easier.
My recommended List
The following is my recommended list of ring lights for cameras and smartphones.
YO-GOGO 22″ large professional ring light kit
22″(55cm) Dimmable LED ring light, with a wide dimming range from 1%-100% that you can adjust the light brightness easily. Adjust the color temperature button, and change the white light to warm light in seconds, no need orange filter anymore.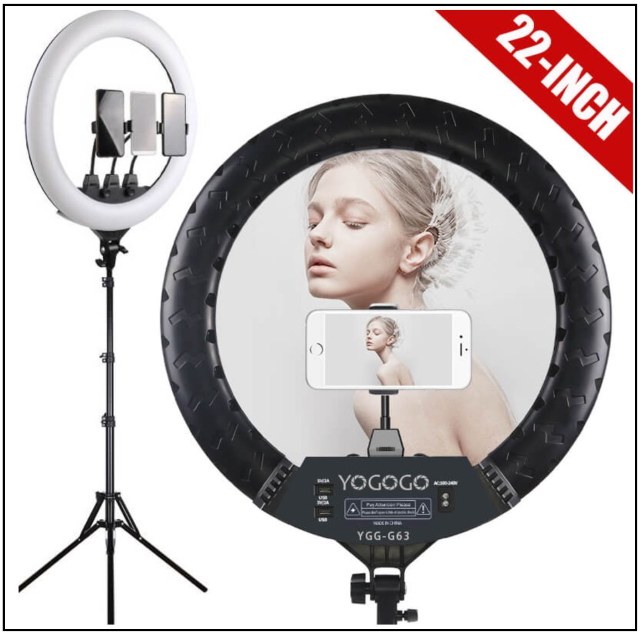 Product Highlights
Light source: 600 pcs LED beads
Outer Diameter: 22 inches/55cm
Dimmable: Yes
Color temperature: 3000K~6500K
Dimming method: Promise dimming
Weight: about 2400G
Adjustable 3200-5500K LED Lights Ring with Ultra-wide Lighting Area for Camera Photography, YouTube Videos, and Makeup (Kit: Phone Holder, Remote, Soft Tube, etc.)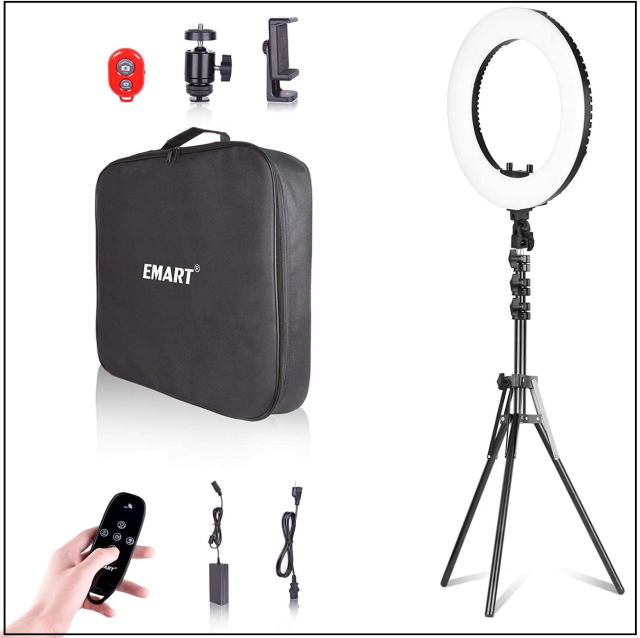 Product Highlights
18-inch ring light with multiple variants of lighting (ranging from 3200K to 5500K color temperature without changing the color filter, 10%-100% brightness adjustable. The built-in LCD display shows the situation of brightness and color temperature.
The kit includes: 1 x 18-inch LED Ring Light, 1 x Ring Light Stand, 1 x Soft Tube, 1 x Ball Head, 1 x Cell Phone Clip Holder, 1 x Bluetooth Shutter Remote, 1 x IR Remote Control, 1 x Power Adapter / 12 Months warranty for manufacturing defects.
Special LED SMD design and 480 pcs LED beads, perfect for many uses, portraits, products, pets, and videos. The ring light tripod, aluminum alloy construction for stabilizing the makeup ring light, height adjustable: min 33 inches to max 70 inches.
Change the color temperature and brightness adjustment is accessible from the included remote control. Especially the color temperature, it does not require changing filters like some other ring lights.
Easy to set up and useful whether indoors or outdoors photography. Two power supply methods, power adapter, and battery. The battery slot is compatible with the camera battery NP-F550 / F570 series, which can be used outdoors making it completely great for traveling!
18″/48cm Outer 55W 5500K Dimmable LED Ring Light, Light Stand, Carrying Bag for Camera, Smartphone, YouTube, TikTok, Self-Portrait Shooting, Black.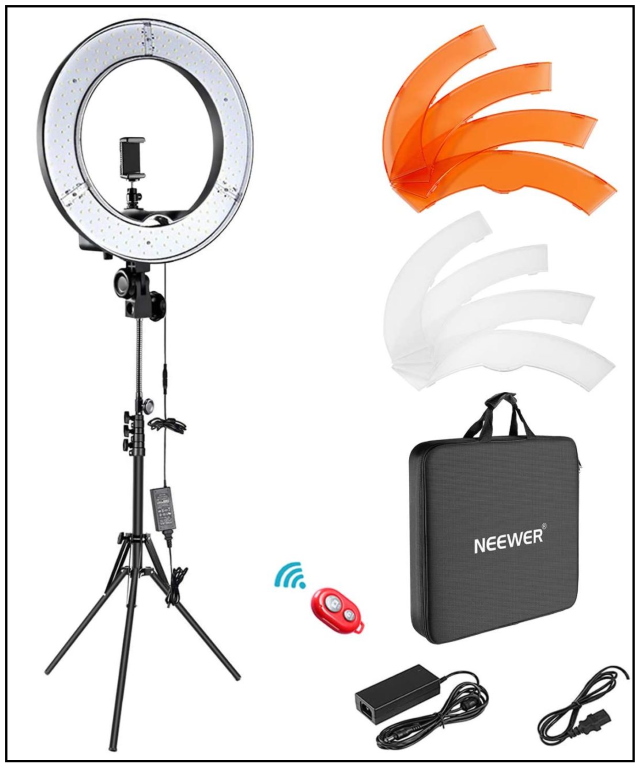 Product highlights
Kit includes: (1)18″/48cm Outer 55W 5500K LED Ring Light+(1)61″/155cm Light Stand+(1)Soft Tube+(1)White and Orange Color Filter Set+(1)Ball Head Hot Shoe Adapter+(1)Universal Power Adapter with Plug+(1)Smart Phone Holder+(1)Carrying Bag for Ring Light
Dimmable 18″/48cm Outer 55W 5500K 240 Pieces LED bulbs with a wide dimming range from 1%-100%. Special LED SMD design, lightweight and portable
61″/155cm light stand is constructed from aluminum alloy, giving it exceptional strength; the soft tube Makes the light rotate freely for the best position. White and orange color filters are made of high light transmission plastic material with a steady color temperature
A hot-shoe adapter is compatible with most DSLR cameras and a smartphone holder for most smartphones (iPhone 8 Plus/8/X/7/6, Samsung Galaxy S9/S8, Huawei, etc. ).
with Tripod Stand Phone Holder Ball Head Dimmable 3000-6000K Ringlight for Live Streaming YouTube Vlog Video Shooting Camera Photography Makeup Selfie.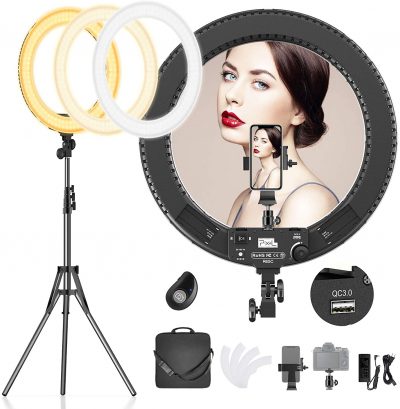 Product highlights
18-inch Ring Light can be controlled via the knob on the ring light as well as an IR remote control when you need to adjust it far away. The Step-less adjustment makes color temperature and brightness change super easy and quick. Adjust the color temperature from 3000K to 6000K easily without using color filters and the ring light have a wide brightness dimming range from 10%-100%. Cold white, white, or warm white is easily switched on your hand.
The Tripod Stand is constructed from aluminum alloy, giving it exceptional strength. It's adjustable from 17″ to 65.4″ with four screw knobs. The legs are upwards, so please unfold the legs upside down when you assemble them. The circle ring light can also be rotated 180 degrees to adjust the illumination angle. Perfect for makeup and doing eyelashes etc.
120 pcs 1W LEDs make GLOUE 18'' LED Right Light much brighter and has a better performance as a fill-in light. No light spot, no flicker but looks more natural. The Built-in AC power adapter is superior in performance and long-lasting in service life. The designed hollow-out ventilation is for better heat dissipation and lower lumen depreciation.
It comes with a ball head and a smartphone holder which is compatible with most smartphone models. You can change your cell phone horizontally or vertically at any angle according to your needs. You can also use a camera to take videos or Vlogging. With Bluetooth remote control, you're free to take pictures.
It is suitable for Selfie, lighting, fashion, advertisement photography, makeup, YouTube videos, portrait photography, live streaming etc.
Recommendation for macro
With LCD Display Power Control, Adapter Rings, and Flash Diffusers for:
Canon 650D, 600D,  550D, 70D, 60D, 5D
Nikon D5000, D3000, D5100, D3100, D7000, D7100, D800, D800E, D60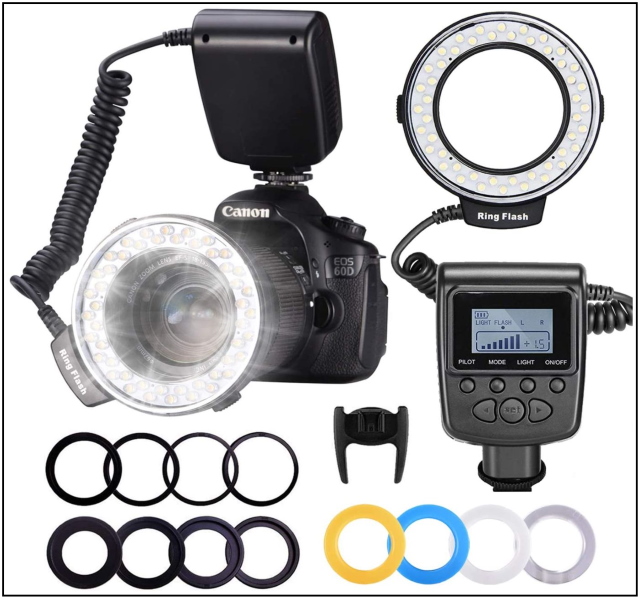 Product highlights
This RF- 550D Marco LED Ring Flash is specially designed to use in the field of macro shot, scientific research, and medical and personal photography in a very close distance shooting.
It can provide continuous and stable semi-light or full light to meet higher photograph needs.
Consist of 48 pieces of LED, higher luminance, and lower static power consumption.
For any model of NIKON or Canon, brand DSLR. Will Fit 49, 52, 55, 58, 62, 67, 72, 77mm Lenses.
Recommendations for smartphone
With 50″ Extendable Tripod Stand & Flexible Phone Holder for Live Stream/Makeup/YouTube Video.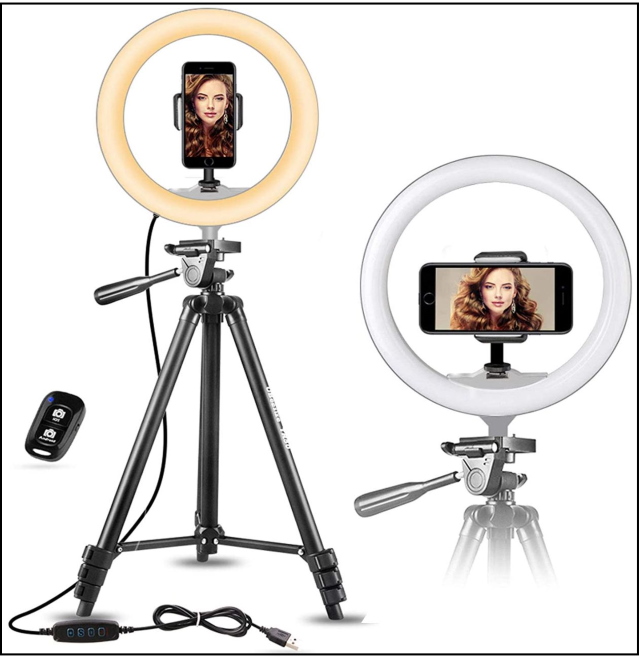 Product highlights
UBeesize 10″ Ring Light features 3 light colors (Warm, Cool White, Daylight) and 11 levels of brightness in each color, 33 options in total. You can choose any option in between if there's a perfect setting.
Extending from 15″ to 50″, and tripod legs unfold up to 30″ wide, the stable tripod can be adjusted to any height within as needed, short enough to stand on a tabletop, tall enough to fit your height.
3-way pan head with a convenient handle allows for tilt and swivel motion; portrait or landscape options. Making it easy to target the ring light to your subject at any angle, perfect for live streaming, video calling, flat lay, taking selfies, or more.
It comes with a Bluetooth remote, so you don't even need to touch your cellphone to start the video or selfie.
Rechargeable Battery, with 36 LED for Smart Phone Camera Round Shape, White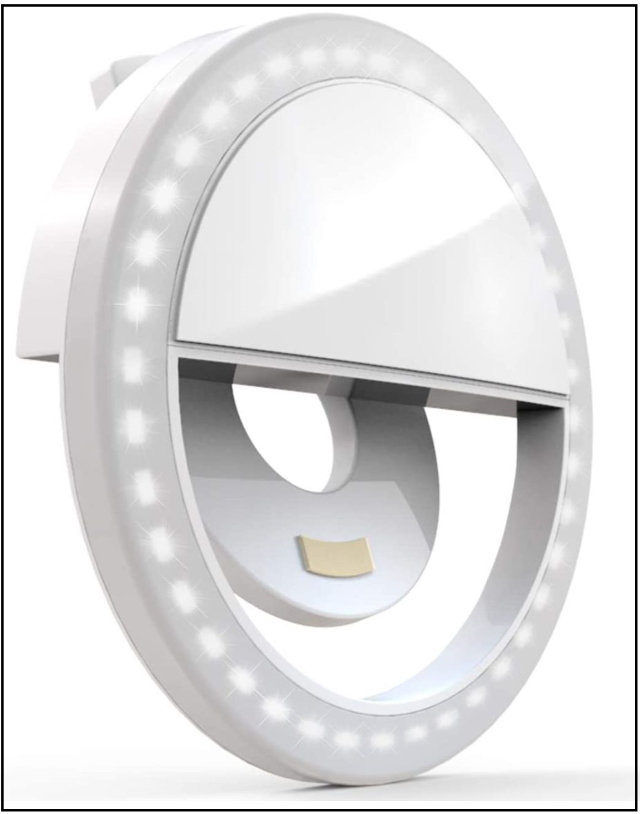 Product highlights
This little light is all about making your selfies the best! The light gives soft illumination without harsh light. It is like having a professional studio photographer whenever you feel the sudden urge to selfie. Just clip it on your phone and you are on your way.
Multi Usage, You will be able to make videos at night or take great selfies in dark areas; you can use it with your rear camera to have high-fidelity photos; you can also use it as a torch, emergency light, making up light, and even more!
Related posts
Photography Lighting Techniques – Portrait Lighting Setup
Best Flash For Macro Photography
Macro Photography Tips And Tricks – Guidelines & Examples
Thanks for reading, I hope you enjoyed the article, in case you have any questions just drop them below & I will be happy to answer you.
If you enjoy the site, don't forget to subscribe, we will only inform you when a new article is posted.