Portraiture is one of the more demanding genres. We want lenses that are well corrected, offer a wide-open aperture, and provide ideal colors and sharpness. So what is the best portrait lens for Nikon cameras? As it turns out, there are five lenses that consistently rate as the highest achievers! Let's take a look at what's on offer in 2021!
Best Portrait Lenses for Nikon Cameras
Nikon AF-S NIKKOR 85mm f/1.4G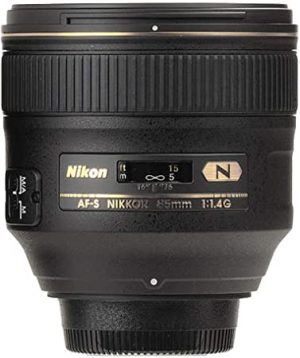 For a DSLR lens that's currently 12 years old, the Nikon 85mm f14G is remarkable in how well it performs! Even modern high-resolution cameras like the Nikon D850 and Nikon Z7 II fail to find the limits of this lens.
Wide-open at f/1.4 you do see a slight loss in sharpness when paired with these 45.7 sensors. But I do mean slight; it's barely noticeable and even preferable because in portraiture you don't need to see every wrinkle, skin pore, and nose hair of your subject. If you want perfect corner sharpness, stopping the lens down to f/2.8 provides excellent results!
Chromatic aberration is present at f1.4 at extremely high contrast edges (tree branches against a bright sky). But a single slider in Lightroom corrects this, as does stopping the lens down to f/2 or more.
Nikon 105mm f/2 DC Nikkor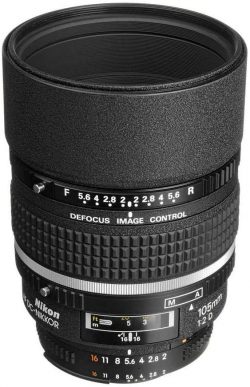 105mm portrait lenses are perfect for photographers who want to work at a distance or capture a smaller section of their subject. And the Nikon 105mm f/2 DC Nikkor is ideal for this subject as the combination of long focal length and fast aperture means a wafer-thin depth of field.
As an older DSLR lens you can expect some vignetting; roughly 3/4ths of a stop of light loss at the extreme corners when shooting wide open at f/2. Considering how long this focal length is, it's ideal for head and shoulders compositions anyway, making vignettes a non-issue.
This 105mm is quite usable at f/2 but stopping the lens down a little to f/2.8 improves the sharpness quite a bit. Long telephoto lenses tend to be distortion-free and the 105mm is no exception. The body-based mechanical screw drive means you'll need to use a compatible Nikon body, like the Nikon D7200 or Nikon DF to get autofocus. Otherwise, you can use this lens in manual mode with any FX or DX camera!
Sigma 50mm f/1.4 DG HSM Art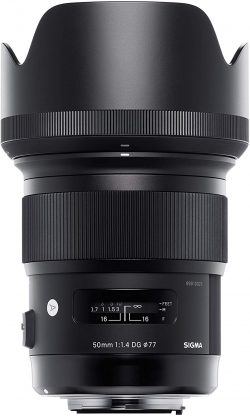 50mm is a classic focal length for photographers that enjoy the normal field of view and a fast aperture. And Sigma's 50mm f/1.4 is the best Nikon portrait lens at this aperture!
At 815 grams, the weight is substantial, even for an f/1.4 prime lens. Compare this to any f/1.8 nifty fifty, which usually weighs less than 300 grams. But it takes 13 lens elements in 8 groups, an aspherical element, and 3 low-dispersion (SLD) elements to keep this lens so optically pristine even at f/1.4.
The corners aren't perfect but they are great at this aperture – and when shooting portraits, we don't need perfect corners at f/1.4 anyway. That said, the Sigma is sharper in the corners than many older f/1.4 lenses are in the center. This lens is significantly better than the rather dated Nikon 50mm f/1.4G, known for being a poor performer wide open.
Even the excellent Nikon 58mm f/1.4G can't quite compete with the Sigma 50mm in the category of sharpness. That said, it's as much a character lens as it is a portrait one, making sharpness not quite as important.
Best Mirrorless Nikon Portrait Lenses
Nikon Z 85mm f/1.8 S
The Nikon Z 85mm f/1.8 is the only classic portrait lens in the lineup for now but is both optically excellent and very affordably priced. The wider Nikon Z mount allows the company to make lenses that are mated extremely close to the sensor. This helps control scattered light, prevents ghosting, and improves sharpness in all of their newer lenses.
Long portrait lenses also benefit the most from image stabilization. Thankfully all of the Nikon Z cameras use stabilized sensors that provide roughly 3 stops of IS when shooting at slower shutter speeds. 9 aperture blades provide a smooth out of the focus region, critical for portrait photography. And if you're an outdoor shooter, the weather sealing on the 85mm f/1.8 S will provide peace of mind when dust and moisture are present.
Chromatic aberration is nearly non-existent and vignetting is absent even at f/1.8. While a vignette can provide a tasteful, classic portraiture element it's nice not having to correct for it in post-processing.
Samyang MF 85mm f/1.4 Z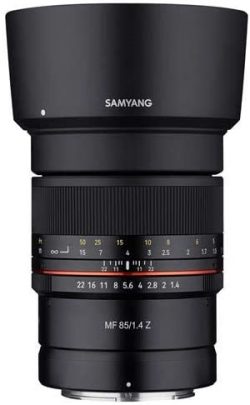 85mm f/1.4 lenses are the gold standard of professional portraiture. Normally, you'd be looking to pay nearly $1000 for one – but the Samyang MF 85mm f/1.4 Z is the fastest 85mm currently available for the Nikon Z line and is extremely affordable as well.
It does use 8 aperture blades rather than the more standard 9, which will affect how the out-of-focus areas appear. More aperture blades tend to create smoother bokeh. Some bokeh color fringing is present when shooting at f/1.4 in certain situations (textured, brightly lit backgrounds). But it's very well controlled compared to even name brand f/1.4 lenses and is easily fixed with post-processing.
Keep in mind that this is a manual focus only lens. While this sounds like a complete downside, manual lenses have a number of advantages. Both the cost and weight of the lens are brought down by not including a focus motor. And by using focus peaking and other mirrorless features you can learn to focus just as fast and precisely as any in-camera system. If you have a tighter budget but still want an f/1.4 aperture the Samyang is easily one of the best portrait lenses for Nikon cameras!
Related Articles
What Is The Best Landscape Lens For Nikon
Best Nikon Camera For Sports Photography
What Is The Best Macro Lens For Nikon?
What Is The Best Telephoto Lens For Nikon?
What Is The Best Wide Angle Lens For Nikon?
Best Nikon Camera For Wildlife Photography
Thanks for reading, I hope you enjoyed the article, in case you have any questions just drop them below & I will be happy to answer you.
If you enjoy the site, don't forget to subscribe, we will only inform you when a new article is posted.