f/4 zoom lenses are often overlooked in favor of their larger but more light-sensitive f/2.8 cousins. That's unfortunate because f/4 lenses are often a solid compromise between price, weight, and image quality. That's why I opted to put together this Sony Zeiss 24-70 f4 review of one of the finest standard zoom lenses than any system has to offer!
Sony Zeiss 24-70 f4 review
As a full-frame FE lens, the Sony Zeiss 24-70mm f/4 is designed to create an image circle large enough to cover a full-frame sensor (sized 35.00 x 24.00 mm). However, it can still be mounted onto Sony's APS-C camera lineup (sensor size 23.5 × 15.6 mm), providing a cropped field of view equivalent to 35-105mm on a full-frame body.
You can also activate an APS-C crop mode using most of the newer Sony full-frame cameras to achieve the same result if you want the added reach at the cost of sensor resolution. The lens is also dust and moisture resistant (not proof), keeping the internal electronics and sensor free from penetration by the elements.
Sony 24-70mm f/4 Lens Specifications
Full Name: Sony 24-70mm f/4 Vario-Tessar T FE OSS Lens
Mount: Sony FE (Full-frame & APS-C)
Maximum Aperture: f/4
Weight:
Additional Features: OSS (Optical Steady Shot), weather resistant, internal focusing motor
Price: Check On Amazon
Lens Breakdown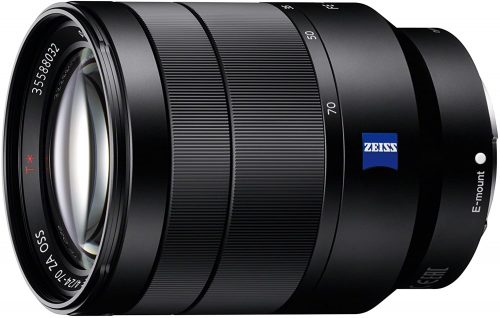 Autofocus System
One benefit this lens offers that often goes overlooked is the internal focusing mechanism. Internal focusing allows a zoom lens to not need to extend when zooming. The lens maintains its 3.72 inch (94.5 mm) length from 24mm out to 70mm.
Internal focusing not only makes the lens more compact but also improves its weather sealing since the lens doesn't "breathe" (take in air) when changing the focal length. I'd have liked to see a Focus Hold button, similar to the one of the Sony 24-105mm and other lenses. This allows me to quickly lock focus onto an eye or other target.
The autofocus system has a maximum close focus distance of 0.4 meters, giving the lens a reproduction ratio of .2x. Not macro level in terms of detail capture but also not too bad for a zoom lens.
Image Stabilization
Sony also included their proprietary OSS (Optical Steady Shot), which uses in-lens elements to negate motion blur from shaky hands or ground. What's more, this system pairs perfectly with the in-body image stabilization (IBIS) used by the latest Sony full-frame and APS-C cameras! But even if you don't have an IBIS enhanced model, you'll still have the full benefit of OSS.
OSS is especially handy when shooting using telephoto focal lengths (greater than 50mm). The longer the lens focal length, the faster the minimum shutter speed required to avoid motion blur.
Image Quality
Here's where the rubber meets the road. What is the image quality like for the Sony 24-70mm f/4 Vario-Tessar? Really good but not as good as a fully corrected lens.
The Sony 24-70 f4 uses a lot of software correction to address distortion, vignetting, and chromatic aberration. The solution is elegant, cost-saving, and brings down the weight of the lens since less glass is required. But it's not 100% effective in all situations.
And when shooting at 24mm you lose corner sharpness as a result. Considering it's an f/4 lens, which is meant to trade maximum light gathering for a lightweight build and image quality, that's a bit disappointing to find.
But the distortion is only visible if you strip the RAW files of the correction profile. Also, it's only severe at 24mm and is no longer there past 35mm or so. Some vignetting is also present at the telephoto end (60-70mm) but is also well corrected by the internal software.
The flare control this lens provides is excellent, though! The modern Zeiss coatings are some of the best in the industry for preserving contrast while managing flare from sunlight and other sources. You can still get a slightly better result from using a lens hood. But the Sony 24-70 f4 brilliantly manages to avoid severe flare in almost all lighting conditions.
Wide open you will likely see some chromatic aberration (purple fringing) when shooting wide open at f/4. Chromatic aberration occurs where high contrast edges appear in bright lighting, such as tree branches against a sunny sky. However, stopping down the lens even a little makes it vanish. It's also very easily corrected in Lightroom and other post processing software!
Who is the Sony 24-70mm f/4 Vario-Tessar for?
In the modern photography world, there's an unfortunate fixation on the fastest possible apertures. Everyone wants an f/2.8 zoom and f/1.4 prime lenses when there are significant benefits to slower apertures.
An f4 zoom like the Sony Zeiss 24-70 weighs a lot less than an f/2.8 zoom covering the same range. While there are third party lenses that cut down on some of the fat, the equivalent Sony lens is the Sony FE 24-70mm f/2.8 GM Lens. At 886 grams, it's fully twice the weight (and twice the cost) of this f/4 zoom. Do you really need f/2.8 that frequently?
Given the OSS system, IBIS-mounted sensor, and astounding dynamic range of the latest digital camera sensors…Sacrificing a single stop of aperture is an excellent trade, in my opinion.
This is a great lens for people who want the best image quality and often stop down their aperture (as they should). Photojournalists, street photographers, documentary photographers, and people who want a generalist zoom to complement an f/2 or faster prime should buy this lens!
Sample Photos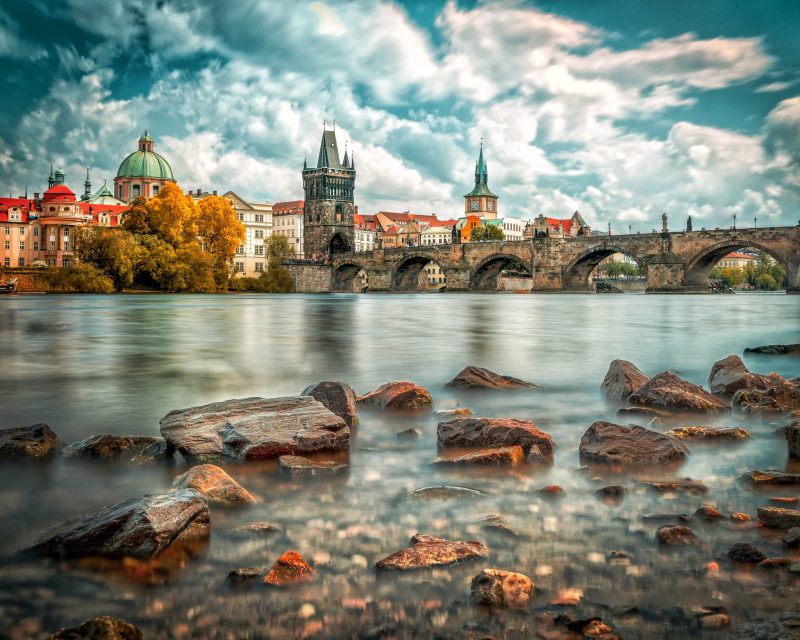 By Onfotolife.com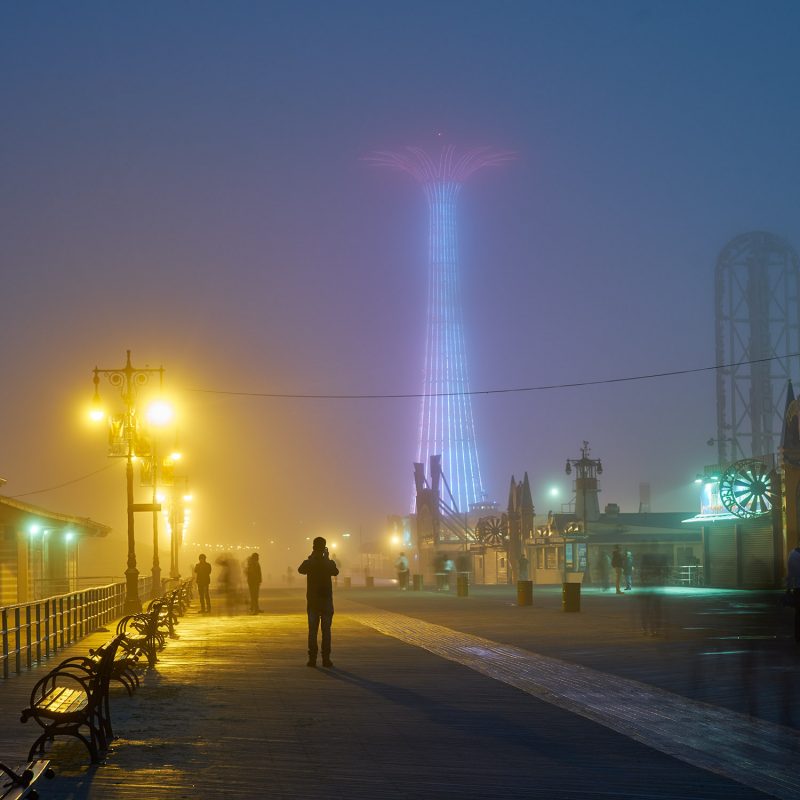 By Onfotolife.com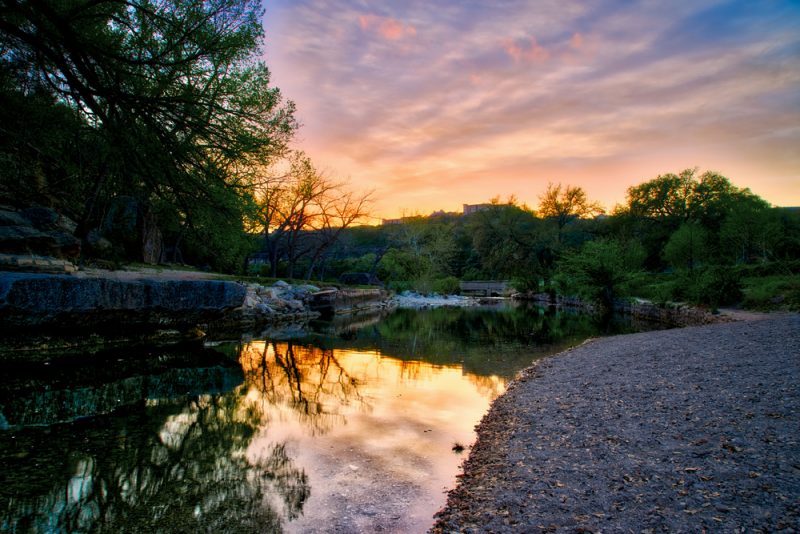 By Jim Nix
Concluding the Sony Zeiss 24-70 f4 Review
I'm a fan of f/4 zooms for the reasons listed above and the Sony Zeiss 24-70 f4 is one of the finest. While the software corrections are unfortunate they help keep the cost and weight of this lens down. And you can still get fantastically sharp images with the right processing. If you don't actually need an f/2.8 zoom then consider a lighter model that leaves space in your bag and wallet for another lens!
You can also check out the used Sony 24-70 F/4 on Keh. I highly recommend this site for buying/selling used camera lenses.
My Overall Rating (Out of 10)
Build Quality: 10
Auto Focus: 8.5
Distortion Handling: 8.5
Sharpness: 8.5
Price/Quality ratio: 9.5
Thanks for reading, I hope you enjoyed the article if you have any questions just post them below & I will be happy to answer you.
If you enjoy the site, don't forget to subscribe, we will only inform you when a new article is posted.