Fujifilm is, unfortunately, a more niche brand compared to Canon, Sony, and the rest. Therefore, it can be harder to find the right accessories to complete your camera kit. I've taken the time to gather this list of what I feel are the best accessories for Fujifilm as of 2021!
The Best Accessories for Fujifilm
Fujifilm EF-X20 Shoe Mount Flash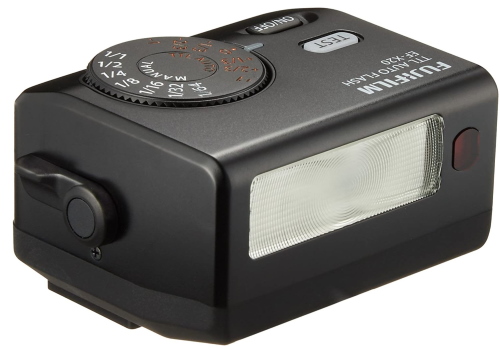 When it comes to the best accessories for Fujifilm it's hard to beat a good flash. Of the two flash units that Fujifilm makes, the EF-X20 shoe mount flash  ($212) is my favorite. Styled to match the X-Pro line, it has a compact form, an adequate guide number (GN) of 29, and uses the same film-styled manual dial controls that Fujifilm cameras are known for. And being a Fujifilm brand, it provides full TTL alongside manual flash output.
It does use AAA batteries, which slows its recharge rate somewhat but only if you're continually shooting at full power. At a lower flash output setting, you'll see refresh rates of a reasonable 2-6 seconds. The EF-X20 also includes a built-in diffuser to feather the flash output into a more flattering diffused light that's less harsh. This helps make up for the lack of tilt and bounce capacity that other flash units provide.

Fujifilm NP-W126S Li-Ion Rechargeable Battery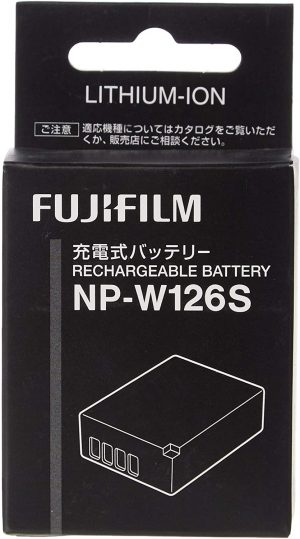 The Fujifilm NP-W126S has been the standard battery for Fujifilm X cameras since the X-T1. The X-T4 has recently switched over to the higher capacity NP-W235 Li-Ion battery but every other model continues to use the NP-W126S.
If your budget is your primary concern, third-party versions such as the Kastar rechargeable battery (see below) offer plenty of power at a reduced price. But OEM (original equipment manufacturer) batteries are perfectly matched to each camera.
They also are far less likely to show incorrect battery gauge readings and hold up better in the cold and other extreme weather conditions. Newer Fujifilm models actually show a warning indicating that a third-party battery has been connected and may not provide as much juice as you'd expect.

Kastar Battery Charger for Fujifilm X-T2, X-T3, X100V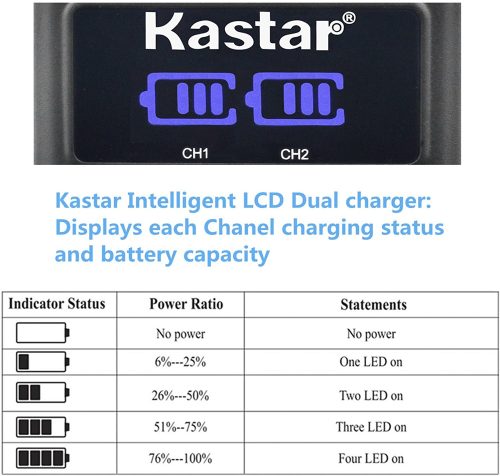 As nice as OEM batteries are sometimes we simply can't afford to pay for the little boosts they provide. Third-party manufacturers such as Kastar have batteries that provide similar power output for a discounted price. Also, you often get several, making them highly economical, so long as you don't mind having to recharge more often.
The latest Fujifilm models, including the X-T4 and X100V, don't come with a battery charger built-in. Despite raising the price on its latest models Fujifilm is opting to forgo them entirely and encourages its users to rely on USB charging only.
The Kastar Dual LCD USB charger ensures you can get multiple batteries recharging simultaneously, which you otherwise can't do with a newer Fujifilm camera unless you're using an attached battery grip.

Meike Fujifilm Battery Grip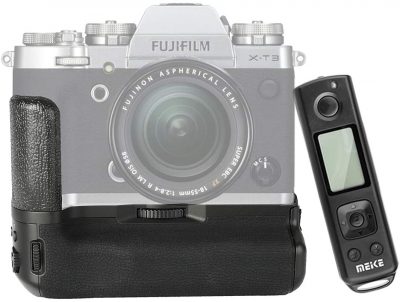 Photographers using the X-T or X-H line of cameras should consider a battery grip to avoid having to swap batteries during a shoot. A good grip also allows you to charge all three batteries simultaneously.
Meike's Fujifilm battery grips are currently available for the X-T1 ($45.99), X-T2 ($69.99), and X-T3 ($99.99). And eventually, the X-T4. Each grip maintains the weather sealing of the camera, provides a secondary switch to activate boost mode and additional customizable Fn buttons, and a control wheel for extra flexibility!

SanDisk 128GB UHS-II Extreme Pro Memory Card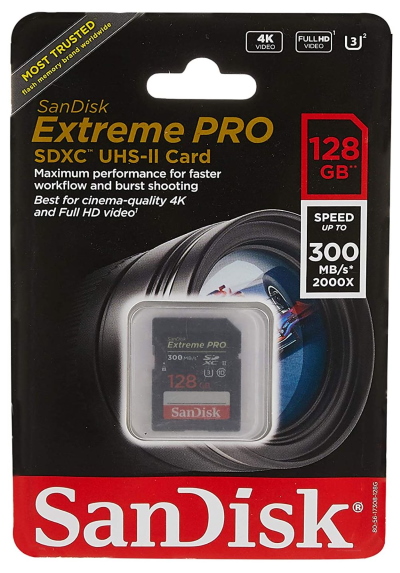 SanDisk makes some of the best high-speed memory cards in the industry. High read and transfer speeds are essential for videographers. Cameras like the X-T4 offer 4K video recording in F-log and without fast cards to match video work becomes more difficult.
The Extreme Pro Memory Card has read and transfer speeds of up to 300MB/sec as well as write speeds of up to 260MB/sec. This ensures that the camera buffer stays clear during sports, wildlife, and other action genres where RAW burst photography is often needed.

Peak Design Cuff Camera Wrist Strap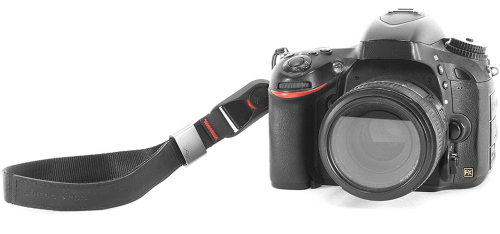 Wrist straps aren't ideal for larger bodies like the X-H1 or X-T4. But if you use the smaller X-Pro3 or X100V you may find the Peak Design Wrist Strap ($29.95) to be perfect for your needs.
The strap is ultra-light and connects in seconds to the metal eyelet of your camera. While they look flimsy each anchor is capable of resisting up to 90kg of force and is highly resistant to cuts and tears. Peak Design also includes a lifetime warranty to guard against any failures – and the black and red motif is a perfect match for any Fujifilm X series camera!

Peak Design Everyday Sling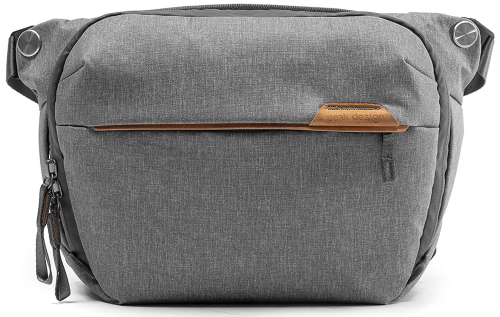 Peak Design also makes some of the finest sling-style bags for Fujifilm photographers. The 6L Everyday Carry ($99.95) and 10L Everyday Carry ($149.95) are both weather-resistant and use seat belt nylon for a strap that's entirely resistant to cuts or breaks.
Each sling also includes Peak Design's patented flex fold dividers for customizable storage. These dividers are rigid and better able to hold cameras and lenses in place. And the YKK zippers are designed to last for decades of daily use.
The 6L model is ideal for an X-T4 plus two or three lenses. 10L Everyday Carry is ideal if you have more than 3 lenses and also need room for a laptop or other device. Both models come in Ash, Midnight Blue, or Black.

JJC TA-X100V Black Thumb Grip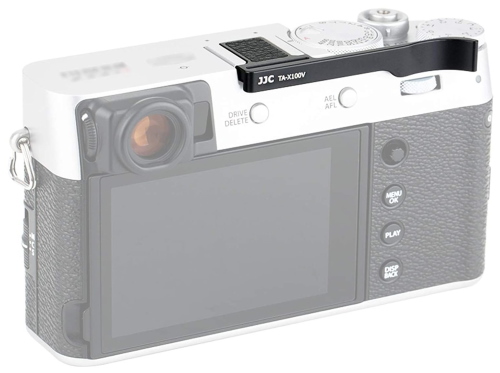 Photographers who prefer the minimalistic flavor of the X100 line should consider adding a hot shoe thumb grip to their kit. While it takes the place of a hot shoe-mounted flash the black or silver thumb grip ($21.99) gives added support for the near gripless X100V.
Having a thumb grip makes one-handed operation much simpler. It's also faster to detach from the camera than a neck or wrist strap.

Conclusion
The best accessories for Fujifilm come in a wide array of choices and depend mostly on your needs as a photographer! Besides lenses, nearly anyone will need to stock up on batteries and should have added stabilization in the form of a strap or thumb grip. Hopefully, one of these products will greatly improve your shooting experience!
Related Articles
Best Fuji Prime Lens- The Full Guide
Thanks for reading, I hope you enjoyed the article if you have any questions just post them below & I will be happy to answer you.
If you enjoy the site, don't forget to subscribe, we will only inform you when a new article is posted.