Fujifilm cameras are some of the finest models on the market right now. The company has invested in a premium line of APS-C cameras for all skill levels as well as a professional line of medium format cameras for photographers needing 100 megapixels or more to work with! With something for all budgets and needs, Fujifilm is a great company to build a lens lineup around. And here are the best Fujifilm cameras of 2021 to start with!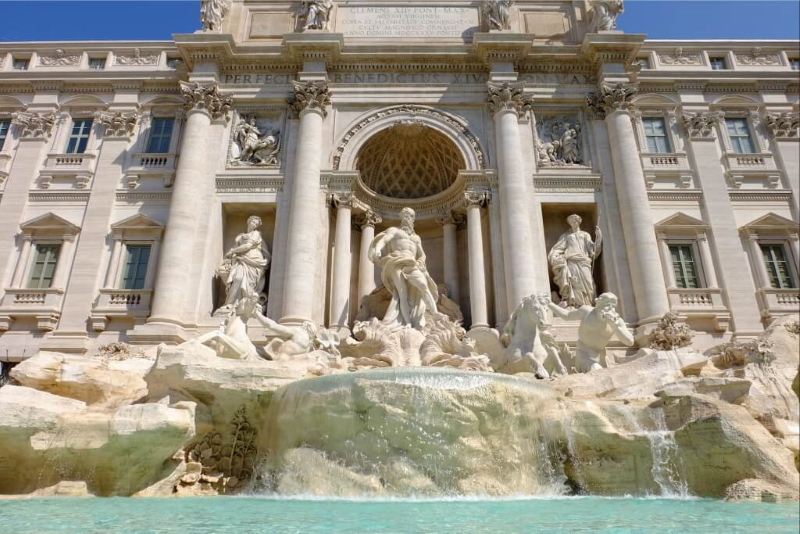 The Best Fujifilm Cameras
Fujifilm X100V
Fujifilm XT-4
Fujifilm GFX 100S
Fujifilm X-S10
Fujifilm X-E4
Let's talk about each in depth.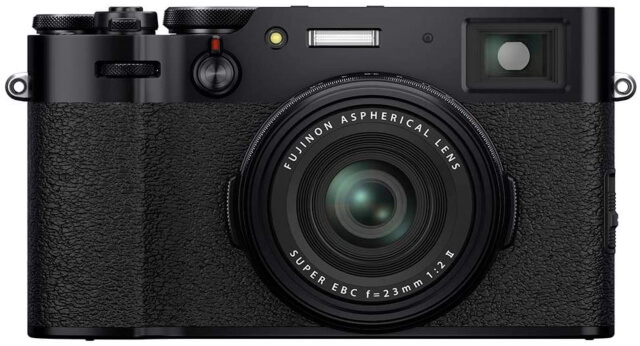 Premium compact cameras are some of my favorites. The fixed high-quality 23mm prime lens of the X100V offers a 35mm full-frame equivalent that's perfect for everything from portraits to landscapes. And the f/2 aperture allows plenty of light for dimly lit environments or shallow depths of field.
The rangefinder styling means that the X100V uses the same hybrid viewfinder as Fujifilm's X-Pro lineup. You get an optical viewfinder similar to a DSLR as well as an electronic viewfinder like any other mirrorless camera. But the X200V includes a hybrid viewfinder that pops in the corner as needed!
Lastly, the built-in flash and 4-stop neutral density filters mean you don't need to carry these accessories along when shooting! This is one of the best cameras for photographers that prefer a minimalist setup!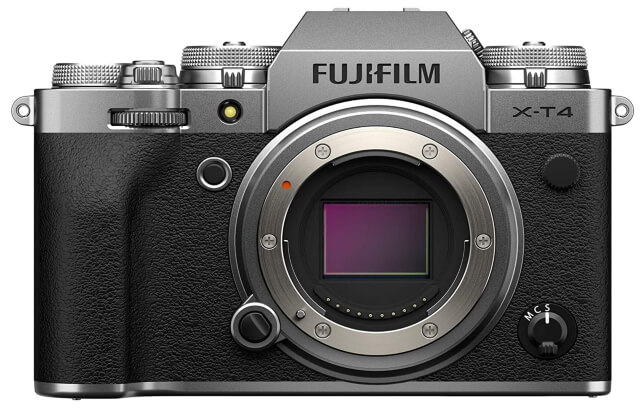 If you prefer the option of interchangeable lenses, the Fujifilm X-T4 is the latest camera in the company's APS-C lineup. It's also the first X-T# model to offer image stabilization, which helps prevent shaky hands from causing motion blur when using slower shutter speeds. 425 autofocus points are spread across the sensor, along with 100% phase-detection coverage. All of the latest APS-C Fujifilm cameras share this architecture.
Like most Fujifilm cameras the X-T4 has full manual exposure controls, with dedicated ISO, shutter speed, and exposure compensation dials, just like an old-school film camera! It's also fully weather-sealed, making it an excellent wildlife and landscape option.
Videographers will find quite a bit to like as well; the X-T4 can record DCI 4K (4096 × 2160p) at up to 60fps and Full HD in slow motion (240 fps). Fujifilm Film Simulations also take a lot of work out of color grading, especially Eterna, which offers a low cinematic contrast look straight out of the camera!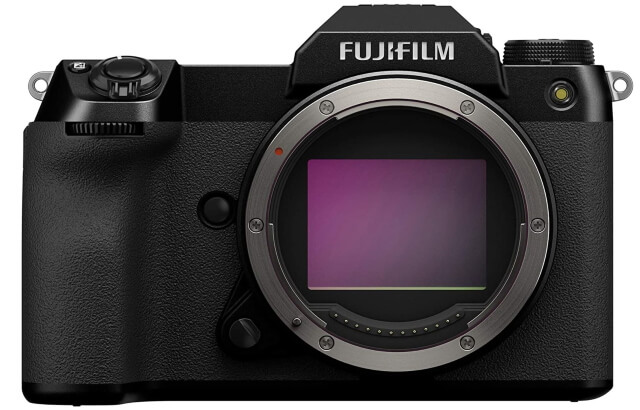 Fujifilm wisely skipped the crowded full-frame market and instead dove into medium format sensors. Medium format cameras have even larger sensors and collect vast amounts of light for extremely fine color detail and dynamic range.
At 900 grams the GFX 100S is the smallest model yet, on par with many full-frame cameras. Its 102-megapixel BSI (backside illuminated sensor) offers plenty of native resolution. Yet the GFX 100S is also equipped with Pixel Shift technology, enabling it to capture the true color, 400-megapixel images of non-moving subjects, like landscapes and still life scenes.
It's also fully weather-sealed, making it an ideal landscape camera. But unlike the Fujifilm X APS-C line, the GFX 100S uses a more conventional PASM dial instead of manual exposure controls. It also uses a conventional Bayer color filter array over the X-Trans color filter that the X cameras use. X-Trans files offer slightly different colors and better sharpness compared to Bayer cameras of the same sensor size. But the files are challenging for Adobe Lightroom and other processing software to handle.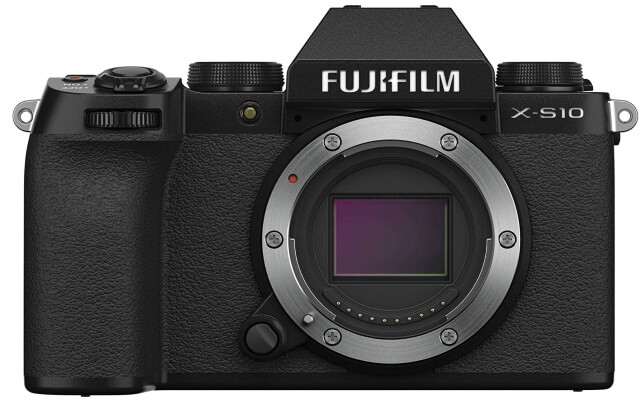 Fujifilm's X-S10 represents a new direction for the company. It's an entry-level to intermediate option for photographers that don't enjoy the traditional film-like handling and want a conventional PASM dial instead. 
Despite being designed like a beginner camera the X-S10 includes nearly all of the best features of the X-T4 and other pro-level bodies! Since Fujifilm uses the same sensor on all of its current generation cameras the X-S10 has the same resolution, autofocus speed, low light sensitivity, and other details as the X-T4. You also gain access to DCI 4K and all of the latest Film Simulations in exchange for weather sealing, a larger battery, twin SD storage slots, and a few more professional features that the X-T4 offers.
Instead, the X-S10's pro-level sensor comes housed in a composite plastic body. On the other hand, the deeper grip of the X-S10 offers a more traditional camera feel that's like a DSLR without the bulk. The camera also has a newly designed IBIS (in-body image stabilization) system that's Fujifilm's smallest yet!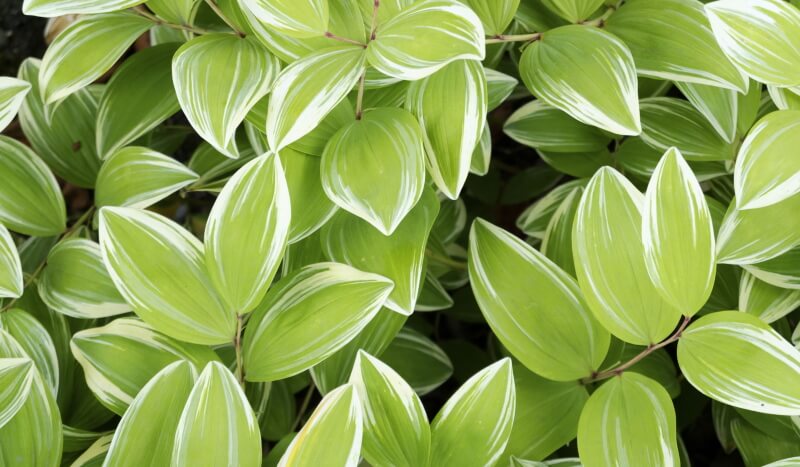 Lastly, we come to the X-E4. Fujifilm's X-E# line is a series of small rangefinder cameras for photographers looking for a minimalist body that doesn't sacrifice image quality. The X-E4 has fewer buttons, no weather sealing, and no image stabilization, which helps keep them small enough to fit in your pocket. But they are fully equipped to use any of Fujifilm's APS-C interchangeable lenses and have the same top-shelf sensor as the X-T4!
The X-E4 is an ideal companion for street, documentary, and travel photographers who want a discrete body that still offers premium image quality. The X-E# cameras are meant to be paired with Fujifilm's smaller prime lenses, such as the 27mm f/2.8 Mark II or the 18mm f/2. These are not only classic focal lengths but small pancake lenses that can slip quickly into a side satchel or even a pocket.
The speed of the X-E4's autofocus is as snappy as the X-T4's as well, making it one of the best Fujifilm cameras for shooting from the hip on the streets. But if you prefer shooting at eye level the 2.36 million dots rangefinder-styled EVF offers you a sharp, bright viewfinder experience!
Can't afford a brand-new Camera?

Sometimes, Cameras can be very expensive for many people. However, Keh is a great option to get a used one at a reasonable price. Read the full review here.
Up To 40% Off Regular Priced Used Photography Equipment
Thanks for reading, I hope you enjoyed the article, in case you have any questions just drop them below & I will be happy to answer you.
All photos are accredited to the official site of Fujifilm
The featured Photo by Math from Pexels
If you enjoy the site, don't forget to subscribe, we will only inform you when a new article is posted.