Photography is like most art forms; it relies on form and emotion to convey ideas to your audience. On the other hand, photography is very different because it's one of the most technically involved arts of them all. And understanding how to use that technology and bend it to your will is an essential step in becoming a master photographer. If you're interested in improving beyond snapshots, have you considered taking a course to further your artwork? If so, then here is the best online photography class for beginners that I've found!
The Best Online Photography Classes for Beginners
Beginners looking for a series of online photography classes should stick to using a single website. Rather than having to familiarize themselves with several site layouts, teaching styles, and other issues, they can use a page that offers a one-stop-shop for all of their educational needs.
That's why I recommend The Photo Academy for beginner photographers! This website is in-depth, has an extensive social media presence, and provides precisely the structure you need without it being too overwhelming for beginner or intermediate photographers. Here's what The Photo Academy has to offer!
What is The Photo Academy?
The Photo Academy is an ideal framework for students who don't do well being given a textbook and told to explore. Instead, you sign up for a timeslot where you will attend a live online class with several other students and a professional photographer who works as the instructor. Each of their photographers has a full biography where you can learn about their background in photography and see samples of their work. All the better to decide if their personal vision is a match for your own!
Each class runs from 2 hours to 3 hours and 30 minutes in length, depending on the subject at hand.  As great as The Photo Academy is for beginners they also offer intermediate-level courses as well. Intrigued yet? Then let's dive into what classes they offer!
What Classes Do They Offer?
The beginner classes are oriented around the theme of mastering your camera. They start out with understanding the settings and functions of your camera, mastering the Exposure Triangle, composition for speed, lighting, and using the auto and manual focus modes of your camera.
Each class costs €69, which is very reasonable considering you're working remotely with a professional photographer. You also have the option of purchasing an entire series of 12 classes for €380, which is a financially sensible option if you're invested fully into learning your camera with The Photo Academy! Typically, you'll see up to 7 students per class, with less always being a possibility, which ensures you'll get more individual attention from your instructor! And English, being the lingua franca of the world, is the medium of instruction!
If you are new to photography, you might be interested in downloading my free Ebook.
The intermediate-level courses build on the beginner foundation and include subjects like finding inspiration, further studies on composition and framing, and building your own photographic series! You will also have the instructor look over your images as well as those of your classmates in order to discern your strengths and areas that need improvement.
What if you prefer an in-person learning experience? The Photo Academy also offers private face-to-face courses where you have the photography instructor all to yourself! Prices vary, depending on the dates and locations. Many major cities are possible venues, including Chicago, Paris, Brussels, and Toronto! That said, the Western-centric locations make signing up for personal classes difficult for most international students.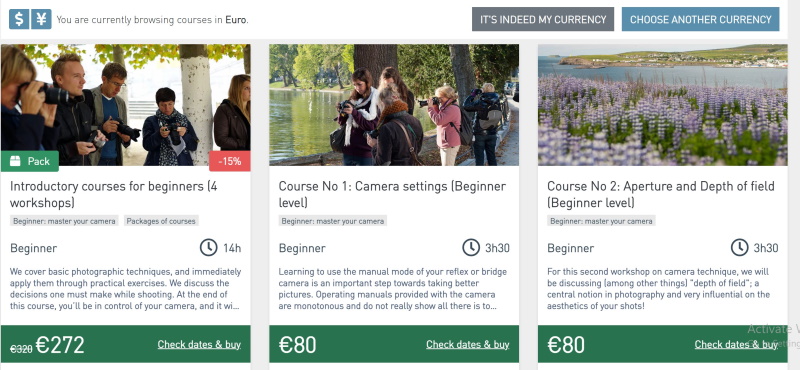 The Photo Academy's courses go beyond simply handling an interchangeable lens camera, however. Smartphone photography is even more popular nowadays and there's nothing preventing you from creating stunning images using the sensor in your phone.
Their coursework extends from smartphone camera composition and framing to mastering the ins and outs of Instagram and other photography social media platforms. Food photography, videography, smartphone portfolio reviews, and even in-person private classes are all options you can explore through The Photo Academy, just like any DSLR or mirrorless photography class! And if you need help in writing coursework, you can contact studycrumb.com
I'm also impressed that they offer courses on retouching because working within the digital darkroom using RAW files is a skill all photographers should master. The Photo Academy offers Lightroom Level 1 (Organizing and selecting images) and Level 2 (Retouching images) and Photoshop Level 1 (Digital photo acquisition, development, and editing).
You can see these courses are more of an introduction to the power and potential of Adobe's photography suite because these two programs take years for even professional photographers to master. But you'll be well on your way through these introductions guided by a professional photographer!
Becoming a Photography Instructor
Once you've advanced enough in your own photography knowledge, you may decide that you love The Photo Academy enough to teach your own classes! In that case, you can apply here where you are screened by them for technical know-how, examples of your portfolio, and other factors. If you've dreamed of teaching the arts to beginner artists as enthusiastic as yourself, what better place to begin?
Online photography courses
Photoshop Level 1: Introduction to digital photo acquisition, development, and editing
Lightroom Level 1
Trimester 1: Mastering your camera, educating your eyes
Trimester 2: Developing your photographic style
Trimester 3: Affirming your style, developing your photographic writing
Course 1: Camera Settings
Course 2: Aperture and depth of field
Course 3: Speed and movement
Course 4: Light and focus
Course 5: Instagram
Conclusion
Overall, I rate The Photo Academy extremely highly in all respects. It covers every course a new photographer should be studying. Lighting, composition, framing, camera settings, the Exposure Triangle…It's all here. And they then build upon this in their intermediate lessons and help you define a personal style and learn how to create a photography series.
Is The Photo Academy right for you? I'd say it depends on your level of dedication to photography. You can certainly learn any art through a book, YouTube, or simply stumbling around with your camera until you figure it out (as I did). But you'll absolutely learn faster through courses that provide structure, motivation, and feedback on your images.
And having the flexibility of being able to study both remotely and in person makes The Photo Academy easily one of the best online photography classes for beginners! Because artists are as diverse as their subjects and you likely already know which learning style best meets your needs.
Thanks for reading, I hope you enjoyed the article, in case you have any questions just drop them below & I will be happy to answer you.
The featured Photo by Marco Xu on Unsplash
If you enjoy the site, don't forget to subscribe, we will only inform you when a new article is posted.