Whether you're starting out, or you're a hoppiest photographer already, you will need advice and tips. Even if you're a pro shooting with a full-frame camera and have a huge collection of lenses at your disposal, there will still be tips and tricks out there to expand your skillset. Photography websites are a very handy place to go for all kinds of information.
In addition, photography workshops offer an enormous variety of options. You can travel at home or abroad. Visit iconic locations or off-the-beaten-path locales. In each case, though, you'll benefit from small-group instruction from incredibly talented photographers.
To make your life easier, I have put together this list of the top 11 photography websites. Some will offer you photography news; others will give you tutorials, gear reviews, and educational stuff, also some will provide a forum where you can discuss various photography tasks and get the proper help you need.
Photography websites list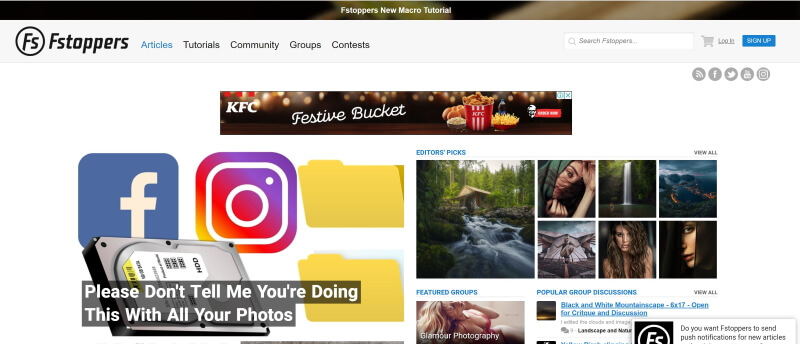 Fstoppers is an online community aimed at educating and inspiring photographers, videographers, and creative professionals.  Started in 2010 by founders Patrick Hall and Lee Morris, Fstoppers has grown into one of the top resources for photography lighting, gear reviews, business tips, behind-the-scenes, and industry news.
Today the website reaches over 1.5 million photographers and averages around 6 million pageviews a month.  Fstoppers has been featured on NPR, The Huffington Post, Resource Magazine, Mashable, Gizmodo, Tech Crunch, Geek.com, Facebook Business, Vimeo Staff Picks, Adobe, Life Hacker, ABC News, BuzzFeed, and many other industry-leading news outlets.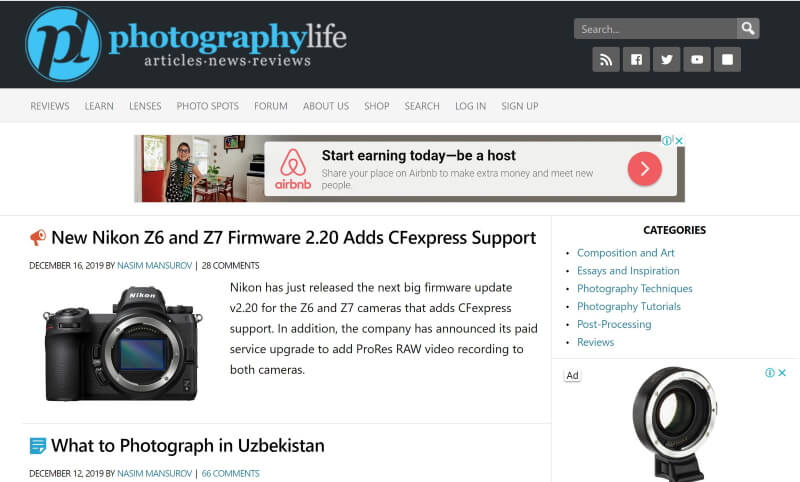 Photography Life is a reputable website dedicated to all things photography, offering a wealth of resources for photographers of all levels. With a clean and user-friendly interface, the site provides a comprehensive range of content, including in-depth camera and lens reviews, photography tutorials, industry news, and expert tips.
The website's team of experienced photographers and writers delivers high-quality articles that cover various aspects of photography, from technical aspects to artistic techniques. Photography Life also fosters community engagement through its active comments section, allowing visitors to interact, share insights, and seek advice.
With its commitment to providing valuable information and fostering a supportive community, Photography Life has become a trusted source for photographers seeking inspiration, knowledge, and improvement in their craft.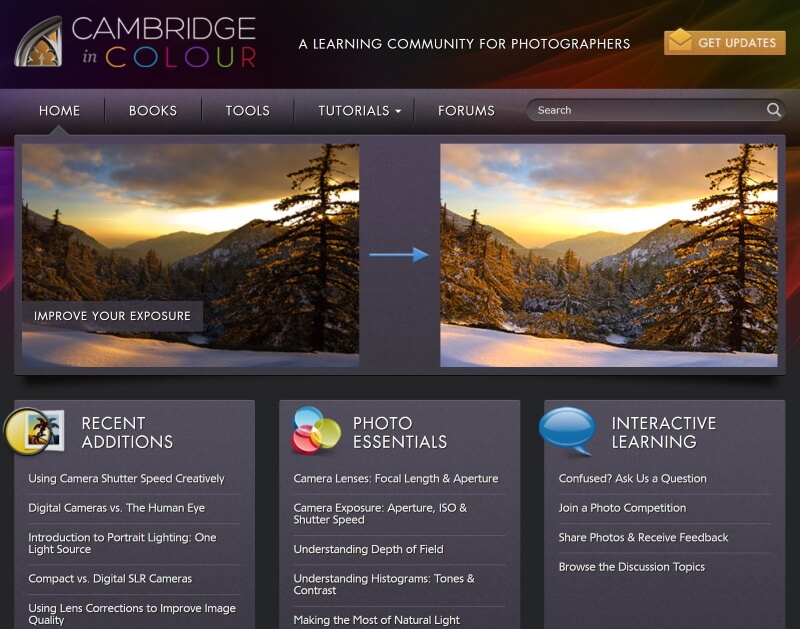 Cambridge in Colour is an online learning environment where photographers can come to improve their skills. After its founding in 2005, it has grown substantially both in content and in the number of visitors it attracts. On any given day, over 20,000 different people are learning about photography and contributing to the forums community. Thank you to all those who have helped spread the word — this is an exciting time to be involved in digital photography.
Most sites focus on blog-style content that gets broadcast frequently, which is an important role that is well-suited for the internet. However, Cambridge in Colour's website believes that there is also a strong need for more permanent, reference-style content that readers can continue to benefit from repeatedly. Toward this end, our tutorials typically focus more on concept than procedure, are visual and often interactive, and cover each topic thoroughly but concisely. We also try to keep them as independent of the type of camera or software as possible.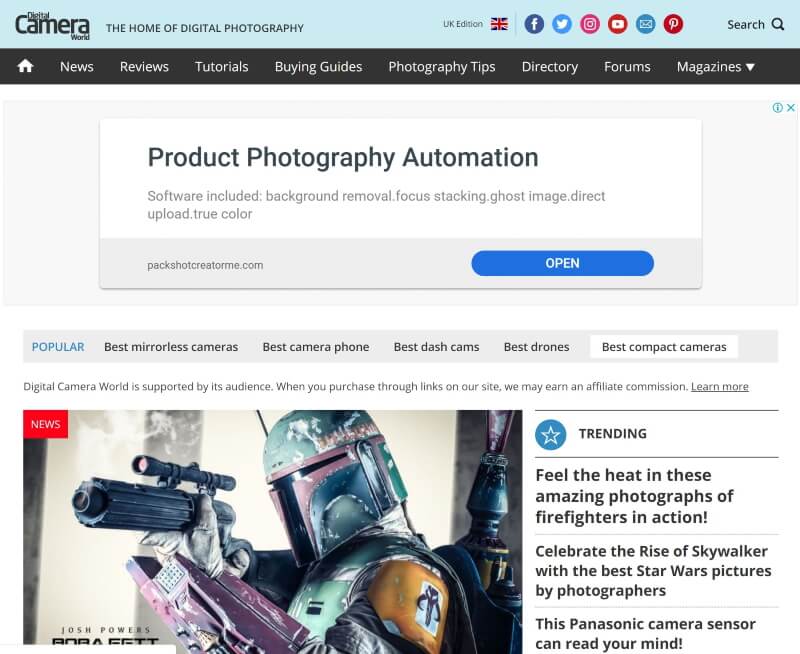 Digital Camera World is the world's fastest-growing photography website, covering every aspect of image-making, from DSLR and mirrorless cameras to mobile photography, drones, post-production and printing.
Through informative tutorials, no-nonsense reviews and in-depth buying advice, Digital Camera World helps photographers find the best gear and shows them how to use it.
Created by the experts behind the world's best-selling photography magazines, DCW is for image-makers of all skill levels, from beginners to professionals.
DCW has a huge global social media audience across multiple platforms, including Facebook, YouTube, Twitter, and Pinterest.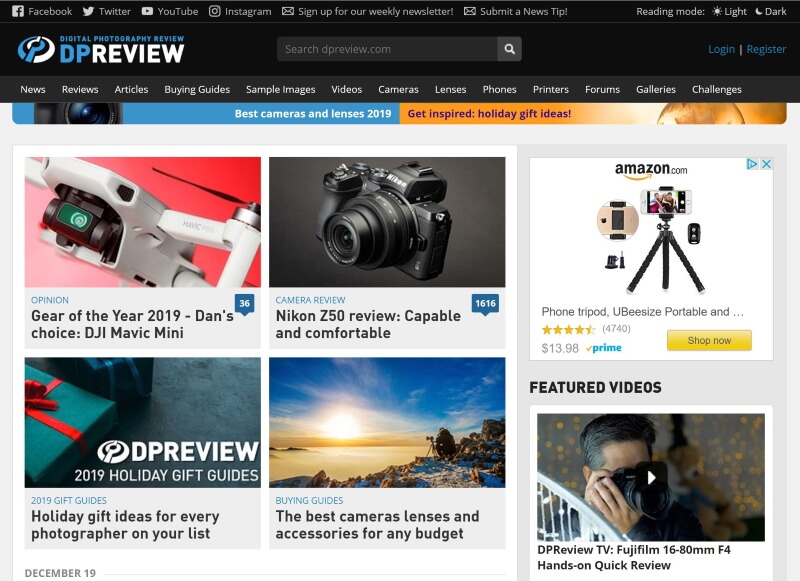 Digital Photography Review (DPReview) is a renowned website dedicated to all things related to digital photography. With a strong focus on camera and lens reviews, DPReview has established itself as a go-to resource for photographers seeking in-depth and objective analysis of the latest photography equipment.
The site provides comprehensive coverage of camera technology, industry news, and photography techniques, making it a valuable hub for both professional and amateur photographers. DPReview also boasts an active community forum where users can engage in discussions, share their work, and seek advice. With its wealth of information, detailed reviews, and vibrant community, DPReview remains a trusted source for photographers looking to stay updated and make informed decisions about their gear.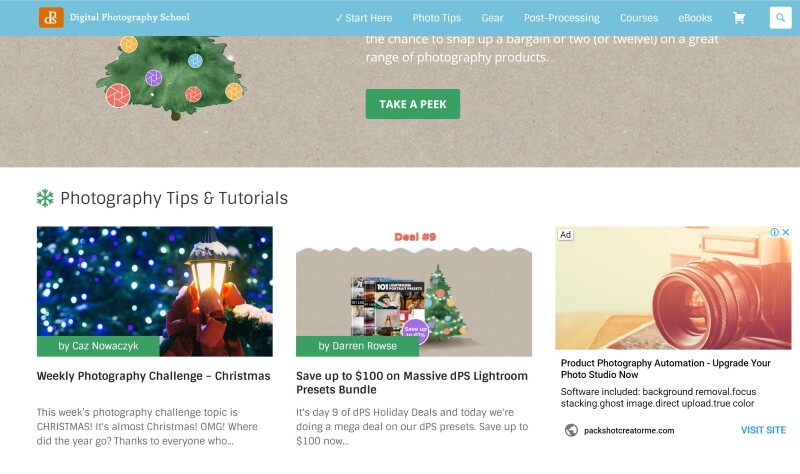 It is one of the most popular and longest-running blogs on the web about photography. Founder Darren Rowse is a digital photography enthusiast who created the site to share tips for photographers who want to get the most out of their cameras.
Digital Photography School (DPS) was born in 2006. Since then the site has grown to include a team around the world writing tips for a community of over 2 million. This 'School' is not a formal one by any means. There are no classes, no teachers, no exams – rather it's a challenging and enjoyable learning environment where we share tips and techniques to help you improve all aspects of your photography and in our Facebook Group where over 120,000 of us share what we're learning, show our photos and ask and answer each other questions.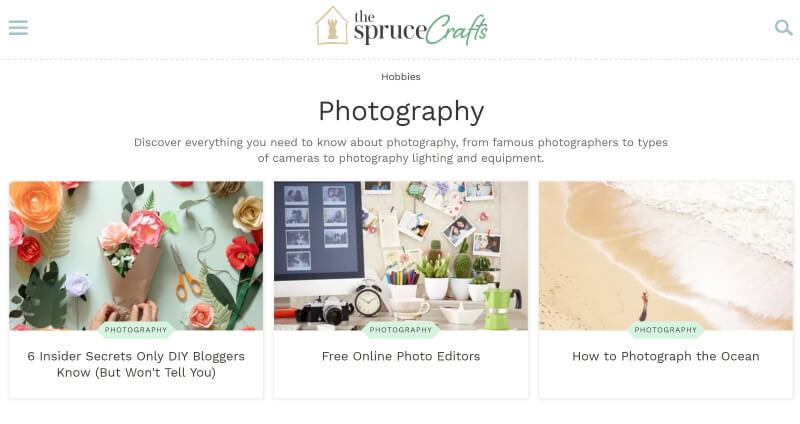 The Spruce Crafts is a DIY craft and hobby site covering helpful tips and step-by-step tutorials from passionate makers. Our 20-year-strong library of over 6,500 in-depth articles and tutorials covers a variety of crafts and hobbies, from crochet to coin collecting. We have a team of writers and professional DIYers all producing articles and tutorials with useful, beautiful photography and valuable insights honed from years of hands-on work. Whether you're looking to master a new hobby, improve your skills, or simply get inspired, The Spruce Crafts is here to help.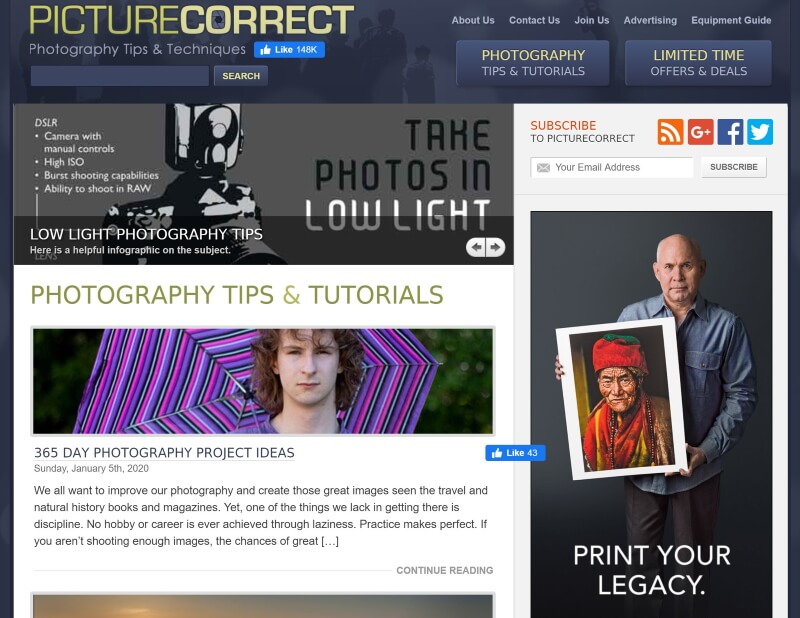 Picture Correct is a photography website that provides a valuable platform for photographers of all levels. With a concise and user-friendly interface, the website offers a wealth of resources to enhance photography skills and knowledge.
Picture Correct features informative articles, tutorials, and tips covering various aspects of photography, including composition, lighting, post-processing, and gear recommendations.
The website's articles are written in a clear and accessible manner, making complex concepts easy to understand for beginners while still offering valuable insights for more experienced photographers. Additionally, Picture Correct showcases a gallery of stunning photographs submitted by its community, inspiring creativity and offering a platform for photographers to share their work.
Whether you're seeking guidance, inspiration, or a sense of community, Picture Correct is a valuable resource for photographers passionate about their craft.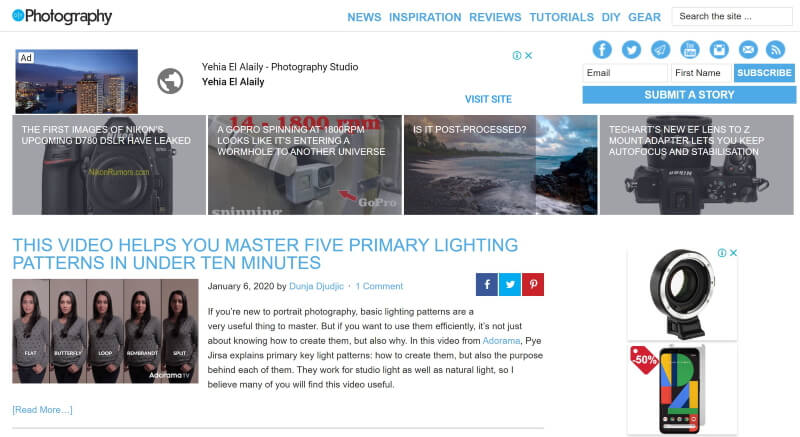 DIY Photography (or DIYP for short) started in 2006 as a place for gear-lusting photographers (hence the name), it has quickly evolved into a place of news, inspiration, education, gear chat and a place for photographers to hang out.
With a strong focus on educational content, we feature some of the best and most inspiring photography found worldwide, industry news, exciting behind-the-scenes footage, gear reviews, and the best photography tutorials to be found on the web.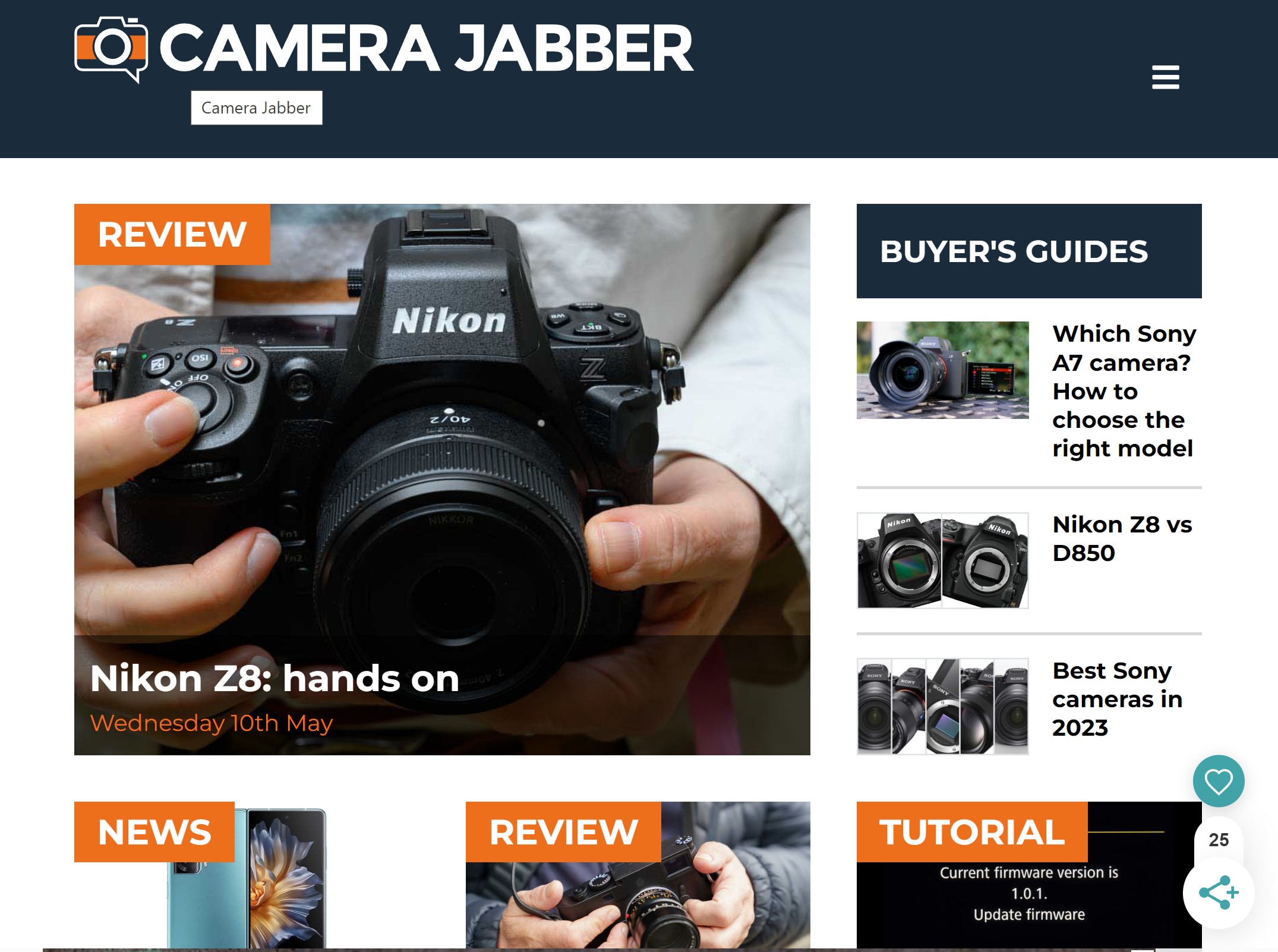 Camera Jabber is a popular photography website that provides a comprehensive platform for camera enthusiasts, photographers, and videographers. It serves as a valuable resource for camera reviews, news, tutorials, and industry updates. With a user-friendly interface and a wealth of information, Camera Jabber has become a go-to destination for photography enthusiasts around the world.
One of the key features of Camera Jabber is its extensive library of camera reviews. The website offers in-depth, unbiased reviews of a wide range of cameras, lenses, and photography accessories. These reviews provide detailed insights into the performance, features, and overall quality of various camera models, helping users make informed decisions when purchasing new gear.
In addition to reviews, Camera Jabber also covers the latest news and announcements from the photography industry. Whether it's new camera releases, firmware updates, or innovative photography techniques, the website keeps users up-to-date with the rapidly evolving world of photography. This ensures that visitors are always aware of the latest advancements and trends in the field.
Camera Jabber goes beyond just product reviews and news by providing a variety of helpful resources. The website features tutorials, tips, and techniques to improve photography skills and enhance creativity. From beginner guides to advanced shooting techniques, Camera Jabber caters to photographers of all skill levels, offering valuable insights and practical advice.
Furthermore, Camera Jabber encourages community engagement through its active forum. Users can participate in discussions, ask questions, and share their experiences with fellow photographers. This fosters a sense of community and allows individuals to connect and learn from each other, creating a vibrant and supportive environment for photography enthusiasts.
Related Posts
Learn Digital Photography Online
YouTube Photography Tutorials- Improve Your Photography Skills
Thanks for reading, I hope you enjoyed the article if you have any questions just post them below & I will be happy to answer you.
If you enjoy the site, don't forget to subscribe, we will only inform you when a new article is posted.
The featured image by Gerd Altmann from Pixabay