A digital camera remote (also known as a remote release or wireless release) is a useful camera accessory; it allows you to trigger your camera shutter from a distance without physically touching the camera shutter button, and provides you with more options to control your camera remotely. It lets you trigger the shutter from a distance, which can be highly convenient.
More advanced remotes allow you to control many other functions of your camera, some of the top professional remote types can fully control your camera via your smartphone and a special app.
In this tutorial, we will discuss the various types of camera remotes, when to use them, and finally, we will list our recommended devices.
Types of camera remote
The two main types of remotes are wired and wireless. In the first type, the remote sends signals to your camera through a wired connection. The second type, wireless, allows you to take photos either by infrared, radio, Wi-Fi, or Bluetooth signals. The differences between these types of signals are listed below:
Infrared: Require a clear line of sight from the remote to the camera; it can not be transmitted through walls. 10-meter range.
Radio: walls or objects will not block the signal. It has a very high range.
Wi-Fi: covers a larger distance and it has a higher data rate.
Bluetooth: It has limited interference, and has a relatively low power consumption. 10-meter range.
There are advantages and disadvantages for both wired and wireless shutter releases types:
Wireless: they are smaller, more portable, and easier to carry, requiring less room in your bag or pockets. And they are useful for group photos and family shots when you yourself need to be in the picture. On the other hand, with some digital SLR camera models, wireless shutter releases need to be used from the front of the camera, which is where the wireless receiver is normally positioned.
Wired: You can press the wired shutter release, from the front, side, or behind the camera. Unlike wireless shutter releases, they are not limited only to the front of the camera. However, if you need to be in the photo, you will get the wire or shutter release in the picture.

When to use Camera Remote
Capturing long-exposure photos
A remote allows you to eliminate camera shake when used with a camera stabilized on a sturdy tripod. It avoids any camera shake from pressing the camera shutter.  In this setting, you can capture amazing long-exposure photos that feature moving clouds, moving water, car light trails, star trails, and so much more.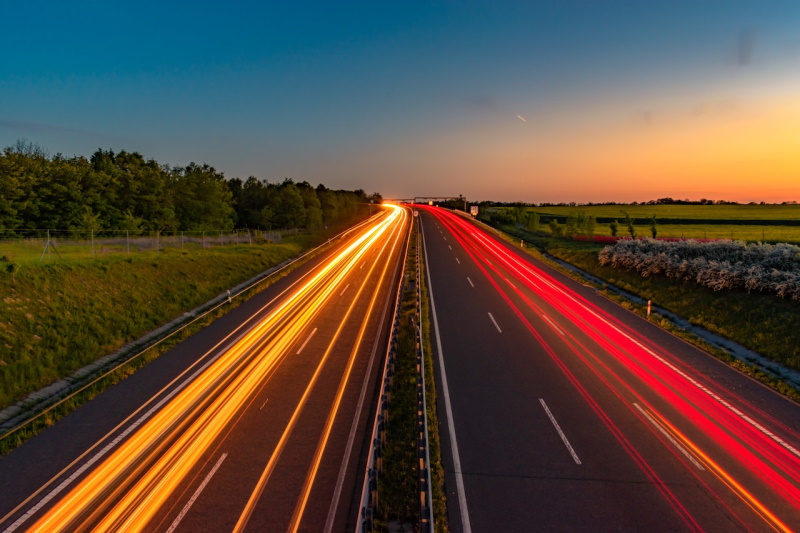 Photo by Nikolett Emmert
Capturing time-lapse photography
Some remote releases offer interval meter functionality, which allows you to capture a series of shots within a specified interval. For instance, you can use an intervalometer to fire the shutter every 20 seconds, as is required in time-lapse photography.
Self-portrait photography is difficult when you are alone, or when you want to take a photo with your family or friends. The traditional way is by setting your camera's self-timer, hitting the shutter button, and then running into position (which means you have a short time to prepare yourself to pose). However, with a wireless release, you can simply hold the remote in your hand and then adjust your pose. Finally, when you're ready, press the remote button.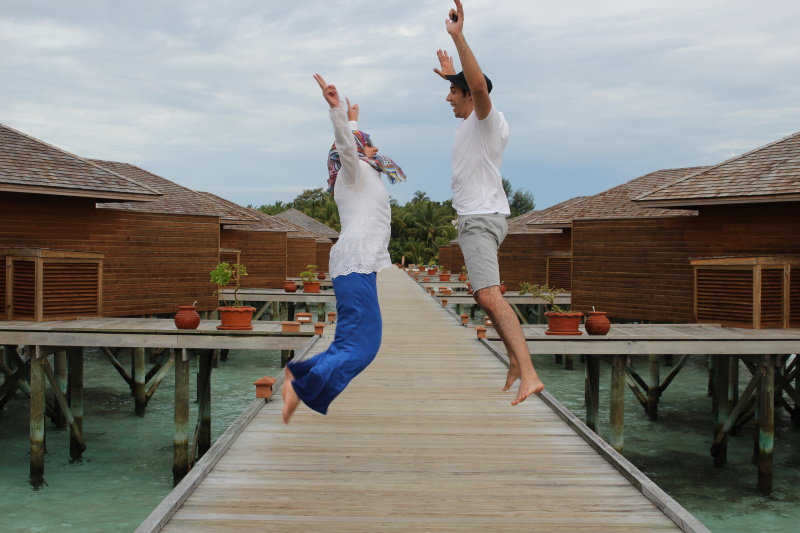 Photo by Ehab Amin
Capturing skittish wildlife
Skittish wildlife (such as birds and squirrels) is often difficult to approach with a camera because it suddenly moves away when sensing anyone is approaching. However, if you put your camera in position, then step away and wait for the wildlife to explore, you can often capture some stunning shots.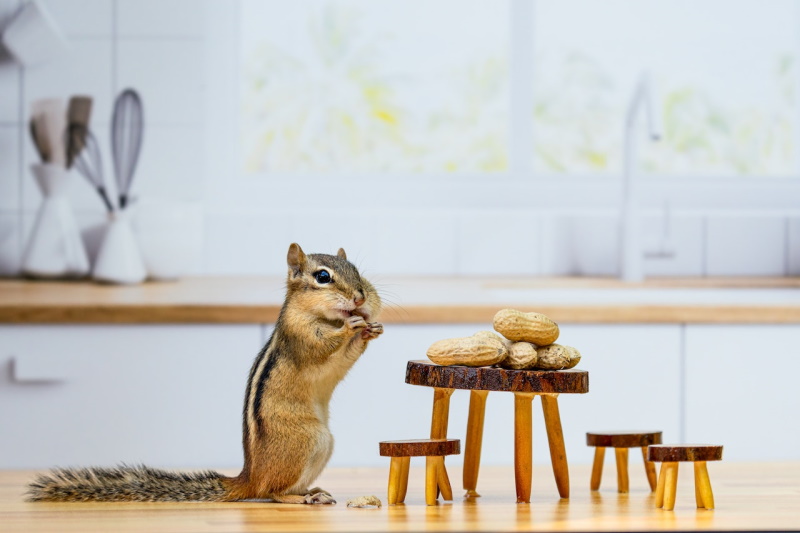 Photo by Skyler Ewing
Recommended camera remote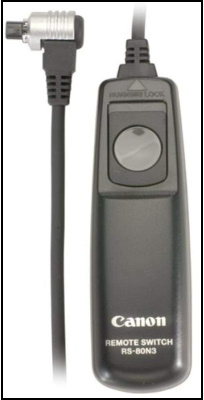 The compact Canon Remote Switch RS-80N3 has a 2.6′ cable and is a remote shutter release designed to prevent camera shake for super telephoto shots, macro photography, and bulb exposures. Handy for taking pictures of subjects that are difficult to approach, or to minimize vibration for close-ups and time exposure.
The Remote Switch works just like a shutter button, enabling halfway or complete pressing. It also has a shutter-release lock. With the EOS-3's custom function no. 12 (mirror lockup), the camera shake can be further reduced.
Compatible with EOS-3, EOS R5, 1v HS/1v, 1D-series, 1Ds-series, 5D-series, 6D-series, 7D, 7D Mark II, D30, D60, 10D, 20D, 30D, 40D, and 50D.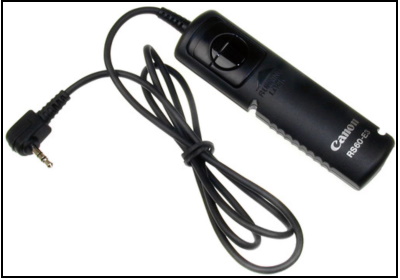 The Canon RS-60E3 Remote Switch is a compact wired remote switch with a 2.0′ (0.6m) cable that replicates all functions of the camera's shutter release button. It is handy for taking pictures of subjects that are difficult to approach or to minimize vibration for close-ups and time exposure.
Camera Compatibility:
PowerShot G1X, G1X Mark III, G3X, G5X, G5X Mark II, G10, G11, G12, G16, EOS Digital Rebel series, 60D, 60Da, 70D, 77D, 80D, 90D, Elan II/IIE, Elan 7/7E, Rebel Ti/2000/G/GII/X/XS, IX/IX Lite, SX50 HS, SX70 HS, EOS Rebel T1i, T2, T2i, T3, T3i, T4i, T5, T5i, T6, T6s, T6i, T7, T7i, SL1, SL2, SL3, and EOS M5, M6, M6 Mark II, M100, R, RP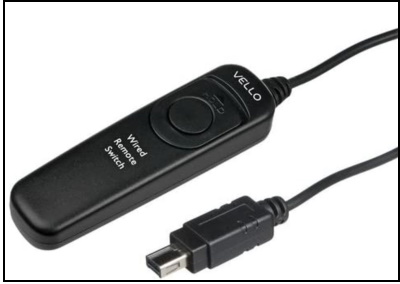 the Vello RS-N2II Wired Remote Switch provides photographers using select Nikon cameras with a DC-2 connection with a simple way to control exposures and an easy-to-use tool to create more "keepers". The device is larger and more comfortable to use than many other remote devices, with a thick, sturdy cord.
The RS-N2II is compatible with autofocusing, continuous shooting or single image capture, and long exposures. It will autofocus on a half press of the button and trigger the shutter with a full press. Also, users can press the button and slide it forward to lock it for long exposures. It can be used with cameras that feature live-view mode. Since the exposure setting can be triggered without touching the camera, sharp, blur-free images can be captured. The RS-N2II does not require batteries as it operates using the camera's own power, making it an extremely useful tool to keep in a studio or gear bag.
Compatible Cameras
Nikon: D780, D750, D610, D600, Df, D7500, D7200, D7100, D7000, D90, D5600, D5500, D5300, D5200, D5100, D5000, D3300, D3200, D3100, Z7 II, Z6 II, Z7, Z6; Coolpix A, P7800, P7700.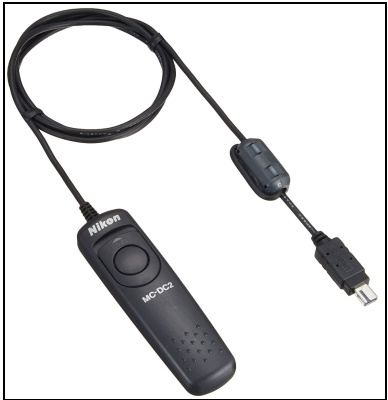 The Nikon MC-DC2 Remote Cord is a wired release cable that adds greater convenience and ease of use in a wide variety of shooting situations, including long exposures and close-ups. By using a remote cable you can reduce camera shake, which results in sharper images. The remote also features a lock, which keeps the camera shutter in Long Time Exposure (Bulb) mode. The cord is 3.3′ (1 m) long.
Compatibility
Nikon: Z 5, Z 6, Z 7, Z 7II, Z 611, D90, D3100, D3200, D3300, D5000, D5100, D5200, D5300, D5500, D5600, D7000, D7100, D7200, D780, D7500, D600, D610, D750, Df, COOLPIX P7700, COOLPIX P7800, COOLPIX A, COOLPIX P1000, COOLPIX P950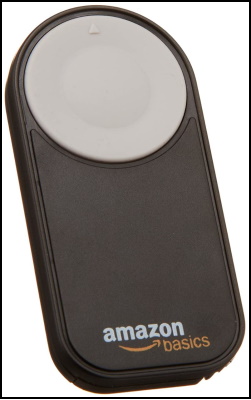 It has a simple plastic body with a large button in the middle. However, what makes it great is the fact that it's cheap and it does its job well. Even if you're just a beginner, you'll know how to use this remote shutter release immediately. All you have to do is press the button to activate your camera's shutter from a distance!
Product Highlights
Activates the shutter remotely
Use for a broad range of images, like low-light and family portraits
Eliminate vibration and increase image clarity with this wireless remote for Canon cameras.
Battery powered; 10-foot range
Only compatible with the following Canon cameras: EOS 5DSR, EOS 5DS, EOS 5D Mark4, EOS 5D Mark3, EOS 5D Mark2, EOS 6D Mark2, EOS 6D, EOS R6, EOS R5, EOS 7D Mark2, EOS 7D, EOS 90D, EOS 80D, EOS 77D, EOS 70D, EOS 60Da(Notel), EOS 60D, EOS 800D, REBEL T7i, EOS750D, REBEL T6i, KISS X8i, EOS760D, EOS 700D, EOS 100D, EOS 650D, EOS 600D, REBEL T3i, EOS 550D, EOS 500D, EOS 450D, EOS 400D, EOS 350D, EOS 300D, EOS M, EOS M2, EOS M3, EOS M5 and EOS M6
Compatible with the following Nikon cameras: D7500, D750, D7200, D7100, D7000, D610, D600, D90, D80, D70s, D70, D60, D50, D5500, D5300, D5200, D5100, D5000, D40x, D40, D3400, D3300, D3200, D3000, 1 J1, P6000 and P7000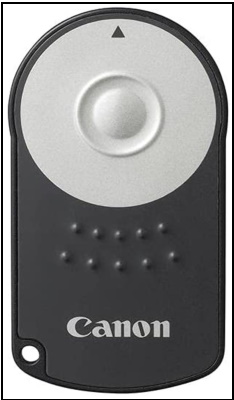 The Canon RC-6 Wireless Remote Control is a simple, compact, infrared remote control that makes it possible to fire a camera wirelessly from as far as 16′ / 4.8m. The RC-6 will operate in either 2-second delay mode or will instantly take a shot. The RC-6 is only 2.5″ / 63.5mm tall and can fit easily into your pocket or on a keychain.
Allows for shutter release up to 16′ / 4.8m.
Wireless camera operation.
Runs on one CR2032 lithium button battery (included).
It May be used to activate mirror-lock and bulb-shutter functions
Nikon ML-L3 Wireless Remote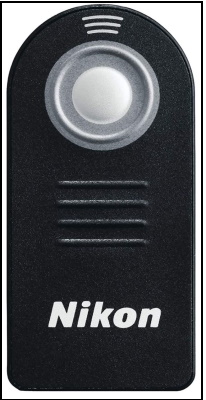 The Nikon ML-L3 is Nikon's equivalent of the Canon RC-6. It also has a single-button setup but is a bit narrower than its Canon counterpart. Apart from the design, it also boasts a delay and is bulb-mode compatible. It's a bit more expensive than third-party infrared remotes. But its brand name offers the reliability you won't get in other brands.

The BR-E1 Wireless Remote Control allows you to wirelessly release your camera's shutter via Bluetooth from within a 16′ operating range. It can also start and stop video recording and focus the camera while recording video. It has low power consumption and requires no line of sight to the camera, and is also compatible with the PZ-E1 Power Zoom Adapter for remotely adjusting the zoom position and movement of the EF-S 18-135mm f/3.5-5.6 IS USM lens.

Smartphone-based camera remote controls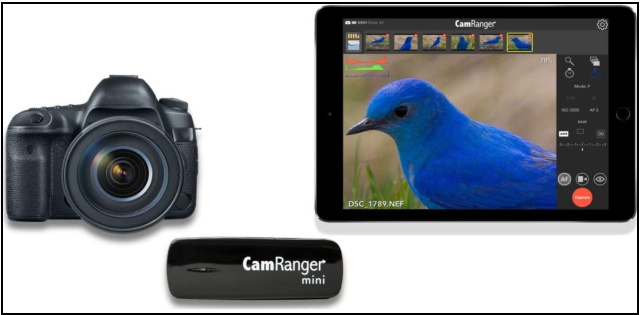 This remote trigger lets you control your DSLR through your smartphone via Wi-Fi. That means you can change all sorts of settings from aperture to ISO using your smart device. But what makes this such a helpful device is that it's compatible with just about any DSLR. It essentially boosts your Nikon or Canon DSLRs functionality by enabling remote firing options and live view from up to 120m / 400ft away.
CamRanger Mini utilizes the latest wireless technology to link your camera to a mobile phone or tablet to your camera so it can then be controlled by a dedicated app. The CamRanger App enables you to adjust settings such as:
Shutter Speed
Aperture
ISO
Metering Mode
Drive/Shooting Mode
White Balance
Image Format
Focus Mode (Nikon only)
Auto Exposure Mode (Nikon only)
Exposure Compensation & Bracketing
Software Auto-Focus toggle to toggle AF/MF
Advanced modes enable you to shoot focused stacked images, timelapse and HDR imagery, and all from within the app.
Conclusion
Remote camera triggers are a very useful camera accessory and can help you achieve the most amazing and high-quality shots for different types of photography genres. It is an essential accessory when using slow shutter speeds, and time laps photography. Because different cameras have different plug-in requirements, my advice is to make sure that you pick up a remote that is compatible with your camera model.
Thanks for reading, I hope you enjoyed the article, in case you have any questions just drop them below & I will be happy to answer you.
The featured Photo by Pixabay
If you enjoy the site, don't forget to subscribe, we will only inform you when a new article is posted.