Macro photography is one of the most rewarding genres of photography you can do. It is close-up photography of small subjects, including things like bugs, insects, water droplets, and flowers. You can take macro pictures in a studio or outdoor environment so long as you are magnifying your subject sufficiently.
In macro photography, it is important to know how large or small your subject will appear on your camera sensor. Good macro lenses let you shoot at 1:1 magnification, and some specialized options do even more than that.
However, if you cannot afford a true macro lens, there are many other alternatives. One of them is to use an extension tube and attach it to your lens to get a much bigger magnification.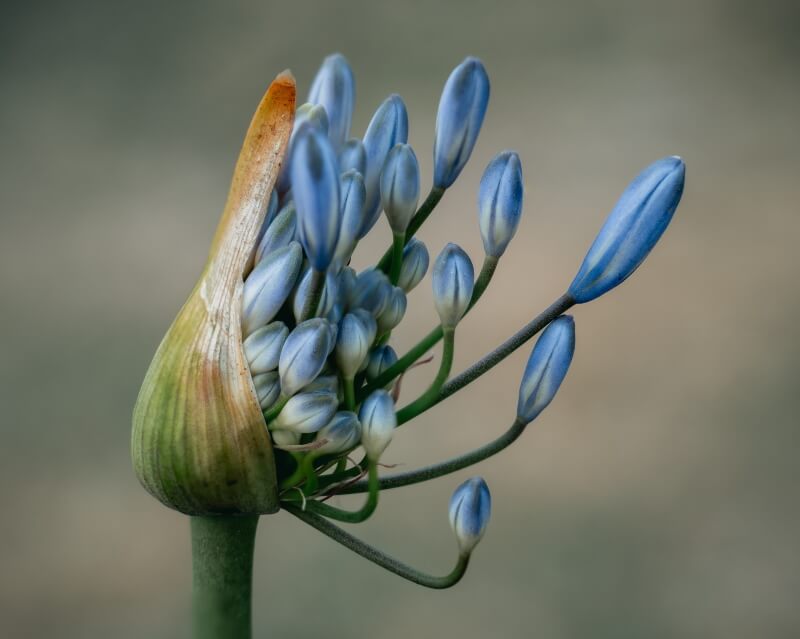 Photo by Gilberto Olimpio from Pexels
There are a variety of terms and tools that come up in the macro photography field that doesn't seem to affect other shooting methods. In the following paragraph, I will explain some of them.
Nomenclature and tools of the macro photography
Macro
Macro photography is defined as close-up photography done at scales of life-size or greater.
Reproduction Ratio & magnification
reproduction ratio is the ratio of the size of the image of the subject on your sensor to the real size of the subject. For example, if you are photographing a subject that is exactly half a centimeter long; if this subject is rendered half-centimeter long on your sensor, then you have a 1:1 (or life-size) reproduction ratio.
If a three-centimeter-long subject takes up one centimeter on your sensor, then you have a 1:3 reproduction ratio. Moreover, if you photograph a subject that is 1 millimeter long and it takes up 3 millimeters of space on your sensor, then you have a 3:1 (greater-than-life-size) reproduction ratio.
Reproduction ratios can also be expressed as a magnification, where 1:1 is the same as 1.0x, 1:4 is the same as 0.25x, and 4:1 is the same as 4.0x.
Close-Up Lens/Diopter
The close-up lens or diopter is similar to a filter that you screw onto the front of your lens. Differing from a filter, though, close-up lenses have optical elements that help to shorten the minimum focusing distance of any lens. These lenses typically come in sets with different dioptric strengths, which allow you to pair different lenses to achieve varying degrees of shortened focus.
Reversing Ring
Reversing rings are a unique solution to achieving shortened minimum focus with any lens. The concept is to attach a lens to a camera in reverse, so the rear element of the lens faces outward and the front element is facing the sensor. The reversing ring attaches to your lens via its filter threads (so a step-up ring may be required) and then it has a bayonet mount to attach to the specific type of camera in use. This technique works best with lenses that have a manual aperture ring and manual focus; however, there are some automatic reversing rings for working with more modern AF lenses.
Extension Tube and Bellows
Both of these tools work on the same principle of increasing the flange distance between your lens and the image sensor to shorten the available focusing distance.
An extension tube is simply a hollow cylinder that fits in between your camera and lens, causing the lens to move farther from the sensor. This additional distance allows your lens to focus more closely, which in turn provides more magnification capability. In addition, extension tubes typically come in sets of various lengths (10mm, 20mm, and 30mm) that allow you to vary the distance in increments by using tubes individually or in combination with one another.
A bellows, on the other hand, is a flexible and more precise tool for adjusting the flange distance to any distance required. Whereas, a bellows lets you work within a range of, say, 30mm to 20Related P0mm, with infinite increments in between.
Extension Tube Advantages
Much less expensive than purchasing a dedicated macro lens.
Provides a flexible and upgradable increase in magnification with virtually any camera lens, even existing macro lenses.
Do not place additional glass elements between your subject and your camera, thereby minimizing any potential loss in image quality.
Extension Tube Disadvantages
Provides only a minimal magnification gain with telephoto lenses.
Causes your lens to lose the ability to focus on distant objects.
F-stop set by your camera might not represent the effective f-stop from the extension.
Causes your lens to focus more closely than it was designed.
Requires that you remove your lens from the camera each time you wish to change the amount of extension.
With zoom lenses, the image can go quickly out of focus as one zooms in or out.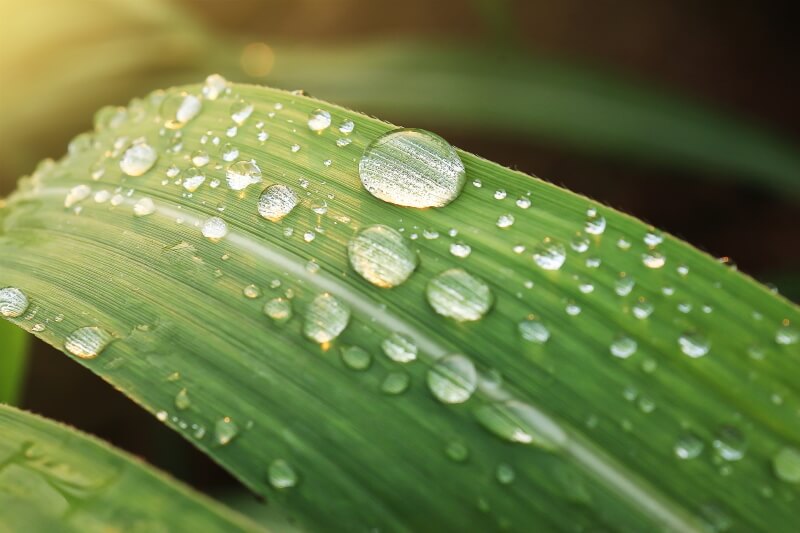 Photo by Aphiwat chuangchoem from Pexels
How to calculate the magnification of an extension tube
An extension tube increases lens magnification by an amount equal to the extension distance divided by the lens focal length.
For example, let us consider the Canon EF 50mm f/1.4 USM, which has the following specs:
Maximum Magnification 15X
Minimum Focus Distance 450 mm
By adding, a 25 mm extension tube to the lens, and use the Extension Tube Magnification calculator the following results are:
Maximum Magnification        65X
Minimum Focus Distance 4 mm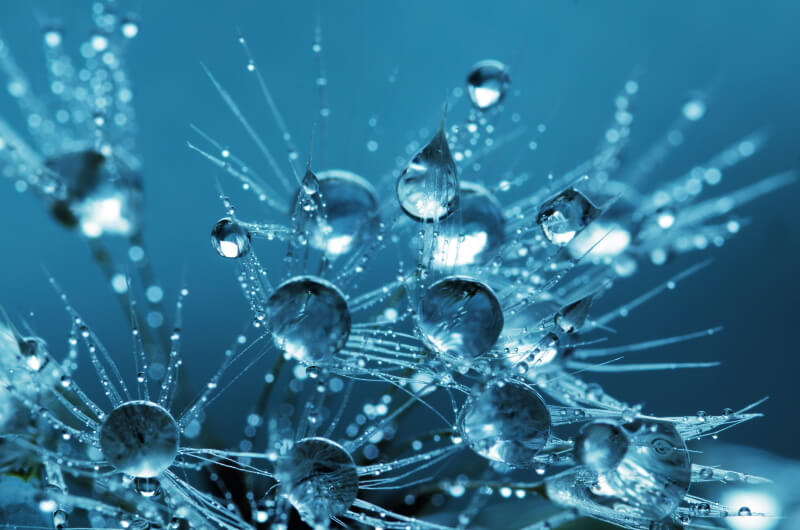 Best Extension Tubes for Canon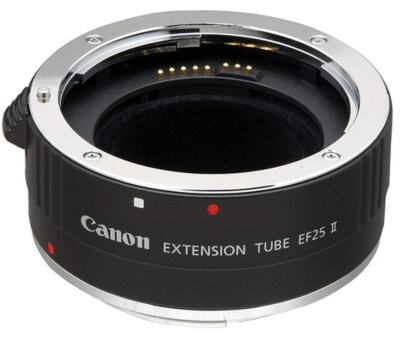 Product highlights
Retains all metering and AF functions with most CANON EF lenses
Exposure compensation is often required with cameras other than the EOS-1 Series.
High-level water and dust resistance — suitable for use in heavy rain
Retains all metering and AF functions with most CANON EF lenses
O-ring seals protect mounts and release lever
Retains all metering and AF functions with most CANON EF lenses
High-level water and dust resistance — suitable for use in heavy rain
O-ring seals protect mounts and release lever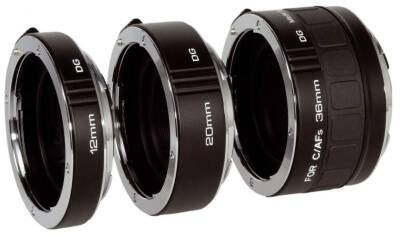 The Auto Extension Tube Set DG for Canon EOS Lenses from Kenko contains three tubes of different lengths–12mm, 20mm, and 36mm–which can be used individually or in any combination to obtain the desired magnification.
They are compatible with Canon EF and EFS lenses.
Product highlights
Close-up, Auto-focus, Auto-exposure
12mm, 20mm, 36mm Tubes
Works Individually or Combined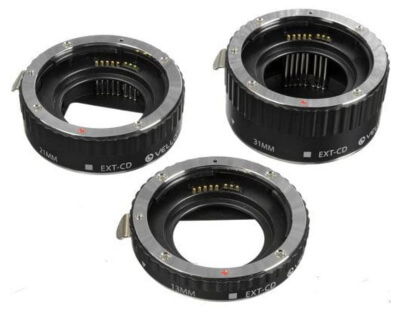 The Auto Extension Tube Set for Canon EOS from Vello allows your lens to focus closer than its normal minimum focus distance. By placing distance between your camera body and lens, focusing distance is shortened and the effect of magnifying your subject is created.
Extension tubes enable macro performance for lenses not otherwise able to focus that close and are also suited for close-up portraiture. The Auto Extension Tube Set for Canon EOS contains three extension tubes of 13, 21, and 31mm lengths.
They can be used individually or together in seven distinct combinations to create the desired magnification effect.
For closer focusing use the larger extension tube or stack the tubes together. Extension tubes have no optical elements so do not degrade the quality of your lenses.
Specs
Mount Canon EF Length 13 mm, 21 mm, 31 mm
Mount Material Aluminum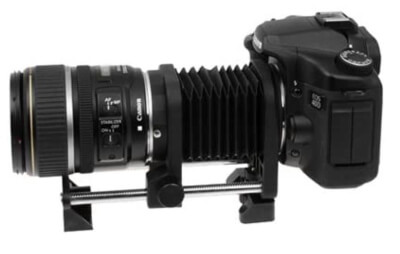 Well-suited for extreme close-up shooting, this Macro Bellows from Fotodiox is designed for Canon EF-mount cameras and lenses. This bellows has an adjustable 1.6-5.9″ extension range and is used to increase a lens's maximum magnification up to 8:1 for macro applications. A rack and pinion gear is used for smoothly adjusting the extension amount and a printed scale in millimeters helps to ensure consistent, repeatable settings. An integrated thumbscrew also lets you lock your position in place and suits working with heavier equipment or when shooting at a steep angle. The bellows frame is constructed from anodized aluminum alloy and there is also an integrated 1/4″-20 socket for attaching directly to a tripod or quick-release plate.
Specs
Lens Mount Canon EF
Bellows Extension 6-5.9″ / 40-150 mm
Tripod Mount 1/4″-20 socket
Material Aluminum-alloy frame with black anodized finish
Related posts
Macro Photography Tips And Tricks – Guidelines & Examples
Using Extension Tubes In Macro Photography – Your Full Guide!
An Overview Of Reverse Lens Technique For Macro Photography
The Macro Lenses Explained – Samples & Recommendations
Thanks for reading, I hope you enjoyed the article, in case you have any questions just drop them below & I will be happy to answer you.
The featured Photo by Egor Kamelev from Pexels
If you enjoy the site, don't forget to subscribe, we will only inform you when a new article is posted.