The Sony FE system is currently the most complete lineup of full-frame mirrorless lenses around. There is a lens here for every skill level and price point, covering all focal ranges as well. If you're the proud new owner of a Sony full-frame camera then why not take a look at my picks for the best Sony FE lenses of 2021?
The Six Best Sony FE Lenses
1) Sony FE 24-70mm f/2.8 G Master
2) Sony Vario-Tessar 24-70mm f/4 T FE OSS
3) Sony FE 24-105mm f/4 G OSS
4) Sony FE 35mm f/1.4 G Master
5) Sony FE 50mm f/1.8 Standard Lens
6) Sony FE 28mm f/2
Let's talk about each lens in-depth.
1) Sony FE 24-70mm f/2.8 G Master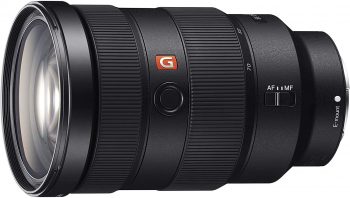 Standard f/2.8 zooms are extremely popular in every interchangeable lens system for very good reason. They cover the useful near-wide angle, normal, and near-telephoto ranges well and they have fast f/2.8 apertures for low light and shallow depth of field. Modern f/2.8 zooms tend to be weather-sealed as well, making them ideal for any kind of photographer, from photojournalists to landscape artists.
While this lens is on the heavier side, it actually compares nicely with other full-frame and even APS-C f/2.8 zooms. Sony also managed to add an impressive (for a zoom) .24x maximum magnification ratio, giving this lens a minimum focusing distance of 38 centimeters. The lens also has a focus hold button and AF/MF switch for added functionality! 
The only weakness this lens has is that it lacks image stabilization. However, all of the modern FE bodies do have sensor-based stabilization, making this a non-issue in most situations!
2) Sony Vario-Tessar 24-70mm f/4 T FE OSS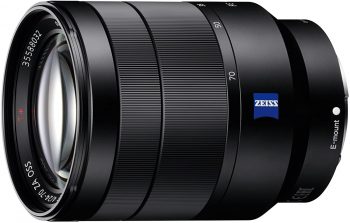 In my opinion, the Sony Zeiss Vario-Tessar is one of the best bargains in the entire lineup. It's an excellent replacement for the excellent but large and pricey 24-70mm f/2.8 G Master lens for several reasons. 
You lose a single stop of aperture but in exchange, you get optical image stabilization and a lighter lens. Unless you absolutely need that extra aperture the Vario-Tessar is a great option even for professionals. The lens is just as sharp as its larger sibling when stopped down and both show excellent control of chromatic aberration when shot wide open. The 24-70mm f/4 is also weather-sealed for outdoor use.
You will see some slight softness at the corners at f/4, especially at the telephoto end. But if you're shooting wide open you're likely looking for shallow depth of field anyway, making this a non-issue.
3) Sony FE 24-105mm f/4 G OSS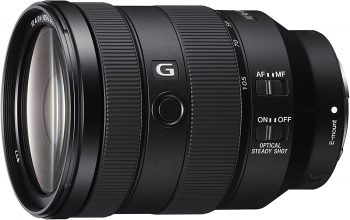 Superzooms often make quite a few compromises in order to cover such a broad focal range but the 24-105mm is easily the best of its kind! Soft corners are to be expected wide open but the lens sharpens up beautifully when stopped down from f/5.6 to f/8.
The autofocus performance isn't on par with sports and wildlife-oriented telephoto zooms but it's still snappy enough for the range of subjects you'd shoot this lens with. 24-105mm lenses are excellent for travel, nature, landscapes, and other genres where you never quite know what will catch your interest!
Telephoto lenses suffer the most from handshakes, which can cause motion blur. Thankfully the FE 24-105mm has OSS (optical steady shot) built-in, helping to control blur even when using slower shutter speeds. And as a G Master lens, it's fully weather-sealed against dust and moisture exposure.
4) Sony FE 35mm f/1.4 G Master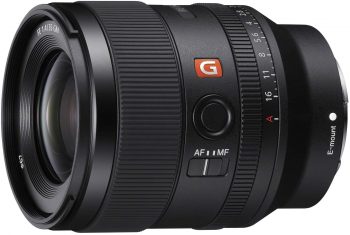 Wide-angle lenses are perfect for photographers who like to include a little bit of the background into the frame. But being able to blur the background out with a fast f/1.4 aperture makes it an even better creative tool for professionals. The Sony FE 35mm f/1.4 G Master does precisely this. Portrait, wedding, and lifestyle photographers will get the most out of this field of view and aperture combination.
And like all of the best prime lenses, it is fully corrected and optimized for its particular field of view. Sharpness, aberrations, and other issues are excellent even wide open at f/1.4 and the lens improves slightly when stopped down past that.
Despite not being a G Master lens it is dust and moisture-sealed and includes an aperture ring for exposure adjustments. And at 524 grams it's one of the lightest full-frame primes with these specifications (compared to say, the Sigma 35mm f/1.4 at 640 grams)!
5) Sony FE 50mm f/1.8 Standard Lens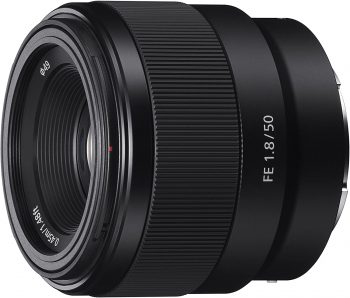 Every system has its own Nifty Fifty lens; a small, inexpensive 50mm prime lens. What's so great about a 50mm lens? They offer a very natural field of view that's quite close to how we typically see the world. 
Also known as standard lenses, you can use a 50mm lens for just about anything! Portraits, landscapes, architecture, streets, events…They are extremely versatile and every photographer should have one!
The FE 50mm f/1.8 has a fast aperture as well, allowing plenty of exposure in low light conditions and beautiful background blur for portraiture. It isn't stabilized or weather-sealed but at this price range, you shouldn't expect these features. 50mm lenses tend to be razor-sharp as well since the formula was perfected decades ago and this FE version is no different!
6) Sony FE 28mm f/2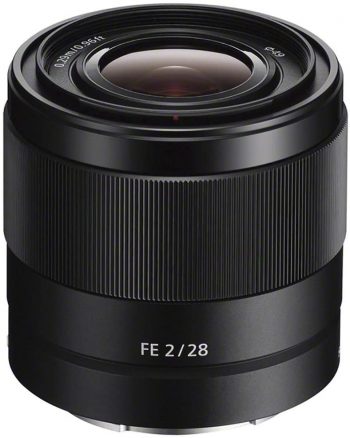 28mm is another classic focal length, particularly for photojournalists and street photographers. It's also the view that the wide end of cell phone cameras offers; just wide enough for an entire scene without adding too much perspective distortion to the frame.
And being an f/2 lens the FE 28mm is quite light for a wide-angle, weighing in at only 200 grams. It isn't a stabilized lens but stabilization is less important for wide angles than it is for telephoto views. It's also dust and moisture-sealed, ensuring you can shoot events and street images in any sort of weather.
28mm is also one of the best Sony FE lenses for videography and vlogging! And the quiet linear autofocus motors of this lens ensure that no noise is generated from subject tracking during recording.
Can't afford a brand-new Sony Lens?

Sometimes, Lenses can be very expensive for many people. However, Keh is a great option to get a used one at a reasonable price. Read the full review here.
Up To 40% Off Regular Priced Used Photography Equipment
Thanks for reading, I hope you enjoyed the article, in case you have any questions just drop them below & I will be happy to answer you.
The featured Photo by Brian Smith.
If you enjoy the site, don't forget to subscribe, we will only inform you when a new article is posted.