If you're in the market for a photography backdrop stand, you're in luck! I've gathered the 8 best backdrop stands of 2020. Each one has something to offer, from a bargain price to solid metal construction! Take a look and let me know what you think!
What Should I Be Looking For in a Backdrop Stand?
Lightweight construction: The vast majority use aluminum tubing, which is both lightweight and strong. Avoid inferior plastic designs as they are prone to cracking.
Adjustable dimensions: If you intend to only work with a specific backdrop size, this can be avoided. However, you may need to make adjustments. Having the ability to adjust or remove poles to alter the dimensions is useful.
Inexpensive: Backdrop stands are typically just aluminum and clamps, none of which is expensive. Prices rise as extras are included, such as lights and backdrops.
I highly recommend Katebackdrop site for purchasing backdrops beside Amazon. They sell hand paint canvas as well as custom backdrops in a very stylish way that would fit with different photography styles.
You can get 10% OFF Sitewide by using our special code KATESAS10. 
Also, Fox Backdrop is a place that worth to have a look on. They have a great & unique collections of backdrops. You can also use our special code SAS15 to get 15% Off Sitewide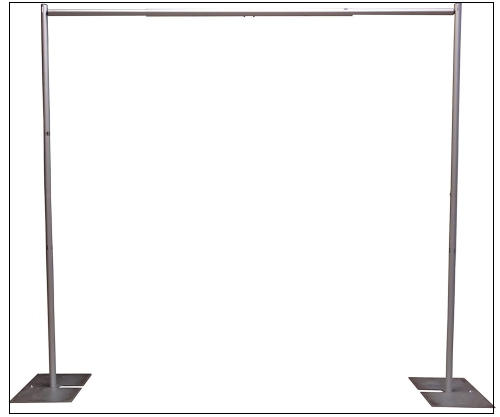 The full metal construction (aluminum and steel) makes this one of the largest and most secure backdrops stands available. This requires 8 to 10 feet of floor space and is 7 ft. 10 inches in height. Unfortunately, the solid bars are non-adjustable height-wise however the width can be adjusted.
This model is designed to work not only as a photography backdrop stand but also hold drapes for portraiture and events. The style is minimalistic and classic enough to match any room theme, from graduations to weddings. At 33 lbs. this stand is on the weightier side and takes a little more effort to set up and break down.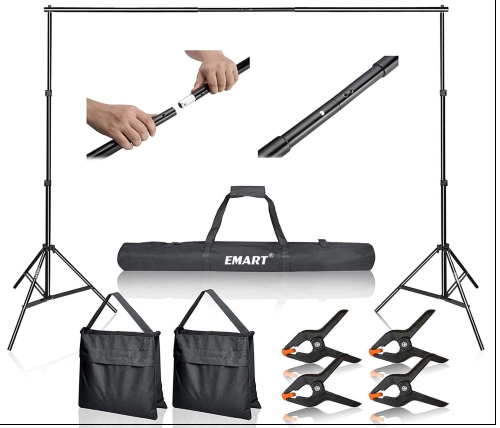 Since setting up photography backdrop stands can be a real hassle, Emart has created a model that's as simple as possible to set up. A single person can set up the Emart alone and it's adjustable in width from 2.6 to 7 feet and height from 5 to 10 feet.
The kit includes two adjustable crossbars, two light stands, four heavy-duty spring clamps, two sandbags, a carry bag, and a 12-month warranty for manufacturing defects. Cotton backdrop drapes can also be purchased separately, in green, black, or white.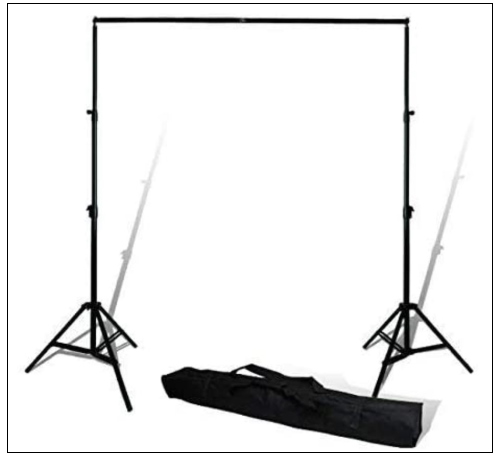 The Impact Support System is as basic as it comes: a backdrop stand frame that opens up to 12 feet in width. Since most photography backdrops are smaller this is the best stand for extra-large muslin backdrops.
The Impact Support System is a good deal more rigid as well, as befitting the higher price bracket. Up to 20 lbs. of weight can be securely held by this stand and sagging is a non-issue. The only downside is that it's not designed to set up, break down, and adjust swiftly.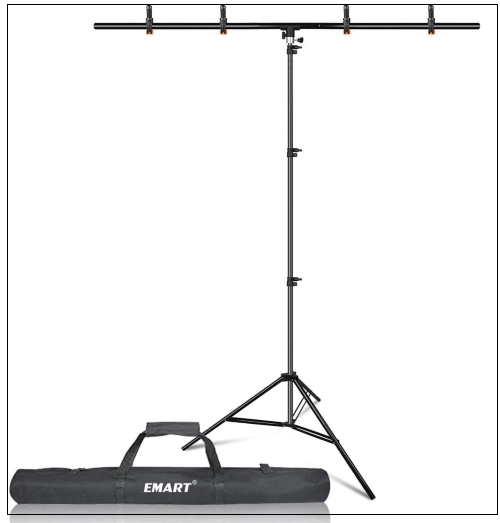 Sometimes you simply don't have a ton of space for setting up a backdrop. The Emart T-Shape Portable Backdrop is only 4.5 feet wide but 8.5 feet high, making it ideal for single-subject portrait shoots. The cloth backdrop is not included but four spring clamps are to secure one in place.
As thin as this backdrop is, it sets up and breaks down quickly, and stows away in a conveniently small package. Keep in mind since it has only a single support column, it can be a little wobbly if someone runs into it.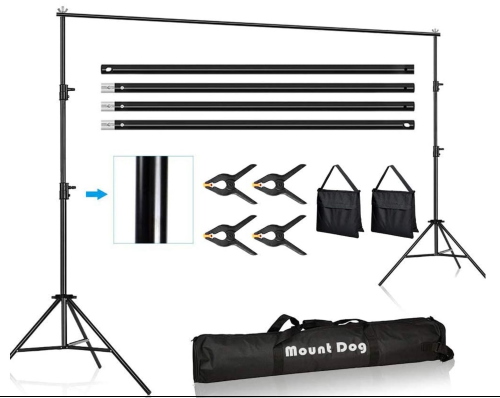 MOUNTDOG manufactures three designs; the smallest is 6.5 feet wide x 10 feet high while the largest is 9.2 x 10 feet. All are fully adjustable as well, both in height and width; perfect if you need to shift to a smaller working space or are using an odd-sized backdrop.
The 1.3″ aluminum tubing is especially secure and strong enough to take an occasional knock without tipping over, unlike single column, backdrop stands. The price is affordable for budget photographers yet the weight limit of 20-25 lbs is plenty for professionals to work with!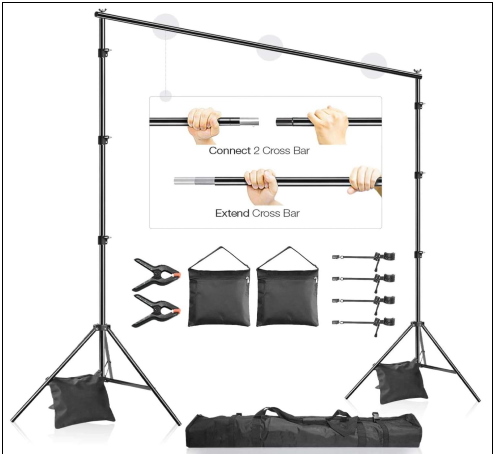 Despite using only two support columns this unit is fully adjustable in width (5.3-10 feet) as well as height (2.7-7.3 feet). LimoStudio also manufactures its own black and white backdrops sized perfectly for this unit. In total, the unit weighs approximately 7.4 lbs on its own.
Inexpensive and well machined, the LimoStudio is lightweight and perfect for photographers who need a wide backdrop stand that sets up quickly. Two sandbags are also included to help steady the unit against accidental knocks.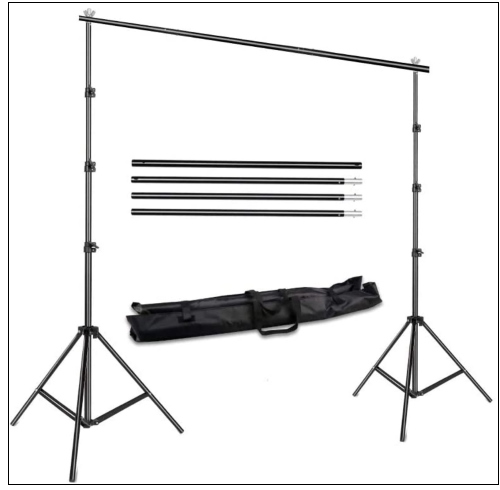 At 10 feet wide x 8 feet high this stand is versatile and great for both individual and group photography. The stand is rigid and the height can be adjusted to as low as 3.5 feet. The all-aluminum legs are easy to adjust, set up, and break down in a couple of minutes as well.
This is the best backdrop for photographers looking for an inexpensive, no-frills design. The manufacturer does suggest using sandbags to weigh the stand down but unlike other models, the Fancierstudio doesn't include any. Fortunately, it's priced to compensate for the omission.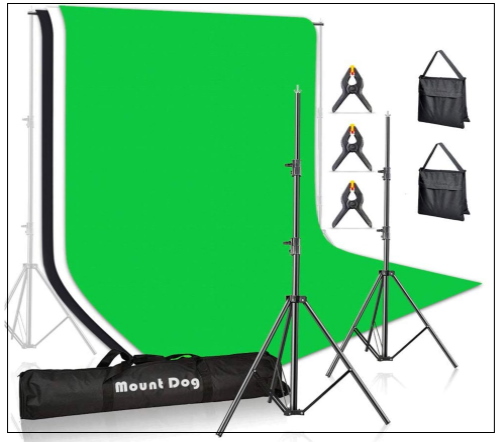 If you're looking for a single all-purpose purchase MOUNTDOG's all-inclusive stand and backdrop kit is right for you. The height is adjustable from 2.2 to 6.5 feet and the sliding tubes allow the width to be altered from 5 to 10 feet as needed. Four crossbars ensure the stand is sturdy enough to hold even heavier backdrops.
At 10 feet x 6.5 feet this backdrop is medium-sized and versatile enough to be used for nearly any kind of photography. Best of all, the kit also includes three muslin backdrops in green, black, and white. Photographers who shoot at parties and other events will find these especially handy!
On Budget?
Sometimes, Photography gear can be very expensive for a lot of people. However, Keh is a great option to get a used one for a reasonable price. Read the full review here.
Related Posts
Portrait Studio Backdrops – Types And Recommendations
Thanks for reading, I hope you enjoyed the article if you have any questions just post them below & I will be happy to answer you.
The featured Image by Christo Anestev from PixabayIf you enjoy the site, don't forget to subscribe, we will only inform you when a new article is posted.