There are numerous considerations involved in choosing which portrait studio backdrops to use. Some photographers consider price the most important factor while others consider flexibility or portability as the most significant feature.
In this post, I will discuss the various types of backdrops and their supporting systems, and I will mention some recommendations for each type.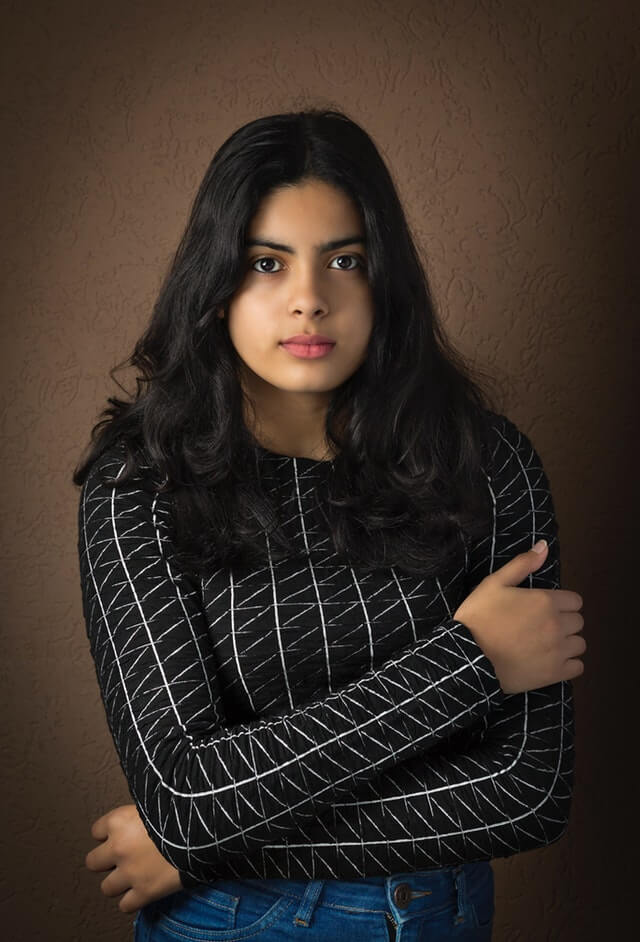 Photo by Flávio Augusto from Pexels
What is a backdrop
A backdrop refers to anything that can be used to enhance the look of the photograph. Put simply, the filling in of a background is the backdrop, which must be considered carefully to get it right. It can be used inside of a studio or taken out for an outdoor photoshoot.
Some modern photographers choose to use a digital backdrop, rather than the traditional ones described here. Check out this post for more information on how to use digital backdrops.
Backdrops come in various forms – some are freestanding and can be erected anywhere, others require dedicated stands. Some can be hung on a standard curtain rail, allowing you to easily transform a room in your home into a studio. Others are also in self-contained steel frames and can be held up by an assistant.
I highly recommend Katebackdrop site for purchasing backdrops beside Amazon. They sell hand paint canvas as well as custom backdrops in a very stylish way that would fit with different photography styles.
You can get 10% OFF Sitewide by using our special code KATESAS10. 
Also, Fox Backdrop is a place that worth to have a look on. They have a great & unique collections of backdrops. You can also use our special code SAS15 to get 15% Off Sitewide
Backdrops Materials
The common materials used in making photography backdrops are paper, muslin, vinyl, and microfiber. Let us discuss their pros and cons and my recommendations for each type in the following paragraph.
Paper Background
Paper Background has been around for many years, which means it's a go-to product for pros looking to get consistent results. It's relatively inexpensive and makes a good cost-effective option. With many color choices, you can capture any look imaginable; they have also a non-reflective texture.
Features
They are used when shooting high-key lighting
Ideal for seamless, crisp backgrounds
When it gets dirty or creased, you simply tear off the soiled portion and unroll more for a perfectly clean background.
Savage Seamless Background Paper – #1 Super White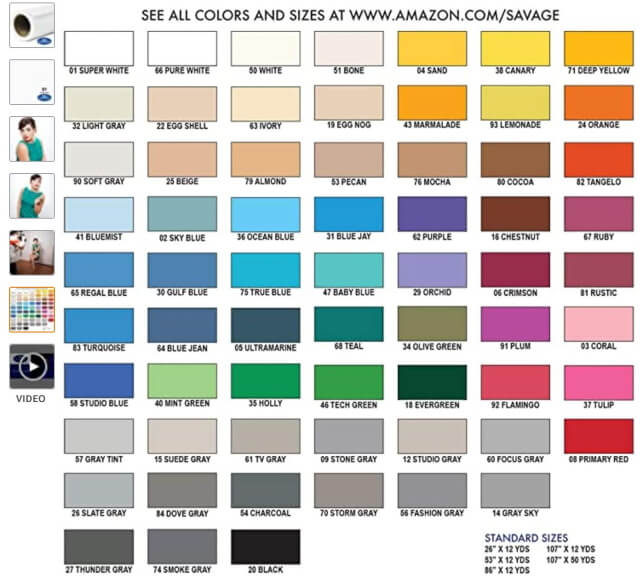 Product highlights
Savage Seamless Background Paper is the industry standard for producing smooth, even backgrounds for photo and video use
Sizes from 26 inches x 36 feet up to 107 inches x 36 feet
Professional quality, non-reflective surface available in an array of vibrant colors and sizes
100% Recyclable
Muslin Backdrops
They are made from 100% cotton material and are glare-free, washable, and durable. They come with sewn sleeves for a supporting rod, although they are light enough to hang from improvised supports on location. Muslins quickly and easily create a professional look while also offering versatility. They come in a variety of patterns and styles, from solid colors to retro-print backgrounds, all with seamless construction to eliminate background lines.
Features
Muslin is lightweight, so it is much more portable than a large roll of seamless paper. It's easy to transport.
You can steam muslin to remove wrinkles.
Muslin is more durable than seamless paper, they can last for many years.
Great for textured backgrounds
Not as many solid colors available as in paper backdrops
Neewer 10 x 12FT / 3 x 3.6M PRO Photo Studio 100% Pure Muslin Collapsible Backdrop Background

Product highlights
10 x 12ft/ 3 x 3.6M Background, perfect for television, video production and digital photography.
Rod pocket on ONLY one edge allows being draped or hung.
Finished along all edges to prevent tears.
Made of 100% pure muslin, good vertical sense, and durable.
If necessary, please iron the back surface with steam iron but not dry iron.
Issuntex 9X15ft Blue Background with 4 Clips Muslin Backdrop

Product highlights
Sizes from 5X6.5 ft up to 10X24 ft
Soft fabric: High-quality soft fabrics, effective wrinkle resistance
Non-gloss: Microfiber nonreflective and non-gloss surface
Easy to install: Rod pocket on each top edge allows to be draped or hung
Easy to care: Simply dust off the surface and it will be ready to use. Machine washable.
Vinyl backdrop                                                 
A vinyl backdrop is touted as a wrinkle-free option that is easy to clean between shots. They are durable, strong, and come in a glare-free matte finish so they are great for studio photo sessions.
Features
It can be used when your photography involves intense action shots (Kids, bets)
The vinyl backdrop is relatively heavy.
Funnytree Vinyl Wood Photography Background Backdrops Wooden Board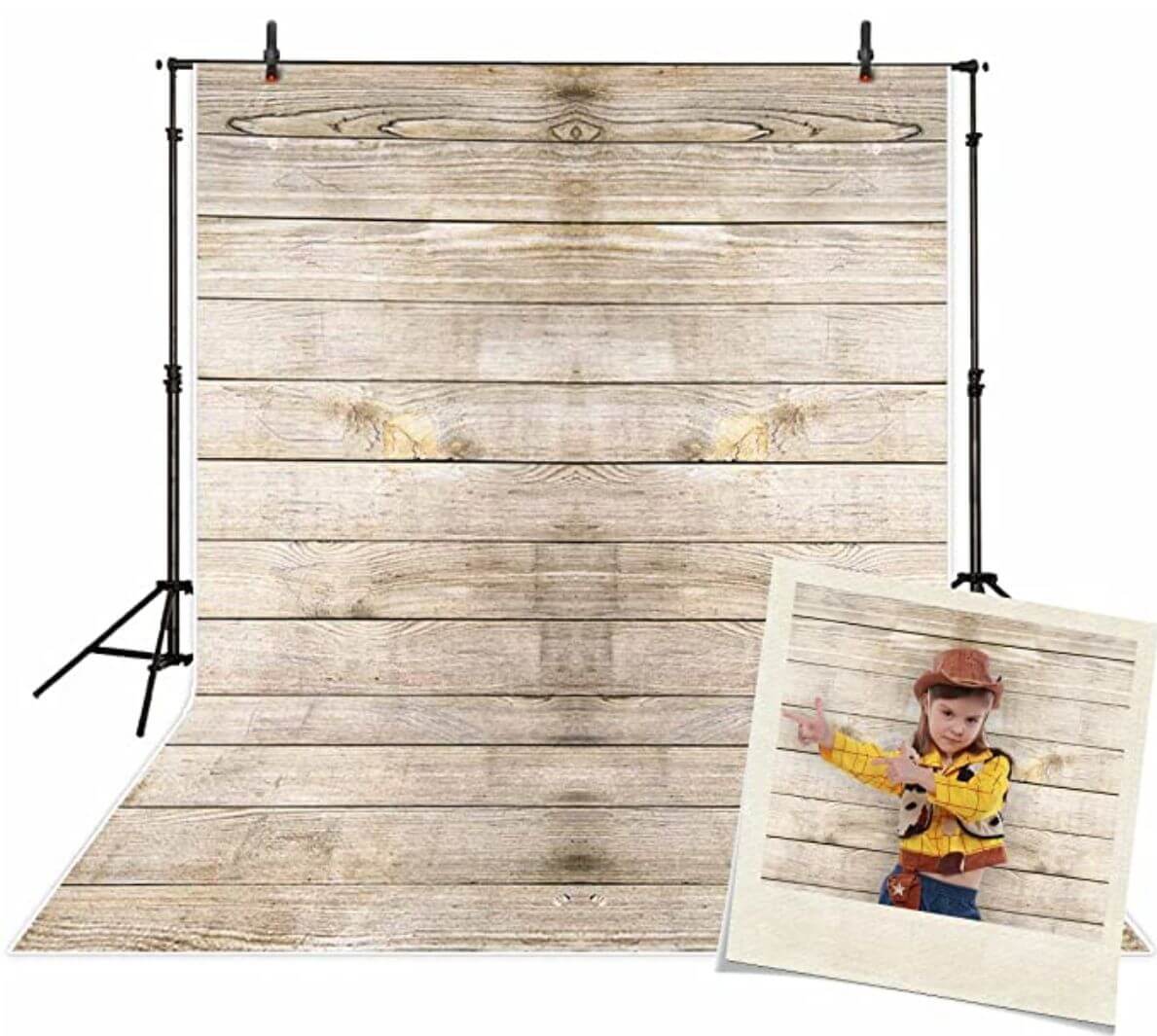 Product highlights
Size:3ftx5ft up 8ftx8ft; Item sent by folded, easy to carry.
Material: Profession photography cloth(Thin vinyl) Whole piece, without Splice.
Color: Vibrant colors, use high-resolution pictures and high-tech digital production equipment, carefully printed by inkjet printer, glare-free.
Usage: It can be used in Photography, Birthdays, Parties, Wedding, Festival decorations, and so on.
NOTE: iron the backside at a low temperature to remove the creases.
HUAYI 5X7ft White Brick Wall With Gray Wooden Floor Photography Vinyl Backdrop D-2504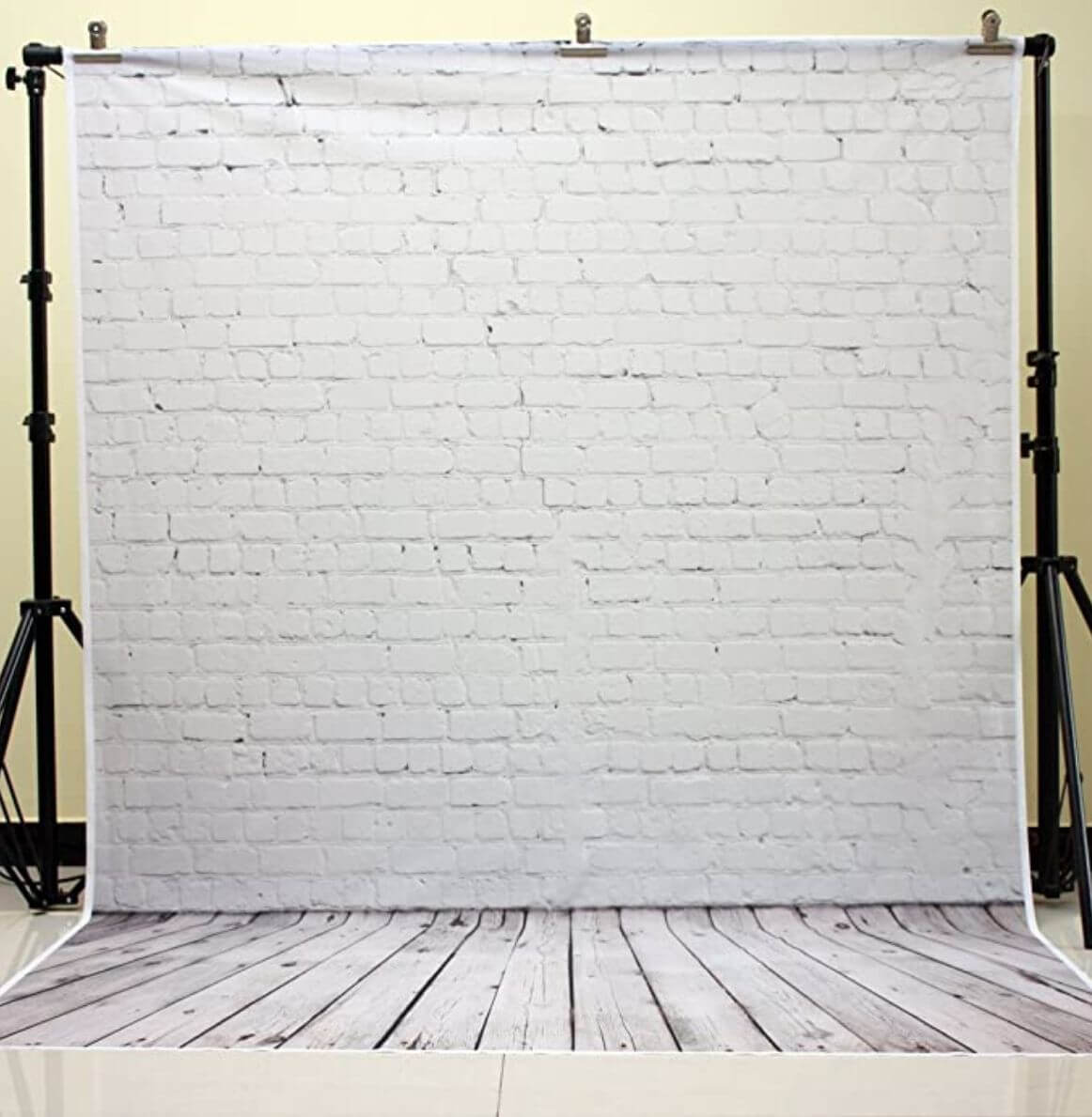 Product highlights
Material composition: Made of high-quality material, it is durable.
Size: 5x7ft up to 8ftx12ft, Lightweight, easy storage and carry.
In order to facilitate the transport, the use of folding, after receipt may be creased, please do not worry, the crease will not affect your use. Roll it up for 2 to 5 days and the wrinkles are almost invisible. If necessary, please iron the back surface with steam iron but not dry iron.
Using a series of high-tech digital production equipment carefully made digital pictures inkjet pictures. The backdrops need to keep distance to take pictures. In addition, many large format images may seem a little pixelated. Different lighting will have different shooting effects; you can try to adjust the lights to make your photos better!
Ideal for wedding, party, newborn, children, and product photography, as well as for television, video production, and digital photography.
Microfiber backdrops
It is a computer-printed wrinkle-resistant microfiber backdrop cloth. Microfiber is soft, they are washable safe, and low ironing, and you can put these backdrops in the washer and dryer to clean them. They are portable, durable, and can reuse for your next shoots. They are folded not need big storage.
Kate 8x8ft/2.5×2.5m Blue Photography Backdrops Retro Solid Background Photo Studio Props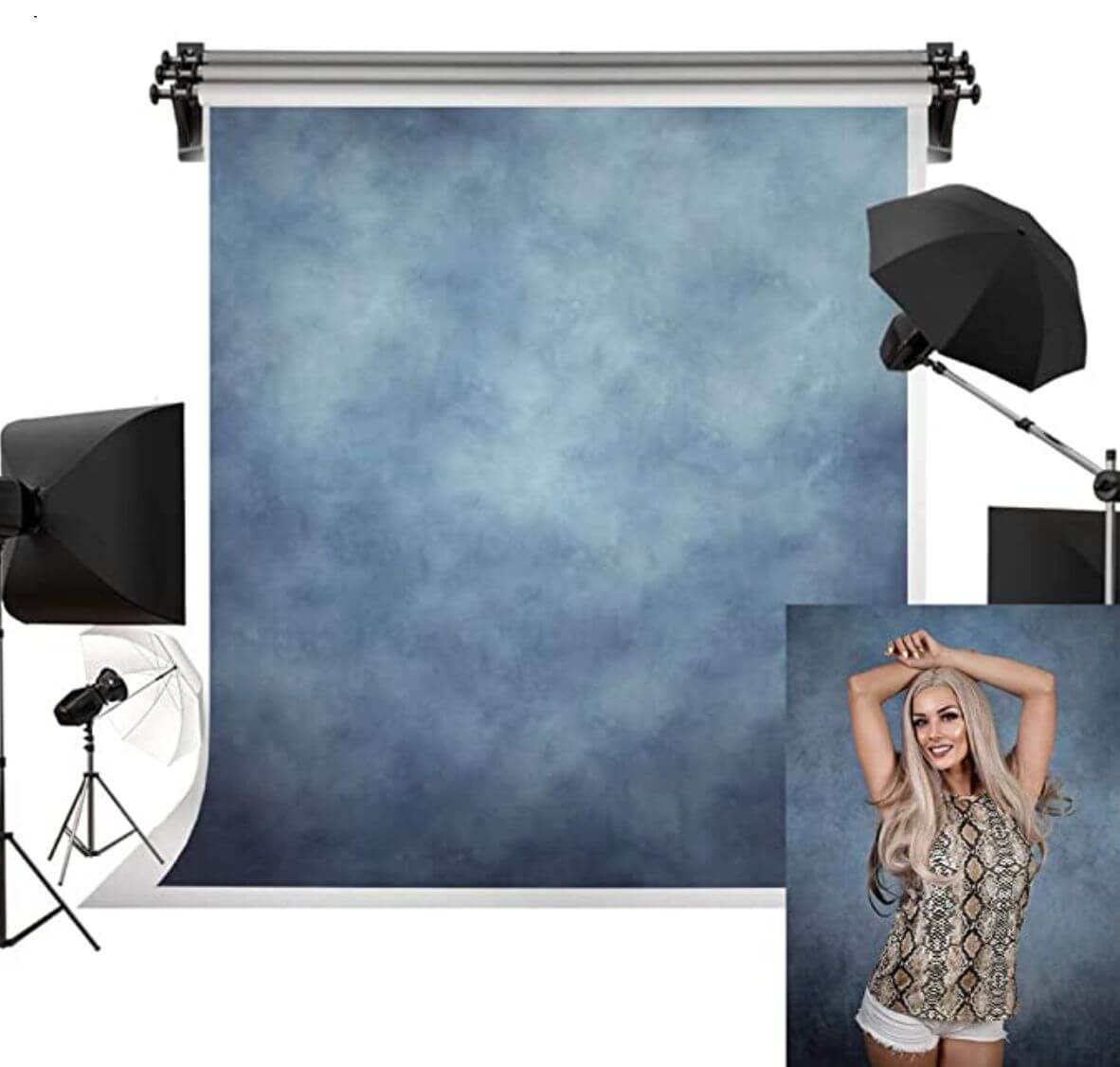 Features
Size: from 3x5ft up to 10×20 ft, items are sent by folding, and easy to carry (The backdrop can be customized).
Material: Microfiber. Compared with other materials, Microfiber is soft, easy to keep clean.
Feature: Non-reflective, shallow wrinkles, seamless, easy to fold, and carry.
Be Suitable for: Children, Newborn, Baby, Wedding, Holiday party, Birthday Party, Family decoration.
There is a pocket at the top for wall hanging.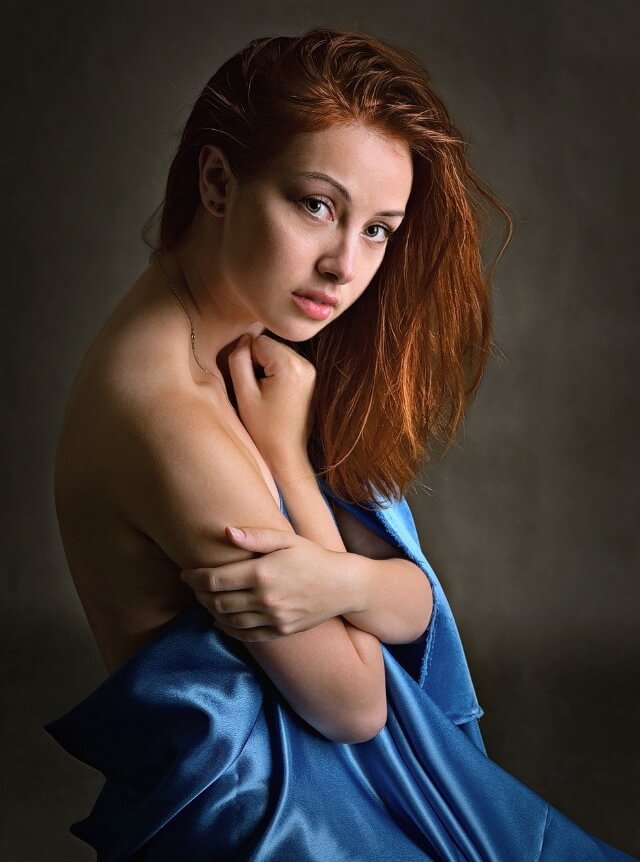 Image by Jerzy Górecki from Pixabay
The supporting system
LimoStudio AGG2612 10×7.3 ft. Adjustable Photo Video Backdrop Muslin Stands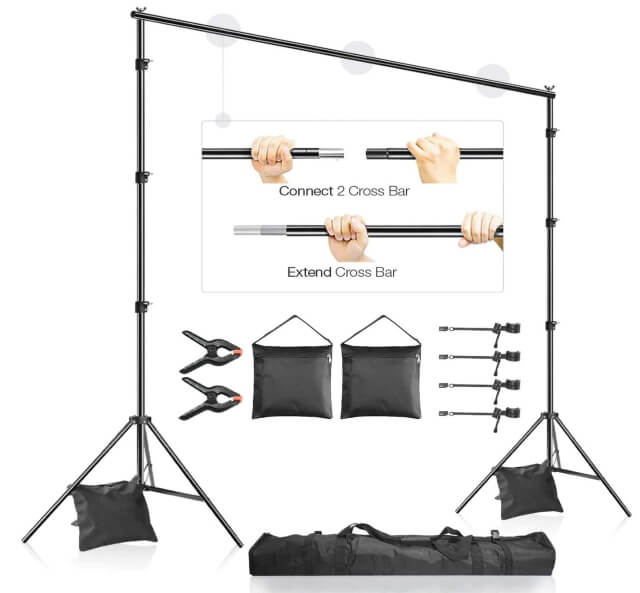 Product highlights
Contents: 1 x Backdrop Support Stand with Crossbar / 2 x Spring Clamp / 4 x String Clip / 2 x Sand Bag / 1 x Carry Bag
Good Flexibility with Width (5.3 ft.–10 ft.) & Height (2.7 ft.–7.3 ft.) Adjustment
Professional Lightweight Support for Backdrops, Aluminum Alloy Construction for Durability & Portability
Multi-Functional Clamp and String Clip to Stabilize the Backdrop Muslin / Premium Quality Sand Bag for Stabilizing the Support System
FUDESY Backdrop Stand 7x10Ft Adjustable Photography Background Support System Kit for Photo Video Studio with carrying Bag,Spring Clamps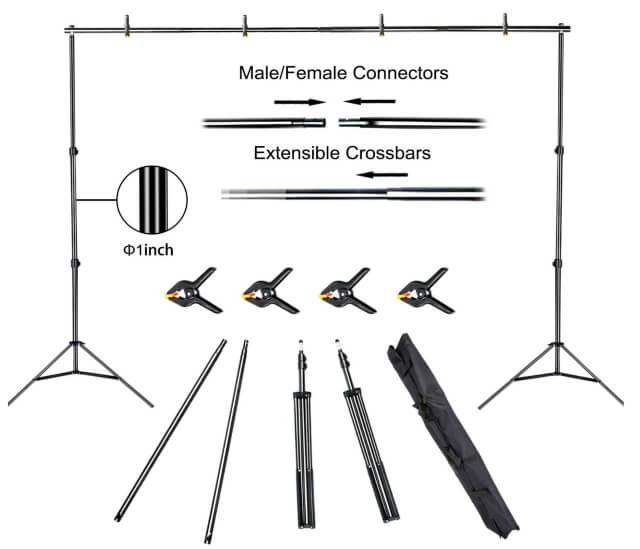 Product highlights
Kit Includes:(2) x 7Feet Light Stand / (2) x Extensible Crossbar / (4) x Spring Clamp / (1) x Carry Bag / (1) x Instruction.
FUDESY Lightweight Adjustable Photography Backdrop Stand is Made of Aluminum Alloy Construction, Stable and Sturdy. Easy to Set Up and Take Down, Ideal for Photo Studio, Video Shooting
The Length of Background Support System Able to Be Adjusted Freely within 5.3ft to 10ft. Two Male/Female Extensible Crossbars are Convenience to Connect and Adjust. Diameter:1inch
The Height of Backdrop Stand Can Be Adjusted From 2.7ft to 7ft, Fully Folded, It Measures Just 2.4ft Long. When Each Light Stand is Fully Extended, The Area is 4.6 sq. ft
Come with 4 pcs 4.5inch Spring Clamps to Hold Background to Prevent It Slip-Out, Such as Muslin, Canvas, Paper. Included a Nylon Portable Carry Bag with Velcro, Easy to Transport and Store
Fotodiox Triple-Roller Roll Paper Drive Set with Wall Mount Support for Mounting 3X Paper Background Roll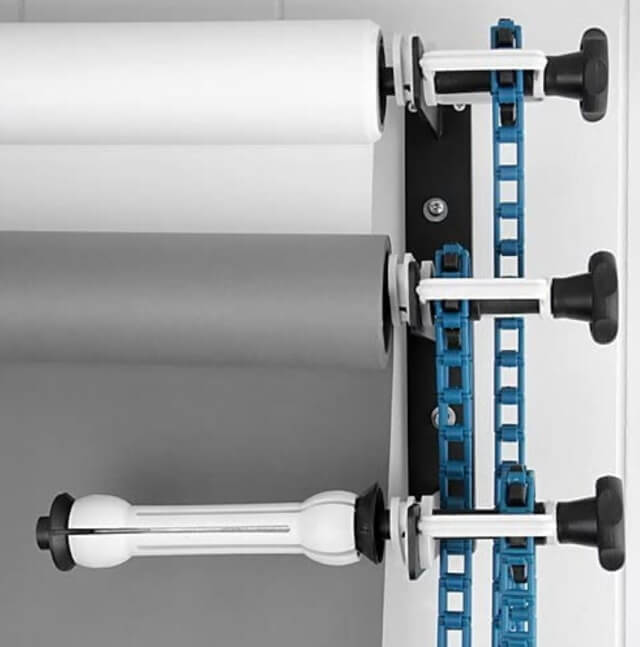 Product highlights
The Triple Drive Paper Background Kit is designed to support up to three rolls of seamless paper, as well as muslin and fabric backgrounds mounted with PVC or aluminum tubes. The Triple Hook Wall Mounts can be wall or ceiling mounted via drywall or stud anchors. The Paper Drive Roller sets are inserted at each end of a paper core, expanded, and then placed on the hooks. The Paper Drive Chains on the drive set give the convenience of rolling up or down a paper background.
The paper drive sets incorporate two expandable plugs; one side has a large toothed gear which has a high-impact plastic chain and weight is attached to allow easy raising and lowering of a seamless background paper roll, and the other side has an adjustable tension drag. The Paper drive can accommodate almost any size paper core and length.
This background support system is a smart substitute for an expensive motorized system for the small-medium-sized studio and home-based studios. Durable, lightweight, counter-balanced chain and gear assembly make raising and lowering your backgrounds quick and easy. It takes a small space when the background is rolled up, very easy to install on your studio wall or ceiling. Economical and convenient.
Kit Includes:
2x Triple Hook Wall Mounts
3x Paper Drive Roller Sets (Pairs)
3x Paper Drive Chain & Weights

Conclusion
It is important when choosing a backdrop to make sure that the colors in the background and the foreground are coordinated. You should ensure you choose a background color that highlights the subject, without affecting their look. You should never select a background that is going to create a distraction or take attention away from the subject of the photo. You should ensure that they are not standing too close to the backdrop or that the background has blemishes or lines, as this will reduce the quality of the photo.
Related posts
Photography Studio – Setting Up Home Photography Studio
How To Make Digital Background In Photoshop
How To Use Digital Background In Photoshop
Thanks for reading, I hope you enjoyed the article if you have any questions just post below & I will be happy to answer you.
The featured Image by Jerzy Górecki from Pixabay
If you enjoy the site, don't forget to subscribe, we will only inform you when a new article is posted.