Tripod ball heads are essential tools for photographers and videographers who demand precision and flexibility in their work. These small yet mighty devices sit atop a tripod and allow the camera to be positioned at any angle with ease. With a ball head, photographers can quickly adjust the camera's position, whether it's for a panoramic landscape shot or a portrait with a shallow depth of field.
The ball head mechanism consists of a ball and socket joint, which enables the camera to be tilted and rotated in any direction. The ball can be locked in place with a simple twist of a knob, providing stability and security for the camera. The design of tripod ball heads allows for smooth and precise movement, making them ideal for capturing fast-moving subjects, such as wildlife or sports events.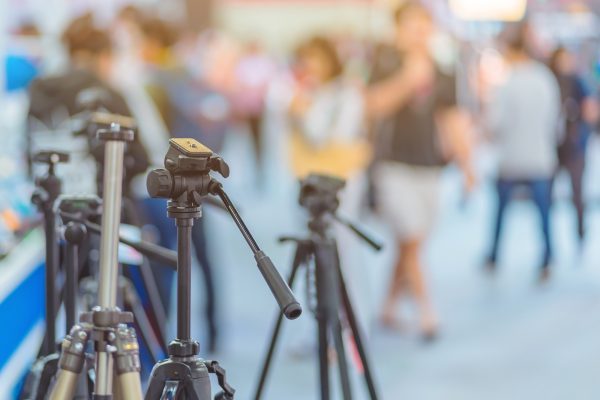 photo by Depositphotos
There are various types of tripod ball heads on the market, ranging from simple and affordable models to high-end, professional-grade options. Some ball heads have a single knob for locking and unlocking the ball, while others have multiple knobs for more precise adjustments.
Additionally, some ball heads feature built-in levels or bubble indicators for ensuring that the camera is level. Overall, tripod ball heads are an indispensable accessory for any serious photographer or videographer. They offer unparalleled flexibility and control, allowing users to capture stunning images and videos from any angle. Whether you're a seasoned professional or a hobbyist, investing in a high-quality tripod ball head is a wise decision that will pay off in the long run.
Photographers always need some stability at some point or another and a tripod is the best place to begin here. Even if you have your tripod, you'll still need a solid tripod ball head to attach it to your camera and allow it to pan, shoot in portrait mode, and otherwise perform well.
Fortunately, I've scoured the internet and come up with this list of the top-rated tripod ball heads. There's something here for every photographer's needs and budget, so take a look and let me know your thoughts!
The Top Rated Tripod Ball Heads
1) Manfrotto XPRO Magnesium Ball Head with Top Lock Plate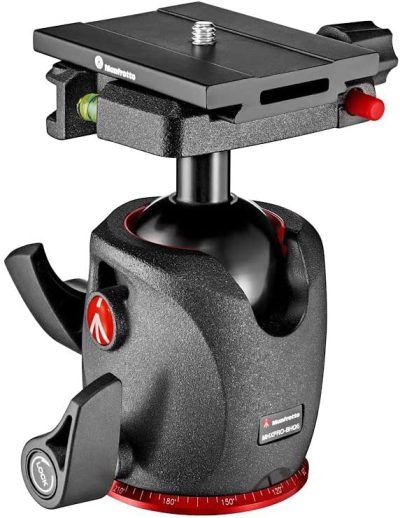 The nice thing about the Manfrotto XPRO Magnesium Ball Head is that it's not only sturdy but uses a novel triple locking mechanism that eliminates drift when a camera is attached (drift is when a camera slowly slumps even though it's secured to the tripod ball head).
This triple-locking system acts as extra security that prevents the camera from accidentally tumbling. The quick-release clamp itself has a spring-loaded locking pin that allows the plate to move freely. But if the camera and plate aren't fully locked, the pin catches it, keeping your camera from easily sliding off of the clamp! In order for you to release the camera and quick-release plate, you simply press the quick-release button, disengaging the pin.
Attached to the plate at three separate points is a trio of bubble levels that ensure you can accurately gauge how level your camera is, regardless of your shooting orientation! And thanks to the 100% magnesium construction, you have a ball head that's durable, scratch resistant, and corrosion-resistant yet lightweight and strong enough for most camera systems!
2) 3-Legged Thing AirHed Pro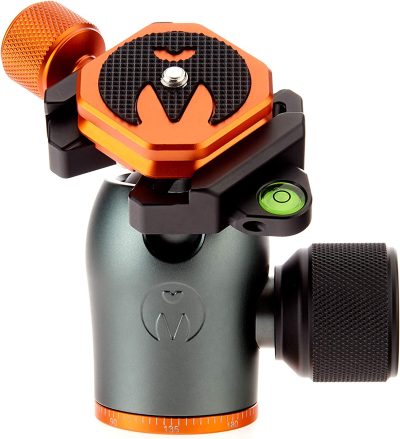 While newer, 3-Legged Thing is a top-tier brand right alongside Manfrotto, and they have a good reputation for manufacturing solid tripods and ball heads.
Like the Manfrotto XPRO, the AirHed Pro uses an aircraft-grade magnesium alloy that's both rugged and lightweight. Though in the case of the AirHed Pro, it's capable of holding an astounding 40 kilograms of weight at maximum payload! This is the tripod for photographers and videographers who need to secure heavy cinematic or telephoto equipment.
As the best tripod ball heads it allows you to turn a full 360° yet also includes a locking mechanism once you've finished your panorama or re-orientation.
The standard AirHed Pro uses a twisting release knob to free the quick-release plate from the ball head itself. However, there is also an AirHed Pro Lever model that uses a lever instead. It's a little bit quicker to engage and disengage – yet is the exact same price! Still, many traditionalists will prefer the twisting knob of the original AirHed Pro as it feels more secure to engage and disengage.
3) Gitzo Series 5 Off Center Ball Head GH5750QR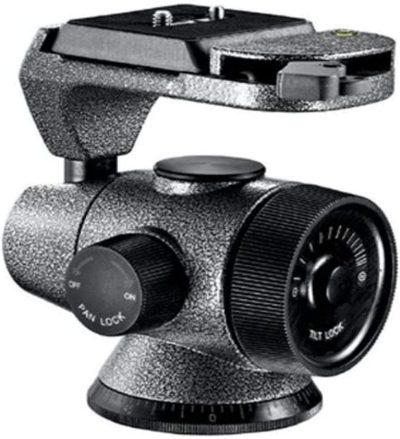 At first glance, this ball head seems like a strange and unintuitive option. At a full kilogram in weight, it's the heaviest option on this list and the design takes some getting used to. It's meant to be paired with the larger Gitzo Series 5 tripods, which value stability above all else.
The off-center ball head allows for greater flexibility of motion, especially if you want to shoot horizontally or vertically. And the graduated base, complete with independent locking facilities, allows you to capture panoramic images with ease. Just know that this model uses a proprietary quick-release plate rather than a standard Arca-Swiss model (the Gitzo Series B plate).
4) Vanguard Alta BH-300 Ball Head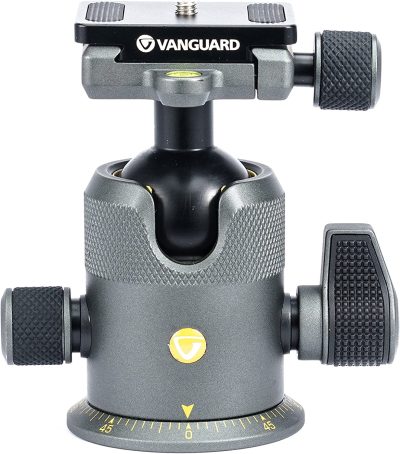 Vanguard is more well known for their superior tripod lineup but their ball heads are well worth exploring as well! The Alta BH-300 is very lightweight, at 600 grams, and made of aircraft-grade aluminum that's durable enough to withstand anything you can throw at it.
At just 119mm tall, this is a very compact model meant for smaller tripods. The maximum weight of 30 kg is strong but modest compared to other ball heads on the market. Twin bubble levels on the quick-release plate ensure that no matter the angle you can get a good gauge of how your device is oriented.
Each knob has a well-textured rubber coating for easy adjustments even when wearing gloves. The friction control offered by each knob is very precise and intuitive to set. And the quick-release plate has a safety pin in place to prevent loose cameras from easily sliding off of the ball head!
5) Benro G2 Low Profile Ballhead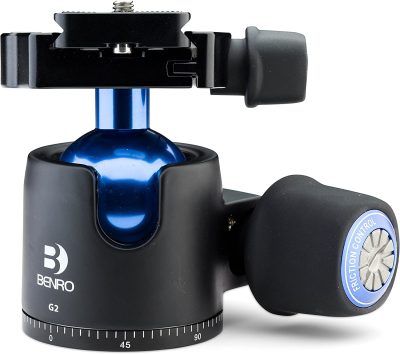 Of all the ball heads here, the Benro G2 Low Profile Ballhead uses a design that is ideal for photographers that favor portability above all else. The ball head itself is 88mm tall from the base to the mounting plate.
The design of the Benro is a little unusual, using a locking knob that engages both the ball's motion as well as the 360° panning motion of the ball head. A separate knob is used to then control the friction, allowing you to make quick or slow micro-adjustments.
On the clamp itself is a single fluid bubble level for ensuring the camera is level with the horizon. While most photographers can make do with a single level, you might prefer the three levels the Manfrotto XPRO has built into it.
The 14 kg payload is moderately high as well and perfect for both DSLR and mirrorless photographers who aren't using telephoto primes and other especially heavy equipment! Coupled with the moderate price tag, the Benro G2 is one of the finest top-rated tripod ball heads of 2021!
Conclusion
In summary, tripod ball heads are essential tools for photographers and videographers who require precise and flexible control over their camera's position. The ball and socket joint mechanism allows for smooth and accurate movement, making it ideal for capturing a wide range of subjects and scenarios.
When selecting a tripod ball head, it's important to consider your specific needs and budget. There are various types of ball heads available, from simple and affordable models to high-end, professional-grade options. Look for a ball head that is compatible with your camera and tripod, and that offers the features you need for your particular style of photography or videography.
Investing in a high-quality tripod ball head is a wise decision that will yield dividends over time. With its versatility, precision, and ease of use, a tripod ball head is an indispensable accessory that can take your photography and videography to the next level. Whether you're a professional or amateur photographer, consider adding a tripod ball head to your kit and experience the benefits for yourself.
Related Articles
Digital Camera Tripod- How To Choose The Right One
The World First Auto-Leveling Tripod: Benro Theta
Thanks for reading, I hope you enjoyed the article, in case you have any questions just drop them below & I will be happy to answer you.
The featured photo by Depositphotos
If you enjoy the site, don't forget to subscribe, we will only inform you when a new article is posted.