When shopping for a camera you'll inevitably have to spend time considering a tripod as well. Offering stability for low light environments and eliminating motion blur due to handshake, tripods have been around almost as long as cameras have.
Thanks to over 100 years of refinement, 2020 has some fantastic models available for photographers of all budgets and skill levels! Here are the best tripods of 2020 for your consideration!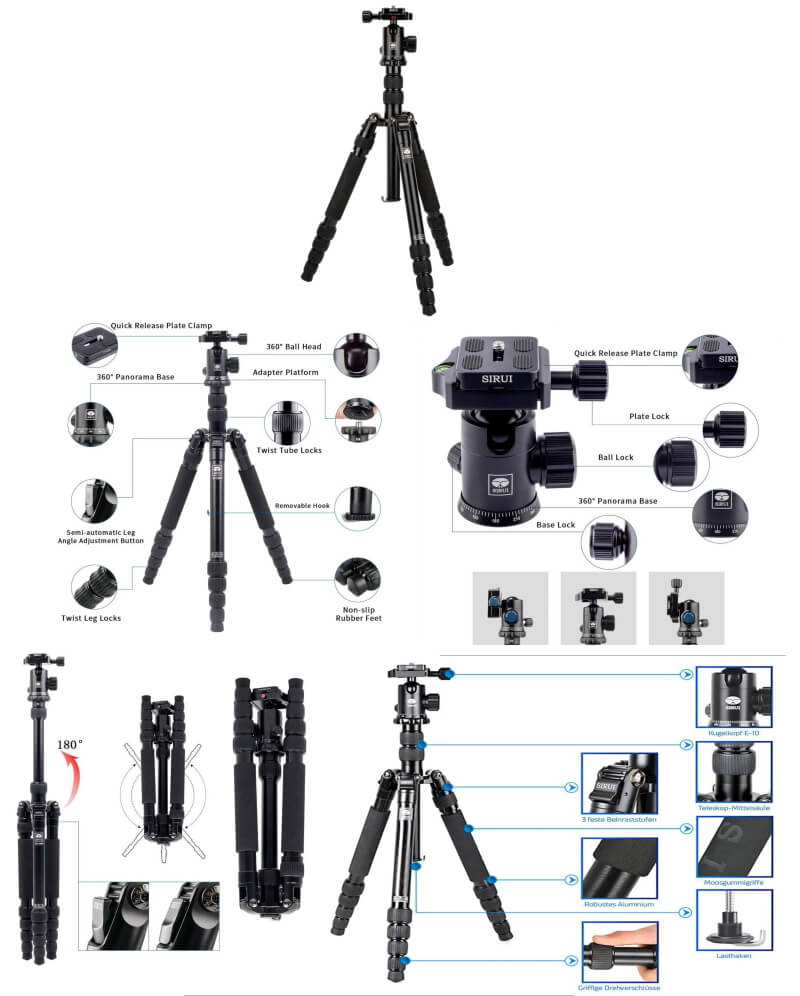 The Sirui Nt-1005X/E-10 was designed to provide heavy lifting capacity in as compact a form as possible. When fully collapsed the unit is only 36 cm long, perfect for travel photography or an airplane carry-on.
Using the center column photographers can reverse its orientation for ground-level photography or even separate the legs for an instant monopod. Thanks to the Arca-Swiss compatible release plate nearly any standard DSLR or mirrorless model can fit on this unit. As a panoramic head, it's capable of full 360-degree rotation for flexible viewing. 
With a weight limit of nearly 8 kg, even full-frame-sized rigs can be balanced without fear. However, if your rig is front-heavy (such as when using a telephoto lens) the central pillar includes a hook for a stabilizer.
Specifications: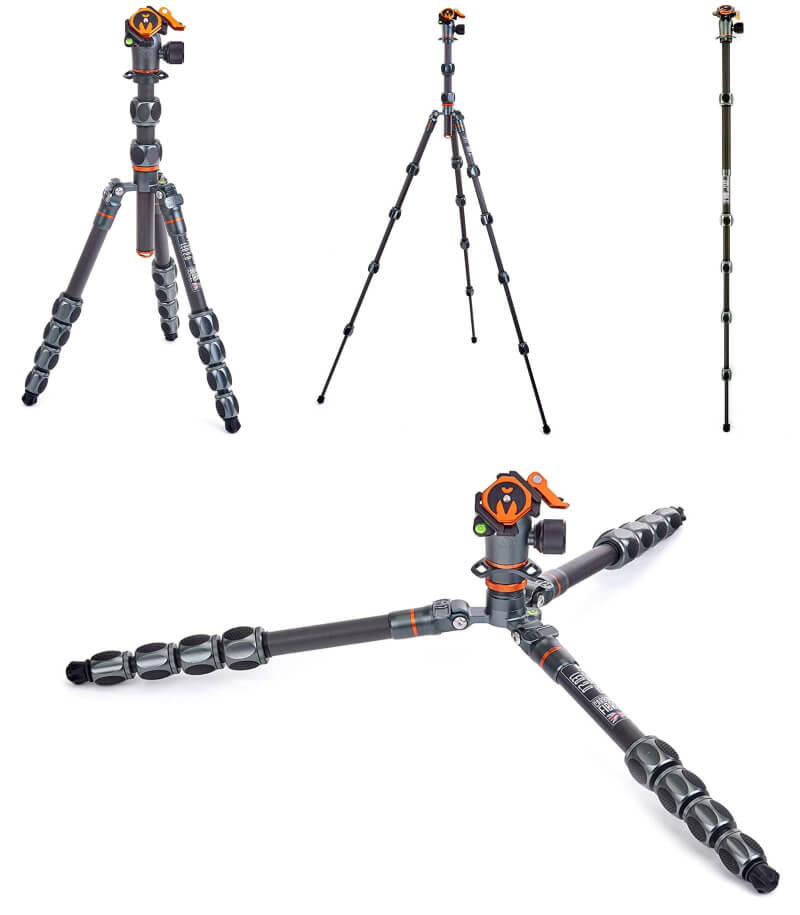 The brilliance of the 3 Legged Thing lineup is in their weight, construction, and load capacity. Thanks to their durable carbon fiber build they can comfortably hold camera rigs up to 30 kg in weight.
As the smallest of the brand's Equinox lineup, the Leo 2.0 is meant to be a lightweight option that includes all of the flexibility of 3 Legged Thing. For example, all three of the legs are detachable and the center column can also be taken apart. 
This allows you to attach the tripod footwear to the column to create a small tabletop tripod setup. And like many other travel tripods, the Leo 2.0 can be broken down for use as a standalone monopod. One can also invert the center column for ground-level shooting (minimum height of 11.9 cm).
Specifications: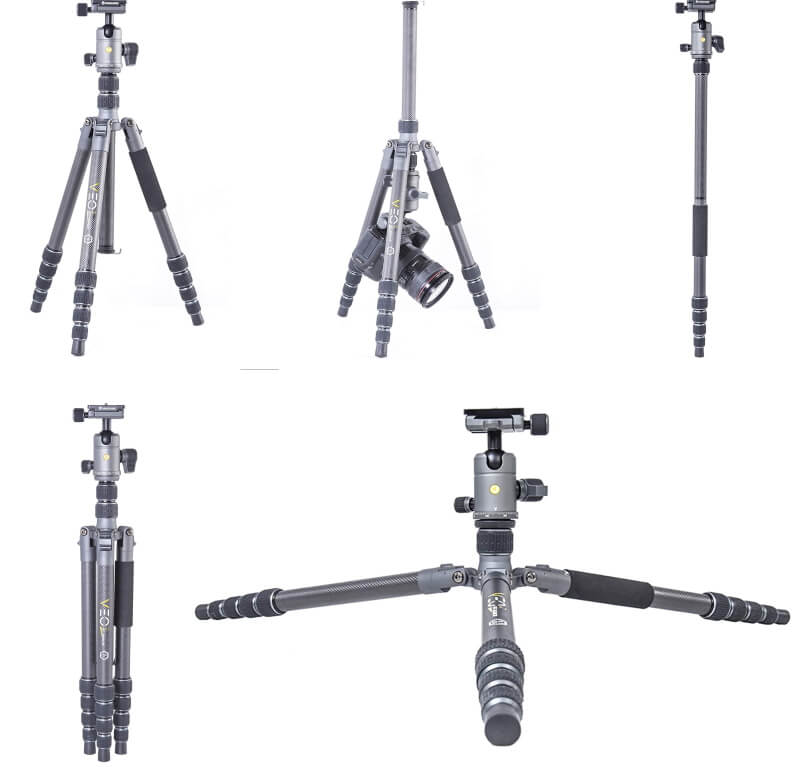 Another lightweight, heavy-lifting option is the Vanguard Veo2. Like the 3-Legged Thing Leo, this model uses carbon fiber for maximum strength while avoiding too much mass.  Originally designed with flip-locking legs the Veo 2 now uses twist locks for added security. 
The Veo 2 is not only significantly lighter than the 3-Legged Thing Leo but significantly cheaper as well. You do lose out on the ground-level photography option but gain significantly more height in exchange; perfect for taller photographers.
On the other hand, it holds 10 of weight; a third of the capacity of the 3-Legged Thing Leo. The Vanguard Veo 2 is better for standard-sized interchangeable lens rigs rather than the largest full-frame and medium-format bodies and lenses.
Specifications: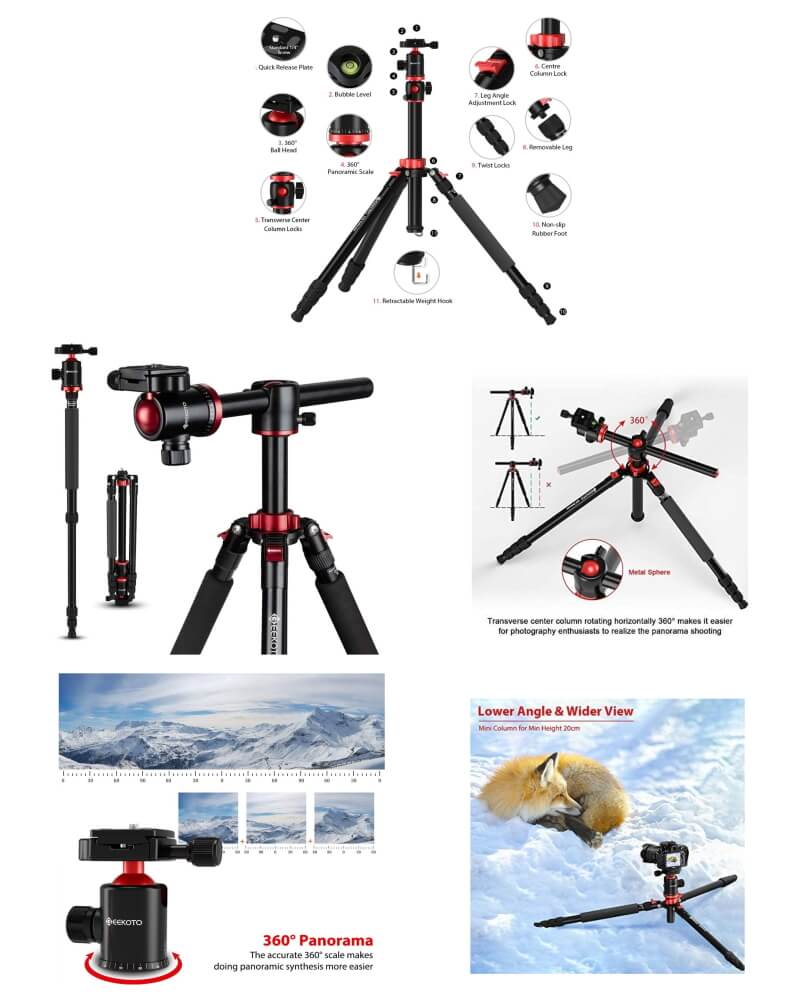 Despite being a relatively unknown brand the GEEKTO Aluminum Tripod is both reliable and affordable.
One of the best features is the Rotatable Transverse Center Column. In addition to regular vertical angles of everything from 0 to 90 degrees, the GEEKTo can also shoot horizontally at 90-degree angles, making it particularly appealing to macro, nature & wildlife photographers.
While not as durable as carbon fiber the aluminum construction will weather most of the worst bumps and scrapes, and certainly better than plastic tripods. The rubberized feet and optimization for up to 22 lbs ensure that this tripod isn't going anywhere once set up. And for all its heft this tripod collapses to a remarkable 41 cm when stowed away!
Specifications: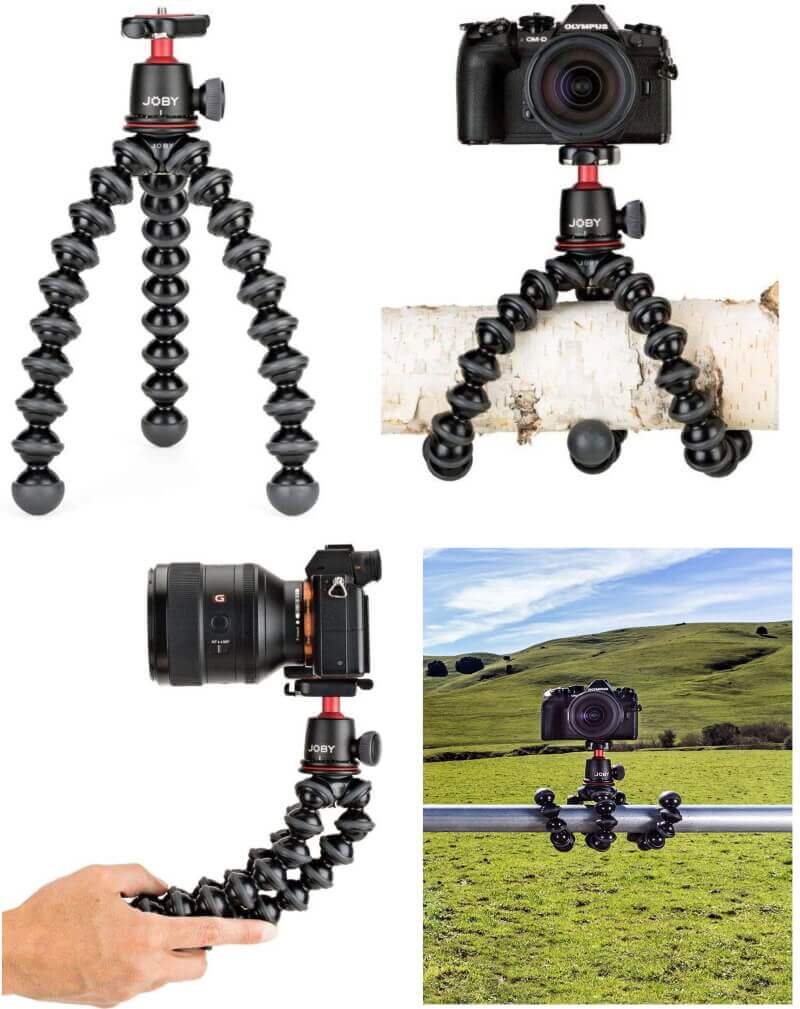 Simple yet groundbreaking in creativity, the GorillaPod lineup is some of the most popular tripods of 2020. Much like the smaller GorillaPod 1K and 3K the 5K uses rubberized prehensile legs to not only stand erect like a traditional tripod but grip onto tree branches, fences, and nearly anywhere else you can think of! The legs are sturdy and lock into place even when paired with camera rigs weighing up to 5 kg. 
Also included is the BallHead 5K, a 360-degree panning head with fluid level and a 90-degree slot for the release plate. The base is also numbered for exact measurements when capturing panoramic views.
The only real downside is that the GorillaPod 5K might be too short if not attached to another fixture of the environment.
Specifications: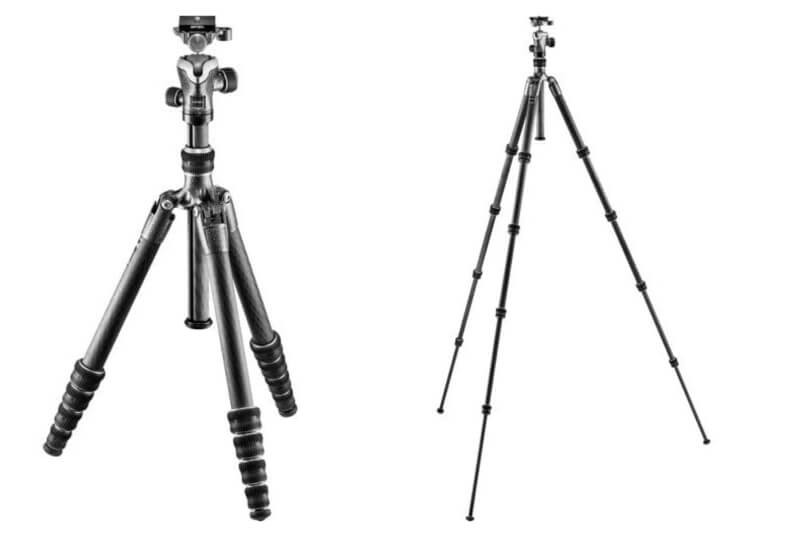 When cost matters less than quality and reliability the Gitzo brand is what many photographers turn to. Looking at the Gitzo GT1555T it's clear every single element has been carefully considered for usefulness. 
The rubberized feet are compacted for space-saving without compromising on stability. And while the carbon fiber body weighs only 1 kg it can hold 11 kg of gear safely. Each leg has 5 sections for precision height adjustment using a proprietary twist-lock design.
Known as G-locks they have refined threading and tension control for ease of use and added security. Compared to many models the GT1555T has a short center column; most of the height is in the legs. 
The only real downside is the price; at twice as much as the next closest competitor, the 3 Legged Thing Leo, the Gitzo may simply be priced due to its status as a luxury tripod brand.
Specifications:
Related posts
Digital Camera Tripod- How To Choose The Right One
3 Legs Good – Top Rated Tripods For DSLR Cameras
Manfrotto 190 Mt190xpro3 – Best Digital Camera Tripod
Thanks for reading, I hope you enjoyed the article if you have any questions just post below & I will be happy to answer you.
The featured Photo by Luna Lovegood from Pexels
If you enjoy the site, don't forget to subscribe, we will only inform you when a new article is posted.