When it comes to selling camera equipment online, the process can often be quite cumbersome, especially when dealing with popular platforms that tend to prolong the procedure. There's even the possibility that an item might not sell at all, for various reasons. However, if your goal is swift transactions and a preference for professional interactions over dealing with individuals, the convenience offered by Keh is truly unparalleled! In case you're not acquainted with it, let me explain how you can efficiently sell your camera equipment online using Keh.
Why Should I Sell Old Cameras-Equipment to Keh?
With eBay, Amazon, and other online used options available, selling to Keh might sound a bit strange if you've never heard of them before. So why do I recommend selling your old cameras to Keh? 
The main advantage Keh has over these other options is simplicity and peace of mind. When listing a piece of gear on eBay and other outlets, there's no guarantee that it will sell. And even if it's a popular piece of equipment, you're still up against potentially dozens of other people, complicating the process.
Keh is more like a pawn shop in that regard. You can check with them to see if they're interested in your gear, and if so, you get an offer within minutes. The main downside is that you won't get quite as much as you likely can through eBay. Something to remember is that eBay listing, transaction, and seller fees do take quite a lot out of the money you would normally receive, narrowing the gap somewhat. But since Keh is a reseller and they want to also make a profit, your initial offer is going to be lower than you might expect.
But again, the Keh advantage is speed and peace of mind. Sometimes you just need a piece of gear gone ASAP, in order to fund a new purchase or financial emergency. Keh takes the vagaries out of the selling process, which is worth it to thousands of people a month.
Sell Your Used Camera, Lenses, & Accessories at KEH Camera Today!
How to Sell Old Cameras-Equipment Online with Keh
The Appraisal Process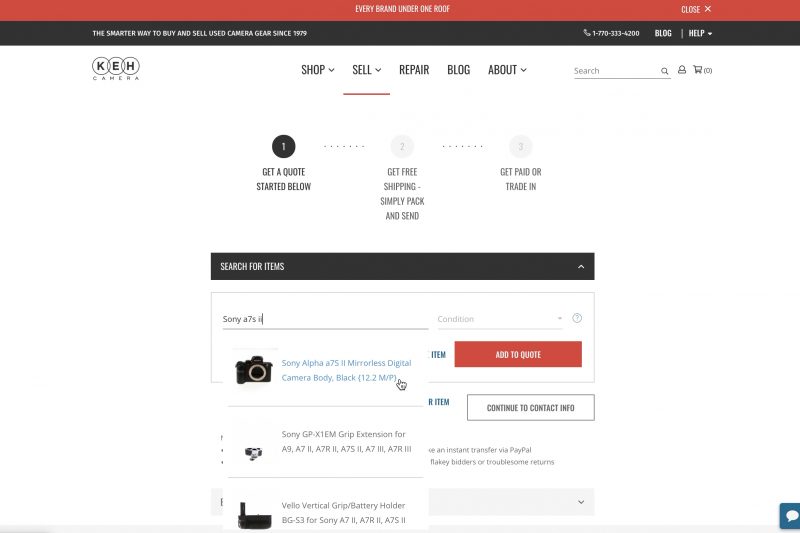 When selling old cameras online with Keh, the first step is going to be getting your item appraised and an offer made. In the past, that would have involved meeting an agent in person, like at a pawn shop, only the owner is not very likely to be an expert in camera gear.
Check their grading system & how they are evaluating the equipment.
Nowadays, we can use the Keh website, search for our product by model, make, and color, and input our estimation of the condition of the equipment. This step is especially important for getting a quality estimate because if you rate the equipment as better than what Keh finds, you will end up with a lower offer than you expected. Fortunately, the reverse is also true – if Keh finds that your gear is in top condition, you'll get more money as a result! 
If they are overstocked with certain equipment then the online Quote Wizard may not show your item as being something they're buying. In those cases, it's good to check back every so often to see if things have changed. 
They also ask you what sort of accessories, if any, come with the camera. A list of options includes the OEM batteries, charger, camera strap, manual, and other gear that's included in the box with new cameras. Naturally, having these increases the amount of money you get back!
When choosing a grade for your equipment, remember that everything beyond As Is needs to be in working condition. In most cases the folks who are buying your used gear from Keh are looking for stuff that isn't broken. If you have an item that Keh finds is broken but repairable, the time and money spent on the repair will end up coming out of your quote.
Once you've selected the accessories, your quote pops up for you to accept or to add to, if you have additional gear you forgot to include! Any quote you receive from them is considered valid for up to 14 days, giving you time to decide whether you truly want to part with a beloved piece of kit.
Shipping Your Camera to Keh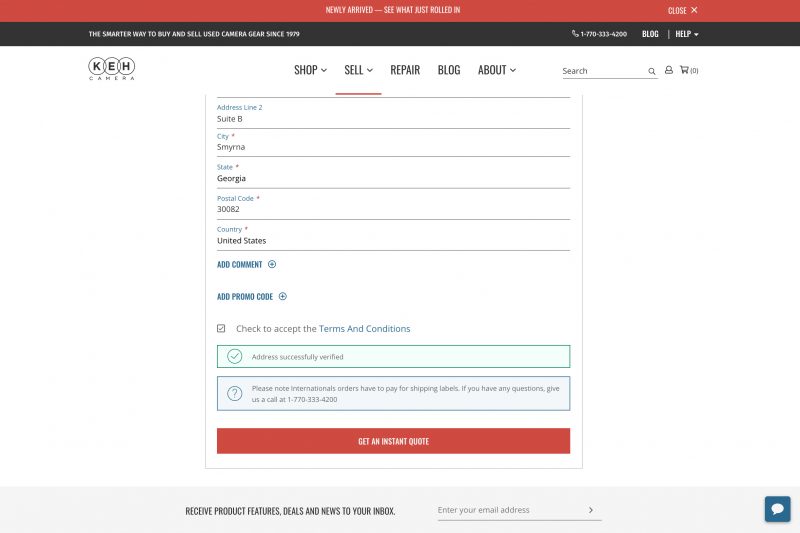 Once you've accepted your gear quote, you'll then prepare for receiving a shipping label by entering your name, address, email, and other contact details. Rather than having to buy a label Keh sends out a shipping label that you attach to your box. FedEx is their shipper of choice so in the continental USA most gear arrives within one week of shipping from your location.
I don't know about you, but sometimes I'm worried about sending camera gear in the mail since packages can sometimes be delayed or even lost. Keh does offer in-person deliveries and pickups at their brick and mortar location (5080 Highlands Pkwy SE, Unit B, Smyrna, GA 30082, United States). At least in normal times; currently in-person services are suspended due to the COVID-19 pandemic. But hopefully, KEH will be back to receiving in-person sales again!
Sell KEH your gear and get cash!
Getting Paid for Your Old Cameras Equipment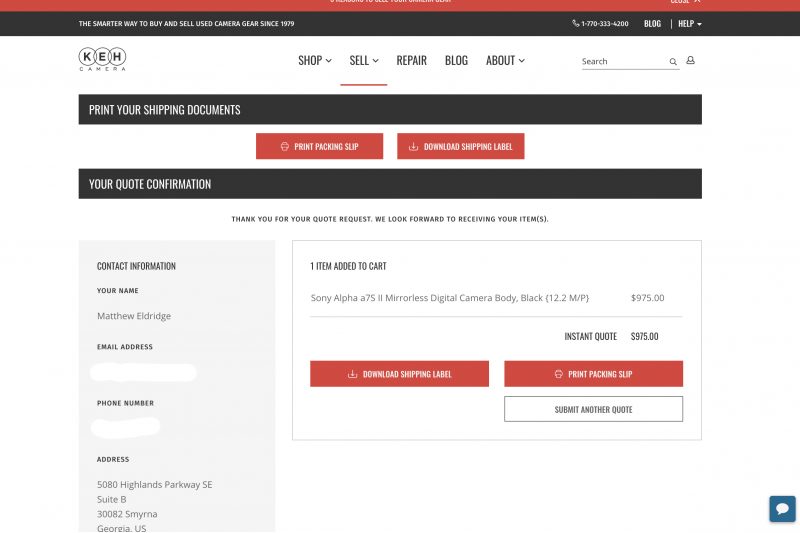 Since FedEx offers tracking numbers you'll know within the hour once Keh has received an item from you. That said, you'll need to exercise some patience because they receive thousands of items per month. Their turnover time is roughly 7 to 11 days before they can confirm that an item is as you say it is. Though if your camera is in great cosmetic and working condition then you'll likely get a quote much faster! 
Your choices for payment as a standard check mailed to you via USPS or a funds transfer to a verified Paypal address. You always have the option to refuse an offer, should Keh find some flaw and decide to offer a lower bid than you were initially given. In that case, your item will be shipped back to you free of charge!
Get cash for your old camera gear in 4 easy steps at KEH!
Conclusion
As you can see the Keh selling process has been streamlined in order to get you paid in as little as a week of item receipt. Keh is the best outlet for folks looking to resell gear with minimal fuss and not having to deal with the vagaries of eBay and other outlets. You know how much you're getting and have an exact timeline with steps laid out from start to finish! 
Related Articles
Thanks for reading, I hope you enjoyed the article, in case you have any questions just drop them below & I will be happy to answer you.
If you enjoy the site, don't forget to subscribe, we will only inform you when a new article is posted.