The Sunny 16 rule is a formula that's been kicking around since the early days of picture taking. It has held true through, even with the advanced technology of modern digital camera. The Sunny 16 rule is a simple way of establishing a correct exposure when taking pictures outdoors without using either your camera auto exposure mode or a light meter.
So if you haven't heard about the Sunny 16 Rule or just need to refresh your photography knowledge, here's a quick post on this classic metering rule.

THE SUNNY 16 RULE
The starting point for establishing the correct exposure is to set the only non-variable part of the equation, specifically the f-stop of the lens, which as you might guess when talking about the Sunny 16 Rule is f/16.
The rule states that if you have a clear, sunny day and your aperture is set at f/16, whatever ISO you are using, your shutter speed will be the reciprocal value of that ISO value (ISO X = 1/X seconds shutter speed).
So for example, if your ISO is 200, then your shutter speed will be 1/200 seconds. If your ISO is 100, then your shutter speed will be 1/100 seconds, and so on.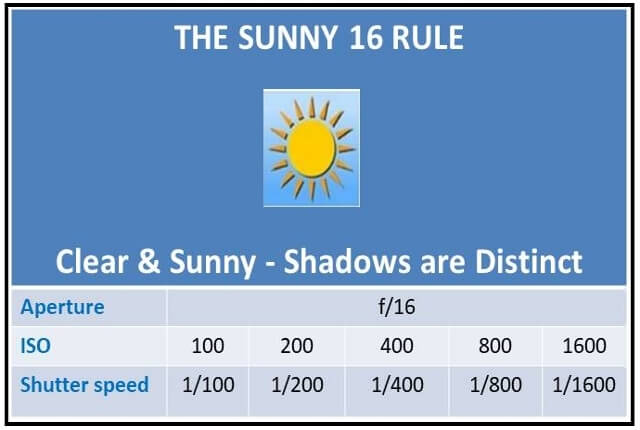 As you can see in above table, the aperture remains constant. As long as the sun is shining, the aperture should remain at f/16 and the ISO and shutter speed should be manipulated accordingly. Note, however, that this rule just gets you close to a good exposure – it doesn't guarantee that the result will be optimal. In some instances, you might need to do a little further adjustment to get the best exposure.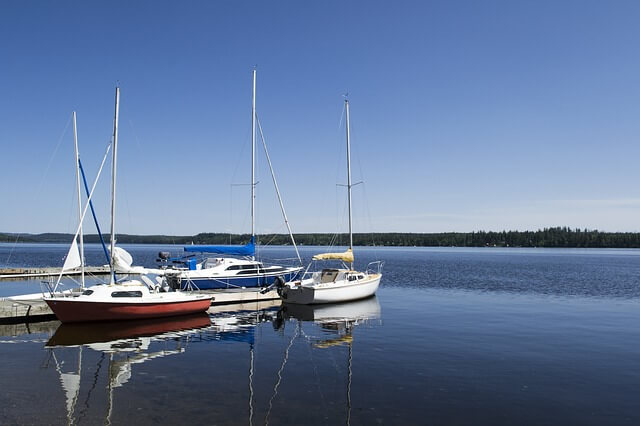 Camera manufacturers establish the stop scale for both the aperture and the shutter speed; they operate in incremental defined stops. For example, if you adjust the aperture by one stop, such as from f/16 down to f/11, it results in twice as much light entering the lens. Moving the other way one stop, from f/16 to f/22, halves the amount of light entering the lens. The same concept applies for the Shutter speed if moving from 1/400 seconds to 1/200 seconds results in twice as much light because the shutter speed is twice as long. Moving from 1/400 seconds to 1/800 seconds halves the amount of light because the shutter speed is twice as fast.
The table below illustrates the idea of manipulating shutter speed and aperture and still having the same exposure.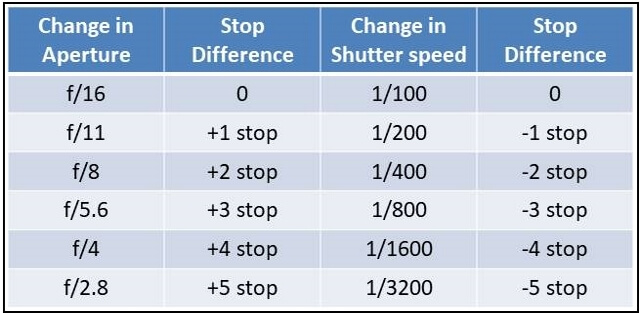 Guide to different weather conditions
There are other weather conditions besides clean and sunny; they require using other aperture values.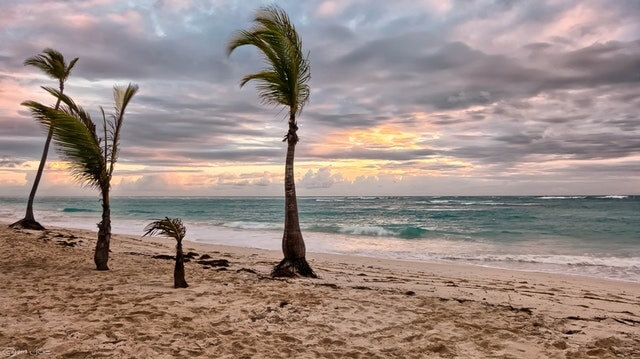 The table below gives you a guide for the aperture setting for different weather conditions.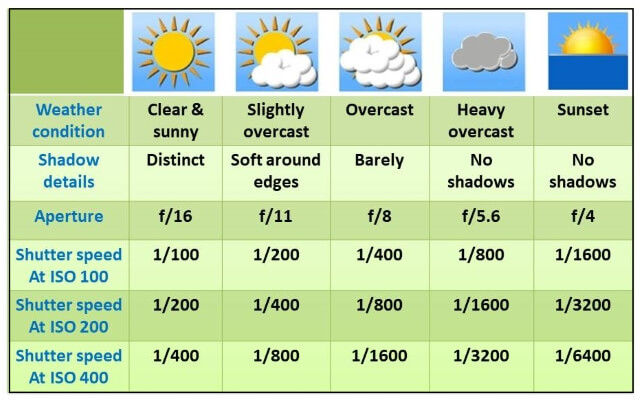 Assume that you are taking a landscape photo on a sunny day. As such, you use the appropriate settings to get a good exposure: an aperture of f/16, an ISO of 100, and a shutter speed of 1/100. But then, imagine that the weather changes as the day go on and you want some more shots; you find that you're now shooting under heavily overcast skies. Looking at the chart above, you need to set an aperture of f/5.6.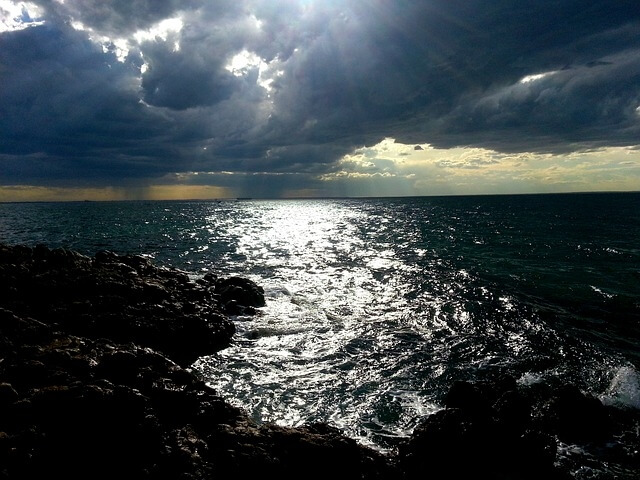 In short, on a sunny day your settings would be:
Aperture: f/16, ISO: 100, Shutter Speed: 1/100 seconds
And on a heavily overcast day your settings would be:
Aperture: f/5.6, ISO: 100, Shutter Speed: 1/800 seconds
Another example,
You are shooting at sunrise, your setting will be:
Aperture: f/4, ISO: 100, Shutter Speed: 1/1600 seconds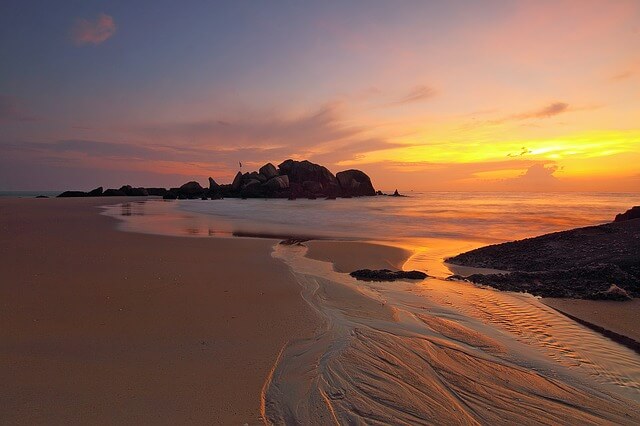 Why it is important to know about the sunny 16 rule
It is a great way for beginner photographers to start learning how to control exposure; the sunny 16 rule is a very good starting point.
The Sunny 16 Rule can be used to find out if your camera is capturing accurate exposures. Some cameras – even when they are brand new out of the box – can tend to underexpose images. By using this rule, you can test your gear to find out if it naturally tends toward underexposure or if it is spot on.
The Sunny 16 Rule allows you to meter the incident light on your camera. If you set your exposure according to the setting of the sunny 16 rule, then read the displayed reading of the exposure (this value represent the amount of incident light on your subject). But if you let your auto camera system find the correct exposure for you, and display its reading (that is the value of the reflected light from your subject into your camera sensor). You may check my post for more detailed information about this subject.
Related posts:
If you are interested in learning more about photography rules, the following are two interesting posts:
Top 10 Photography Rules – Guidelines for better photos
10 Rules for Photo Composition
Thanks for reading, I hope you enjoyed the article if you have any questions just post below & I will be happy to answer you.
You automatically support us if you order anything through our recommended Amazon links, and we highly recommend them because of their low prices, fast delivery and, the top support, especially when it comes to camera equipment.
As an Amazon Associate, the site earns from qualifying Purchase, Most of the "product" links are affiliate links, and you are welcome to check our affiliate Disclosure statement.
If you enjoy the site, don't forget to subscribe, we will only inform you when a new article is posted.