Renting camera lenses is something every photographer should think about doing. It saves you money in the long run because you won't need that $6000 200mm f/2 lens until you really need it. Also, you can always bill the client for your rental fees if it is a big project. So how to rent camera lenses online? Let's break down the process step by step!
Why Rent Camera Lenses Online?
Renting from online agencies is a great way to expand the range of services you provide as a photographer for minimal cost. Normally, there are constraints on the types of images we can create due to our gear. You probably have plenty of normal zooms and prime lenses but sometimes people have odd requirements or difficult venues where normal lenses just won't cut it.
Lenses worth renting are generally going to be either high-priced or specialty choices that you'd normally never need. If you're hired to shoot a wedding in a darkly lit venue, it's worth picking up a fast telephoto zoom or prime lens, like a 135mm f/2 or 70-200mm f/2.8. If you need extreme distance, the $12,299.95 Nikon 600mm f/4 lens is something professional wildlife and outdoor sports photographers might own. But it's outside the budget of almost everyone else – unless you decide to rent online! Gear that may cost $3000 new can be rented for $125 a week at times. Rental companies also often run specials to encourage rentals so be on the lookout for coupons and other offers.
Another good reason is that renting lenses lets us try new gear before buying. Lens reviewers are not always the best source for finding the strengths and weaknesses of new lenses. They're usually only concerned with sharpness, distortion, and other aspects that you might not even find applicable to your work. By renting camera lenses online and trying it for yourself, you'll be able to see whether it's the right time to invest in a new piece of equipment.
Choosing your Distributor
Your gear needs, as well as your brand, will be a major influence on who you decide to rent from. There's far too much gear out there for even the largest rental agencies to cover everyone. Borrow Lenses has a wide selection of Nikon and Canon gear. But if you use other brands, like Fujifilm or Olympus, Lens Rentals is a better choice. Adorama and Borrow Lenses also have a number of Fujifilm and Hasselblad Medium Format camera bodies and lenses.
Look into where the distributor is located to save time on transit and shipping fees. Adorama.com is a major distributor based in New York City, while Borrow Lenses is based in San Francisco. Choosing the distributor closest to you also opens the possibility of avoiding shipping fees entirely by scheduling an in-store pickup/dropoff. This is assuming they have a brick-and-mortar storefront along with their online rental platform, such as Paul's Photo.
Also, look into the perks that come with multiple or future rentals. Many of the largest rental agencies, like Borrow Lenses.com, offer premium memberships for frequent renters that offer discounts, free expedited shipping, and other benefits.
At the end of the post, you will find a list of well-known online rental sites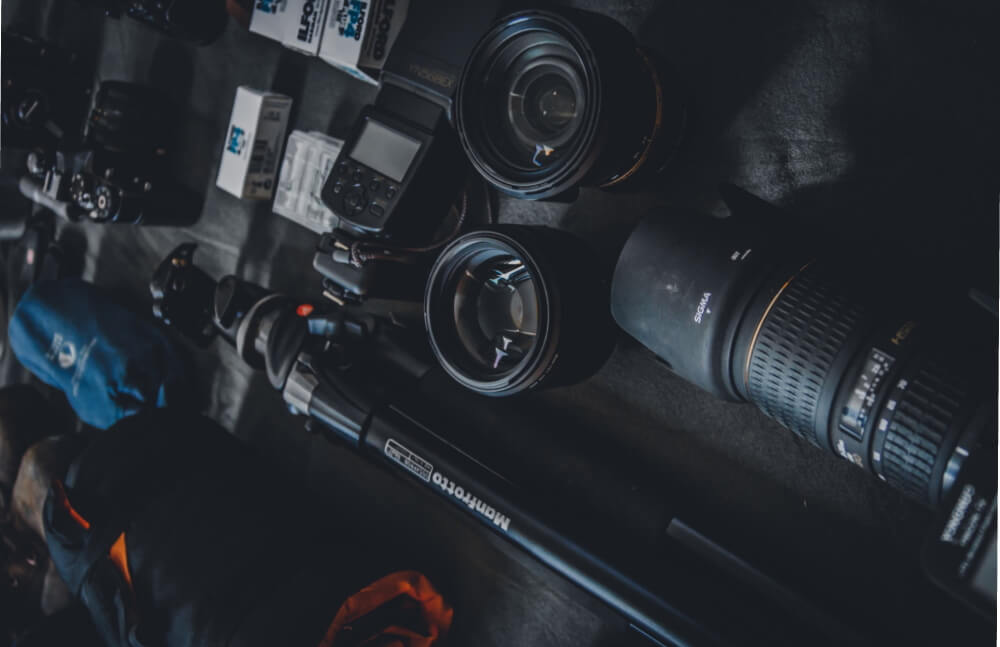 Photo by Alex Andrews from Pexels
Rental Periods
Large distributors usually have an online rental calendar that allows you to blackout the dates you need the gear for. For example, a Canon 70-200mm f/2.8 might be currently rented out but Lens Rentals knows it will be available two weeks from today. If you can organize a local pickup, you can get shorter rental times (1-3 days). Local pickups are also the best way to gain access to the network of smaller gear rental agencies nation-wide. Online rental companies often rent in blocks of 3 days (rare) to 1-3 weeks due to uncertainty around postal delivery times.
Shipping and Insurance Fees
Generally, shipping insurance is covered in order to minimize losses and avoidable claims. Normal wear and tear are also to be expected considering rental lenses are constantly in use. However, the camera lens rental agencies thoroughly inspect gear before it goes out and after it comes back. Scratches to the glass, dents in the body will be noticed and you will likely be liable if you didn't purchase rental insurance beforehand. Take a look at your personal credit card benefits, photography club membership coverage, or homeowners' insurance. There may be a clause that covers potential damage to your rental lenses.
Shipping times range from 2-3 day normal shipping to overnight for those times where you need a specific piece of gear ASAP. Since the lenses are shipped insured, you will need to sign for them in person. This means organizing your day to ensure you're at the door when the package arrives, otherwise, you'll have to head to the Post Office, which can delay receiving your package by a day (or even longer if it's the weekend). Remember, the Post Office doesn't care that you need your 600mm f/4 tomorrow for a weekend surf competition. Be home and ready to sign for that package!
Returning your Borrowed Camera Lens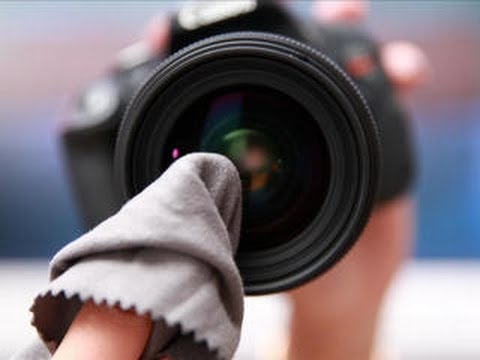 When you rent your lens online, you'll usually get a shipping label simultaneously. This shipping label is meant to be printed and attached to the box you use to ship your borrowed lens back. Depending on the company, you may also get a secondary label meant to be printed and placed inside the box for organizational purposes. Once the Postal Service scans your package, the company has a record that the lens is in their hands and that you've returned it on the scheduled day. And since the return package is also going to be insured, it's no longer your concern!
Well-known online lens rentals sites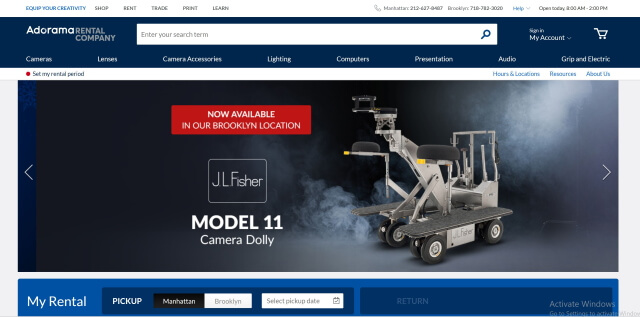 Adorama Rental Co has been in business since 1988 and has become the ultimate industry source for professional cinematographers, videographers and photographers. ARC rents and supports the full range of Still and Motion cameras (including Lenses & Accessories), Lighting, and Grip Equipment. We are a "one-stop" destination for all sorts of shoots, carrying the most comprehensive list of DSLR's, Digital Backs, Video, and Digital Cinema Cameras, Strobes & Continuous Lights, at rates that make sense.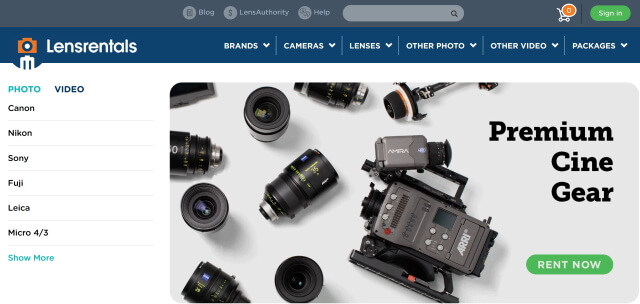 Lensrentals is the largest online rental provider for photography, videography, and lighting equipment and accessories in the United States. Headquartered in Memphis, Tennessee, with a satellite office in Nashville, Lensrentals ships gear to customers in all 50 states and also provides in-person pickups and returns to local customers. They carry camera bodies and lenses in every format from every major manufacturer, and all the audio, lighting and support accessories needed to cover any kind of shoot, from a family holiday card to a commercial advertising job. All equipment purchased is sold within two years so customers are assured our stock is always in like-new condition.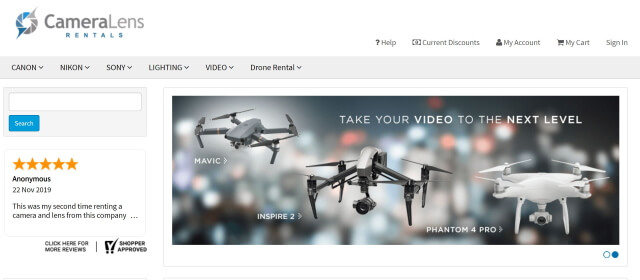 They are providing camera and lens rentals to thousands of customers since 2008, the site allows you to rent lenses, DSLR cameras, and drones for Canon, Nikon, Sony, DJI, and more. It is one of the best places to rent lenses and cameras online. If you are looking to rent a lens, camera, or drone, you are at the right place. You can rent camera gear anywhere from 1 day to 90 days. They ship to all 50 states and you can customize your rental period for the exact time you need it.

BorrowLenses.com's mission is to advance the photographic and cinematic dreams of our customers by delivering superior, cutting-edge gear and providing exceptional customer service. Rent, shoot, return – it's as easy as that. You choose what you want when you want to receive it, and for how long you want to rent it for. We ship the gear directly to you, or to one of our many convenient pick-up locations. Your specially-packaged gear comes with a prepaid return label for ship-back ease. Our entire rental process is done completely through our website.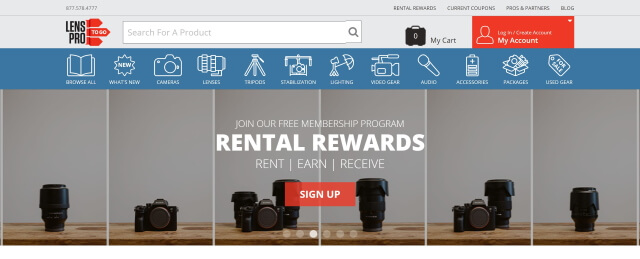 Visit the website on your computer, tablet or phone to browse our large and ever-growing selection of gear to get started. Add the gear of your choice to your cart and select your arrival and send back dates. Need help choosing the perfect pieces of gear? Every single person who works at LensProToGo is a photographer or filmmaker. We know the gear inside and out so you don't need to. Just call them.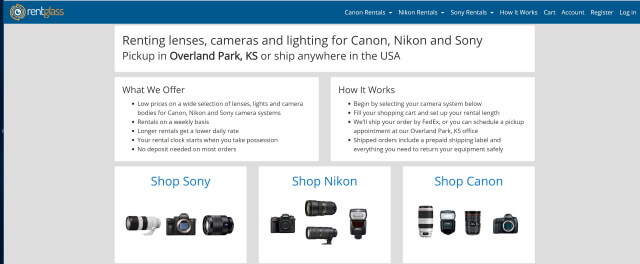 How It Works
Begin by selecting your camera system below
Fill out your shopping cart and set up your rental length
We'll ship your order by FedEx, or you can schedule a pickup appointment at our Overland Park, KS office
Shipped orders include a prepaid shipping label and everything you need to return your equipment safely
Conclusion
Renting camera lenses online is designed to be a fast, affordable, and painless process. While it may seem strange to depend on a company you'll never see in person, online rental agencies are the fastest way to expand your selection. Especially if you don't live in a major metro area and don't have access to physical rental stores. Take a look through the selection of online services like Adorama or Lens Rentals and let me know what you think!
Related Posts
Best Canon Lenses For Landscape – Top 5 You Need To Know
Best Canon Lens For Portrait Photography
Best Wide Angle Lens For Canon- The Full Guide With Sample Photos
Best Telephoto Lens For Canon- The Full Guide
Best Canon Lens For Sports Photography
Best Canon Lenses For Wedding Photography – You Should Own At Least Two!
Best Camera Lens For Travel Photography
Best Lens For Portrait Photography – Third Party Lenses
Best Lenses For Real Estate Photography – Choose The Right One!
What is The Best Place to Buy Used Camera Lenses
Thanks for reading, I hope you enjoyed the article if you have any questions just post them below & I will be happy to answer you.If you enjoy the site, don't forget to subscribe, we will only inform you when a new article is posted.