You're probably well aware that getting a photo for any official document can take a long time. However, this procedure consumes a significant amount of your time and a significant amount of your money. 
You must pay the costs, hire a professional photographer to take the photos, and then pay to have them printed. Are there any good cost-cutting options
To take passport photos, all you need is a smartphone and an easy-to-use app.
But which one should you get?
You may not utilize passport photo apps regularly, but they will be helpful to save money on photos for any paperwork. 
In light of this, here is the list of the top 10 passport photo apps for both Android and iOS. They all offer a user-friendly interface and convenient settings and templates for a variety of documents.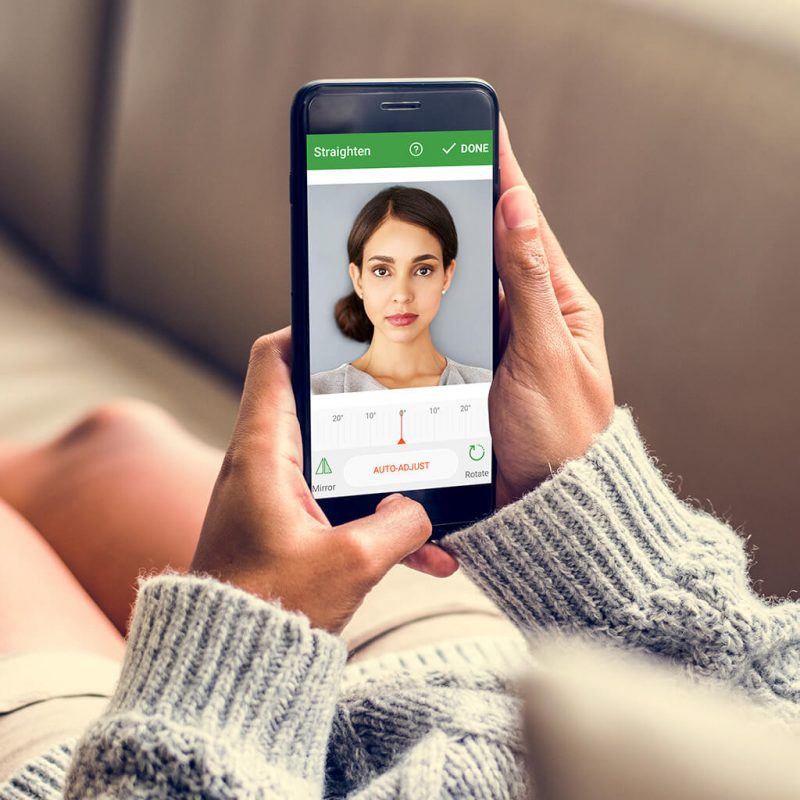 Passport Photo App for both Android and iPhone
Passport Photo – ID Photo
The passport selfie app allows you to easily snap a passport selfie and select an ID type for over a hundred different nations. In addition, photo editing software is available that is simple to use and allows you to crop pictures, adjust brightness and contrast, and so on. 
Pros and Cons of the application: 
For printing, you can use an AirPrint-compatible device to print images from your computer at home. However, even though the application is free, you will need to spend some money to remove the advertisements and unlock the option to print and save colored photographs.
Passport-Photo
Passport-photo is a regular website and an app that allows users to take an image for an official document. It functions as a passport picture booth in a pocket, allowing you to take a necessary shot in seconds without going to a professional photo agency.
Pros and Cons of the application: 
When you visit the website, you'll find a primary photo-taking tool and a variety of informative advice, current criteria, and recommendations on how to create other document images. 
Furthermore, there is a special version of the application for iPhone users who need a passport photo immediately.
Passport Photo Booth by Photid-AI
This passport photo application uses face recognition techniques and artificial intelligence to identify a person's facial attributes. In addition, you can take a photo that meets all official requirements using biological recognition technologies and special advice.
Pros and Cons of the application: 
Photid allows you to receive many photo variations, including color, black and white, and photographs of various sizes. Moreover, modification and adjustment of all of the relevant image parameters in the app are available with a few clicks.
Thankfully, the application comes with photo layouts for over 100 nations. In addition, you can choose from a variety of templates, including driver's licenses, VISA applications, and other papers.
The application lets you remove and change the color of your photographs' most intricate backgrounds. Choose the pictures, layouts, and background color you want.
Passport Photo Booth
This application comes with a slew of essential image-enhancing tools and features. The developers are well aware of their consumer needs and want to make their lives easier. 
Passport Photo Booth also provides templates for government IDs, VISA applications, job/study applications, and more, in addition to passport images.
Pros and Cons of the application: 
This application contains helpful photography advice such as utilizing a simple white background, removing spectacles, and so on. These tips will work for the vast majority of official document photographs.
Since the Passport Photo Booth is free, it's unsurprising that it contains advertisements. There are no in-app purchases in this game. That implies you won't be able to use any additional features. It does, however, include enough photo editing features for you to enjoy the final image.
Passport Photo Booth is compatible with Android 5.0 and up. In addition, you can utilize the software on a global scale due to the range of features.
Passport Photo App for Android
Photo Maker for Passport Size
This passport-size photo-creating app offers a variety of passport and VISA photo templates.
You can find Image editing tools in Passport Size Photo Maker. You may alter the background, white balance, saturation, and brightness, among other things.
Pros and Cons of the application: 
Photo editing plays a vital role in every photography. You can also opt for various photo editing services from outsourcing firms such as Uk Clipping Path. Services such as photo retouching, color correction, shadow creation, and so much more are available at an affordable rate.
You can print your VISA, ID, or passport photo on a single sheet of paper. After you've finished editing your image, you can print it at a local printer in single or multiple sizes.
ID Photo Free
ID Photo Free app allows you to take a photo of your passport or other official ID documents.
The app will walk you through the process of acquiring the perfect photo because it is highly user-friendly. In addition, ID Photo Free includes several photo editing tools that let you make the necessary changes.
Pros and Cons of the application: 
In comparison to other applications, editing a photo here won't take long. Everything can be completed in under a minute. Furthermore, the application has templates for various countries, which will make your task much more manageable.
You don't need to take a new photo; instead, select one from your gallery and modify it using ID Photo Free. Although the application is free, it does contain advertisements.
Photo ID on a passport
This program, created by Handy Apps, allows you to make a passport or any other ID document photo for free.
With Passport Photo ID, you may snap a picture with your camera or use one that you already have, and you can choose from a variety of picture sizes to match the standards of any official entity. 
Pros and Cons of the application: 
This passport photo program has templates for more than 100 nations. Furthermore, you are able to print a photo directly from a smartphone.
Passport Photo ID is a simple app to use. You only need a smartphone, a white background, and adequate lighting. Then, follow the app instructions to create professional-looking ID photos that meet the requirements of any official document anywhere in the globe.
Passport Size Photo Maker
This application is worth checking out. It is entirely free to use. There is a massive database here, with numerous ID types for over 120 nations. 
Pros and Cons of the application: 
The program has a basic image editor that lets you alter brightness, contrast, saturation, and other parameters. There is also a background replacement tool, but it is difficult to use and not intuitive; it will take some time to figure out. Also, since it's a free application, it contains advertisements.
Passport Photo App for iPhone
Passport & ID Photo Maker
This is a simple passport photo app that includes automatic face recognition.
Pros and Cons of the application: 
The database is the largest globally, with 130+ countries and ID kinds for passports, visas, driver's licenses, and other standard papers.
You won't find it difficult to use the application because it features one of the most user-friendly and appealing interfaces.
Biometric Passport Photo
Biometric Passport Photo provides a database of ID types for more than 100 countries, allowing users to easily create passport and visa photographs. 
Pros and Cons of the application: 
An integrated photo editor helps you adjust the contrast, brightness, saturation, and other parameters of your photos. However, there is one minor drawback. You will need to acquire additional print layouts.
Final words
If you want to capture passport photos quickly and effortlessly, numerous passport apps are available for download on both iOS and Android devices. 
The applications allow you to take a photo or select one from your camera roll, after which it uses artificial intelligence to determine whether or not the shot is compatible. 
In many applications, the background removal option and feature helps to remove the background and replace it with pure white which is necessary for many official documents.
Passport photo Apps are great tools to take passport-size photographs, which eventually save time and loads of money. Just click, and you are good to go!
You might also be interested in reading photography editing articles.
Thanks for reading, I hope you enjoyed the article, in case you have any questions just drop them below & I will be happy to answer you.
If you enjoy the site, don't forget to subscribe, we will only inform you when a new article is posted.