Buying used lenses have almost become an industry by itself. There are a lot of high-quality second-hand lenses out there, which means you can fulfill your needs and still save a good bit of money if you're smart. In this post, I'm going to answer the question: what is the best place to buy used camera lenses?
As we all know photography is an expensive hobby and an even more expensive profession. You certainly need a camera body, speedlights, reflectors, memory cards, lighting equipment, backdrops, batteries, stands, hard drives, tripods, back-ups, gear bags, etc. Besides the camera itself, the most important item in the gear is the lens, quality lenses make up the most expensive part of that gear because they are expensive and you need more than one.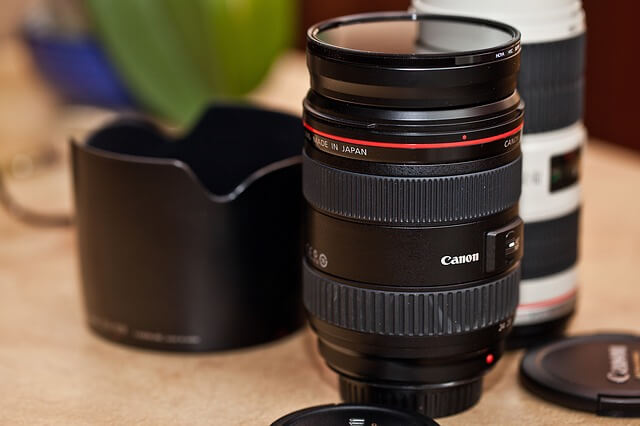 Check your local market
Try buying locally if you can. The important benefit of purchasing locally is the fact that you can have an actual visual and physical examination of the lens before you buy it. Being able to check it out and– more importantly– put it on a camera and test it is going to be the two most important factors in your decision to buy the lens. The main disadvantage of buying lenses locally is that your choices will be very limited, and it is difficult to find what you are looking for, maybe, you have to wait long to find what you are looking for.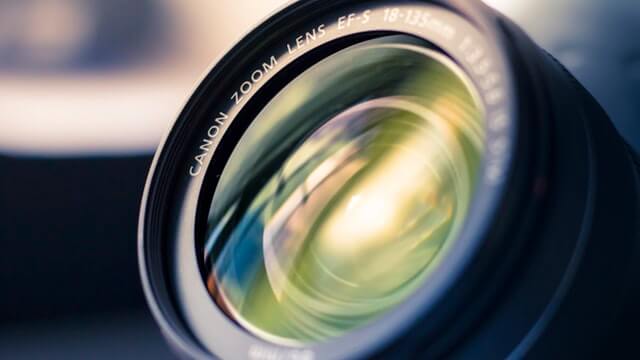 Buy from trusted retailers
The other alternative is to buy online from trusted retailers. Although you will pay first before receiving your lens and that is a risk. The good news is that those retailers examined professionally the lenses they bought before offering them for sale. Also, it is important to check the return policy of the seller before placing the order.
There are several places to find camera lenses and gear online, each with both benefits and risks involved. Below is a list of places to find cheap used gear. You can find great items at these shops no matter what lens type you're looking for.

KEH is considered one of the largest places for selling and buying used camera equipment. They apply 14 days "no question asked" return policy. They also have a separate store on eBay
KEN applies a Lens Inspection Process when selling or buying lenses, the process includes the following activities:
Visually inspect the lens for any wear, damage dents or dings
Rotate focus, zoom and aperture rings through the full range
Mounts on camera and check focus at known distances along with AF function and stabilization features
Examine glass for anomalies like haze, fungus, scratches, damage, etc.
KEH grading system is respected as the industry standard, offering an option for every need and budget. The grading system criteria are used whether buying or selling cameras or other equipment. All ratings are made by KEH Camera's top-rated technicians.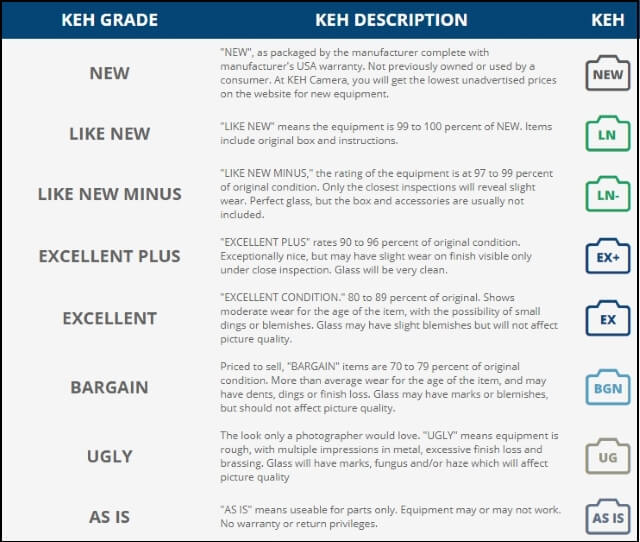 You can also sell your camera gear on Keh. Read this post about some useful tips to sell on Keh.
B&H's used equipment is a separate department from their new gear store, and what's awesome about the website is that you can check a box next to the search bar that will permit you to search the used store only. All Used Equipment is tested and sold in working order, and there is a 90- Day warranty policy
Lenses and cameras are rated for their condition, this is an excellent way to decide how low you can go and still have the quality you want. The following scale is for cosmetic condition only.
N         Brand new/Never used – In original manufacturer's packaging
OB       Open Box with full manufacturer warranty
D          Never owned – Used for demonstration purposes only
R          Refurbished by the Manufacturer to original company's specifications
10        Preowned equipment, but appears as new
9+        Shows little or no signs of wear
9          Shows signs of use, but very clean
8+        Shows moderate wear or finish marks
8          Well used – may exhibit "dings" or finish marks
7          Shows a considerable amount of use – More than average wear
6          Usable, but has considerable optical or mechanical imperfections
Adorama has a special store for used lenses and also for featured brands, so it is very easy and useful for narrowing down your search. Adorama inspects, rates, and guaranteed the used lenses. They provide a 30-Day Money-Back Guarantee. The following is the rating system for their used equipment.
Adorama Ratings
Condition       Lenses
N         Product is brand new and was never used, includes the full manufacturer's warranty.
D          Little or no signs of wear.
E+        Barrel may have slight wear but only visible under close inspection. Lens glass is flawless.
E          Barrel may show signs of slight wear and/or usage. Lens glass is very clean.
E-         Barrel shows signs of wear and/or moderate usage. Lens glass may have some dust/spots that should not affect picture quality.
V          Barrel appears well used and may include dings, scrapes/scratches, heavy brassing. Lens glass may have marks or haze that should not affect picture quality.
G          Barrel appears to have been used heavily, showing multiple dings, scrapes/scratches, heavy brassing. Lens glass may have fungus, excessive dust, and/or scratches that can affect picture quality.
F          Item works with certain malfunctions. Read comments for exact details.
X          For parts only Final Sale, Sold As-is
Although Amazon is a retailer site, it also offers a used market for other sellers to present their lenses for sale. The following are their condition guidelines.
New: Just like it sounds. A brand-new, unused, unopened item in its original packaging, with all original packaging materials, included. Original protective wrapping, if any, is intact. Original manufacturer's warranty, if any, still applies, with warranty details included in the listing comments.
Certified Refurbished: A product that has been inspected and graded by a qualified manufacturer or a specialized third-party refurbisher to like-new working condition with no visible cosmetic imperfections when held 12 inches away.
Used – Like New: An untouched item in perfect condition. Original protective wrapping may be missing, but the original packaging is intact and pristine. There are absolutely no signs of wear on the item or its packaging. Instructions are included. Item is suitable for presenting as a gift.
Used – Very Good: A well-cared-for item that has seen limited use but remains in great condition. The item is complete, unmarked, and undamaged, but may show some limited signs of wear. Item works perfectly.
Used – Good: Use only if noted in the Category-Specific Condition Guidelines. The item shows wear from consistent use, but it remains in good condition and works perfectly. It may be marked, have identifying markings on it, or show other signs of previous use.
Used – Acceptable: Use only if noted in the Category-Specific Condition Guidelines. The item is fairly worn but continues to work perfectly. Signs of wear can include aesthetic issues such as scratches, dents, and worn corners. The item may have identifying markings on it or show other signs of previous use.
The following is a comparison table of the rating systems of the above-mentioned retailers selling sites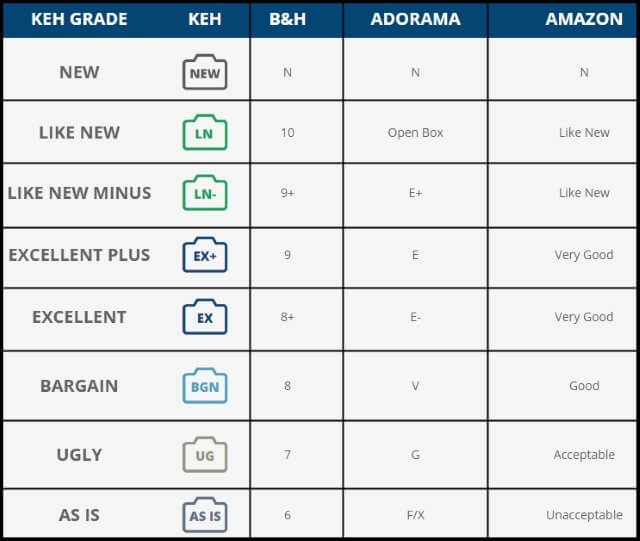 Personal Sales via Major Retailer
Used camera lenses bring a premium at eBay (good for sellers), but the selection is usually large. I placed it in a category on its own because while it may be a peer-to-peer transaction, eBay typically provides a money-back guarantee to ensure you receive the item as described in the auction. Be sure to check auction details carefully to see if your transaction is backed by eBay's coverage.
Gear Focus is the online marketplace for buying and selling new and used photography and videography gear. Founded by Photographers and Videographers as if you with a vision to create the best experience for buying and selling used camera equipment in a focused marketplace. They have designed this platform based on your feedback – provide buyer and seller safety, low seller fees of only 3.5% and the best customer support anywhere.
Their goal is to create a community where creatives can safely buy and sell gear at fair market value so they can pursue their passions. Join the thousands of Photographers and Videographers already buying and selling their new and used camera gear online!
Sell Your Used Camera Gear
Unlimited Free Listings
Only 3.5% Seller Fees
Targeted Market
Why Sell with Gear Focus?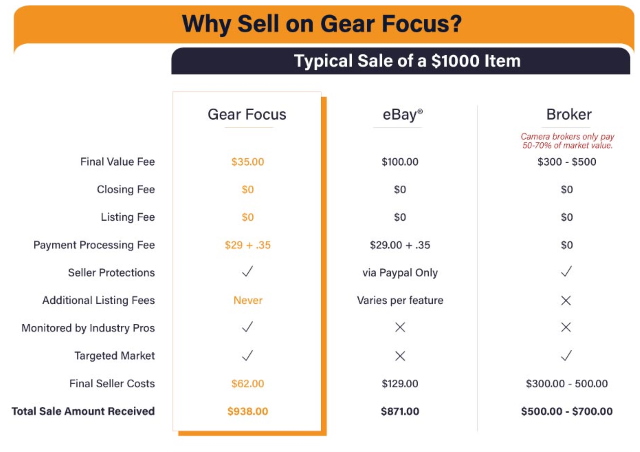 It's a used lens marketplace, it specializes in buying and selling nothing but lenses. Lensfinder doesn't sell lenses itself. Instead, they're dedicated to creating a community in which photographers can buy and sell used lenses with confidence.
Personal Sales markets
These marketplaces need more precautions for handling the buying process because the risk is higher than shopping at well-known retailers. If you can check a person's selling history, it is often enough to see if they are going to be trustworthy enough or not. And if you can see their previous ads for selling used gear, you will be able to figure out if they are honest about their gear condition or not. Things such as dents, chips, and cracks should always be reported by the seller, along with high-resolution images of the gear on sale. Also, you should be aware of the return policy adopted by the buyer in case the lens doesn't get your satisfaction.
One of the most active camera equipment buys/sells forums on the net and rich in used lenses.
Many used lenses show up in the classifieds section.
A buy/sell forum that usually has many used lenses. Login required.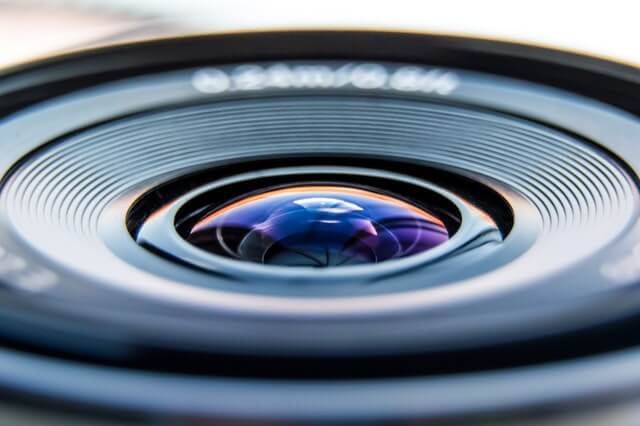 What are the refurbished lenses?
It is a special type of used lenses. The majority of the refurbished lenses are retail returns. The other source of lenses is from retired in-store demo units. In both cases, the equipment is usually in perfect running order, possibly with slight cosmetic issues. No matter how good their condition though, they are no longer "New", and can't be sold as such. Each piece of equipment is tested in a standard manner and adjustments are made when and if required. At the end of the repair, the piece of equipment is readied for packaging and sale with different Warranty conditions. The difference is usually the duration, which makes a significant difference in retail price. Canon and Nikon offer refurbished lenses at their stores.
How to check your lens
Many places do lens reviews. Read over those reviews as they sometimes list common problems to look out for on used equipment. Be an informed buyer and it might save you some trouble in the long run.
There are a few things that you should check when receiving your used lens.  I'm putting them up here in the hope that you might find some of it useful.
Physical Examination
Examine the outer surface of the lens Are there any scratches, marks or swirls on the lens' coating?
Check the lens mount for brassing, also check the threads of the filter mounting.
Check that the lens contacts are clean and in good condition.
Hold the lens towards a light source and look through it. If the lens has an aperture ring, open it all the way and try looking straight through it like a telescope. Is there dust or fungus on any of the inner elements? While some dust is normal on almost all lenses, the fungus is not. The fungus is a very critical issue because it etches the glass and can never be fully removed without a re-polishing.
Test your lens
Mount the lens to the camera, make sure the camera doesn't show any kind of error message when moving the lens and holding the shutter halfway down.
Use manual focus and be sure it's smooth, and it is working. Also, check the zoom.
Take close, mid-range and far focus images at multiple apertures, and in small increments along with the entire zoom range of the lens. Check the resulting photos.
Cheek AF, and make sure that the lens focus to infinity and up close through the entire zoom range. Use AF and select a focus point; take a picture. Review the picture and check the focus. Set the lens to infinity focus and focus on something up close. Does the lens AF as fast as it's supposed to? Different lenses will have different focusing speeds, but knowing how slow or fast it should be is important. If it's slow and it's supposed to be lightning-quick, there's a problem.
If the lens has IS and other switches, be sure these features work. On most image-stabilized lenses, you can hear the IS motor working.
Related posts
How To Rent Camera Lenses Online?
How To Clean Your Camera Lens? – Protect your asset
Best Place to Sell your Camera Gear
Thanks for reading, I hope you enjoyed the article if you have any questions just post them below & I will be happy to answer you.
The featured Photo by ShareGrid on Unsplash
If you enjoy the site, don't forget to subscribe, we will only inform you when a new article is posted.