A memory card or SD card is simply a digital storage device. It serves the simple purpose of storing information, data, photos, and videos. There are many types of SD cards and each of them has its own features. These features cut across size, format, speed, and compatibility with the digital device. Good knowledge of all these characteristics helps to decide which type of SD card is best for you.
What is a Memory Card?
A memory card is an electronic storage device used for storing digital media, such as photos and videos. In photography, memory cards are commonly used in digital cameras. They varying in type, size, storage capacity, and speed/class.
Memory card Terminology
Memory Card Sizes
Memory cards obviously come in different sizes. While older memory cards were limited to megabytes, newer memory cards are much larger in comparison and can be commonly found in 64 GB and larger sizes. Some of the latest generation memory cards offer 512 GB memory card capacities.
Memory Card Speeds
Memory card's speed is how fast they can read and write information.
Reading Speed: It is the rate at which the images are read from the memory card.
Writing Speed: It is the rate at which the memory card can record and store the images you capture.
Ultra-High-Speed (UHS)
Ultra-High-Speed (UHS) is the bus interface for SD cards. There are three types
UHS-I bus interface, with transfer rates up to 104 Mb/s, debuted as the first upgrade from the normal, high-speed specification.
UHS-II bus interface bumped up the speeds to 312 Mb/s.
UHS-III bus interface which doubling the previous UHS-II rates for insane data transfer speeds up to 624 Mb/s.
Speed Class
A speed class is simply a way to define the minimum continuous write speed of the card.
The below table shows the meaning of the symbols used on memory cards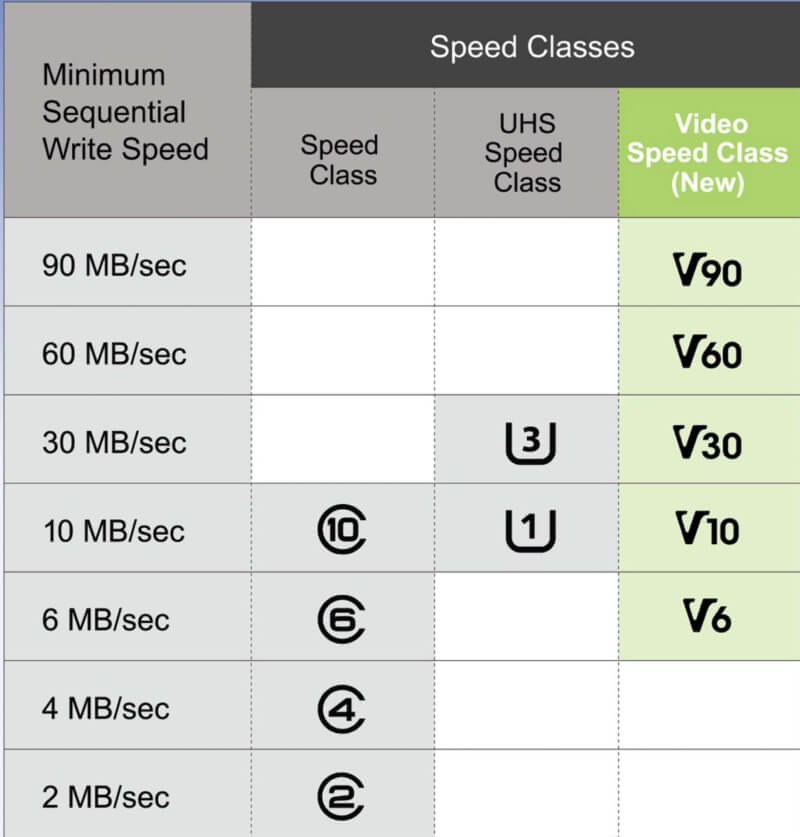 Memory cards Types
There are many different memory card types, but choosing the right one will depend on what card slots your camera has. You must check the camera's specifications before you buy these memory cards. You do not have any choice in choosing the type of memory card, but you have many options to select from regarding the size (storage capacity), and speed.
The following is a list of the common types of memory cards:
SD (Secure Digital)
Standard SD (Secure Digital) cards are no longer manufactured as technology has moved on since they were introduced. Due to the file system and other limitations, SD cards could only hold up to 2 GB of data maximum. They can still be used in newer cameras, but they don't offer the kind of performance or capacities that suit modern devices.
SDHC (Secure Digital High Capacity)

SDHC (Secure Digital High Capacity) cards are those that have a capacity of between 4GB and 32GB, and also doubled the performance of the cards, allowing much faster read and write speeds. SDHC cards are common to find on the market, although they might soon be replaced by larger SDXC cards.
SDXC (Secure Digital Extended Capacity)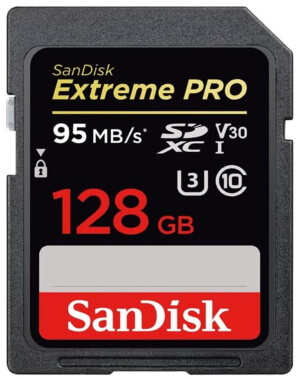 SDXC (Secure Digital Extended Capacity) cards offer capacities of 64GB and above. These are typically designed for cameras with many megapixels, 4K video, and any other data-intensive applications, although it's important to look at the various speed ratings when buying these for a particular purpose.
MicroSD / microSDHC / microSDXC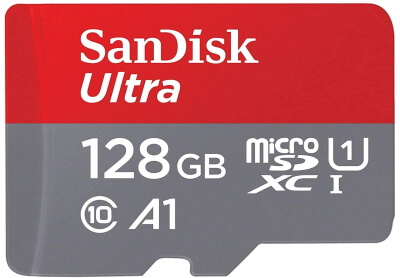 These cards offer the same kind of performance as their SD, SDHC, and SDXC counterparts. SDXC that took advantage of the exFAT file system, it became possible to make cards larger than 32 GB in size, with much faster read and write speeds.
MicroSD cards gained popularity among portable device manufacturers for their small size.  Their dimensions are 11.0 (W) x 15.0 (L) x 1.0mm (H), these cards are the smallest memory cards available on the market today.
They much smaller and designed to be used in phones and other devices, rather than in conventional cameras.
CompactFlash (CF-I)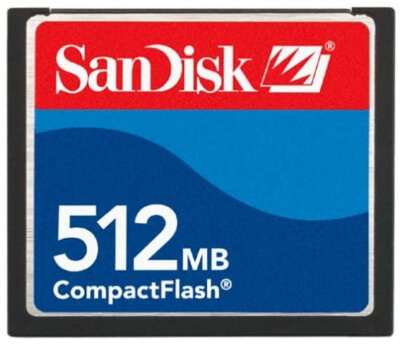 CompactFlash cards used to be the format of choice for many DSLRs, although the performance of the smaller and lighter SDHC and SDXC cards has become so good that these have not largely taken over. That said, some cameras continue to offer both kinds of slots. The biggest issue with CF cards turned out to be their large size and pins. Unless you have a camera that still uses CF cards, you should not be looking into them, since they have already been replaced by much faster CFast, XQD, and CFexpress memory cards.
XQD cards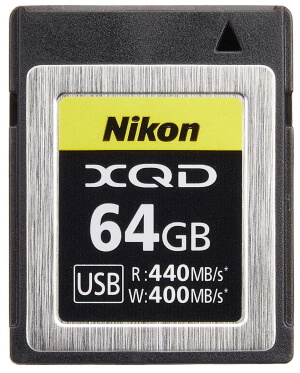 XQD cards are more niche than the above options, and currently only compatible with selected Sony camcorders and Nikon DSLR bodies. They are slightly smaller than CompactFlash types, but their superb performance makes them great for high-speed shooting and video recording in particular. Among camera manufacturers, Nikon was the first to standardize on XQD cards with its Nikon D4, D4S, D5, D850, D500, Z7 and Z6 cameras using single or dual XQD memory slots. Although XQD is fast and capable, it will be replaced by CFexpress.
CFexpress cards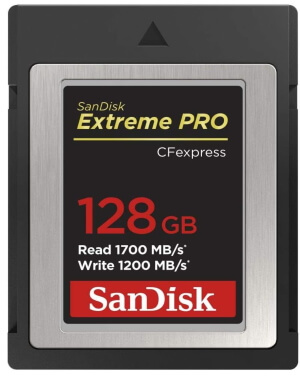 An evolution of XQD, CFexpress provides blistering speeds but is currently only compatible with a limited number of high-end cameras, mostly from Canon, Nikon, and Panasonic. There is one notable exception, however: Sony. CFexpress is currently the fastest and the most capable memory card format on the market, and will likely be the default choice for future-generation stills and video cameras.
How to read data in SD card
The photo below shows the meaning of data written on an SD card label.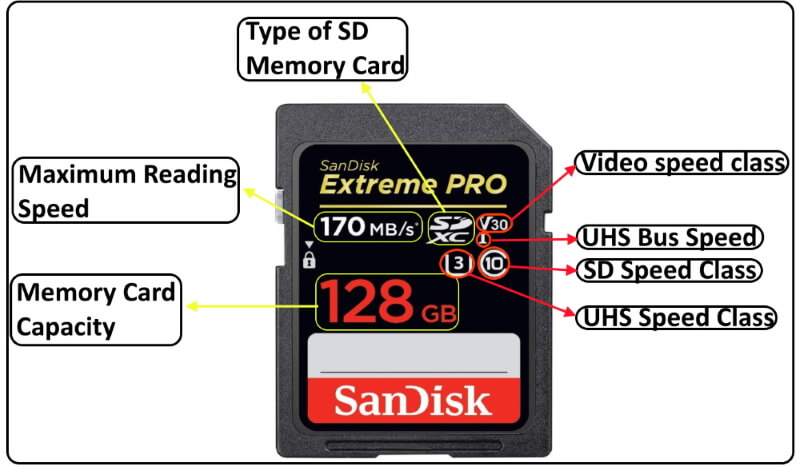 The photo below shows the meaning of data written on a CompactFlash card label.

 How to choose a memory card
To find the best memory card for your camera, you have to consider a few aspects:
Camera slot type: you should check your camera specs to find out the memory card types that are supported by your camera's maker.
Size: think about how many photos you want to take on a single occasion. For example, a standard, 20MP jpg file has a file size of 10-15 MB. Raw files vary a lot in size. They can be anywhere between 25 MB and 150 MB. It depends on resolution, bit depth, and compression. Multiply this file size by the number of photos you'll take. Shooting videos alongside photos makes the equation a bit more complicated. If you're planning on that, count with slightly bigger memory cards. Therefore, you can calculate and estimate your memory card size.
Speed: Writing speed is much more critical than reading speed. It sets your limitations in terms of recording photos or videos. If you are photographing wildlife, sports, or action and use the burst shooting technique. In that case, you'll need the fastest card your camera can handle. Multiply the biggest possible file size by the highest frame rate. Then, choose a card that has writing speeds slightly above that.
If you are shooting videos, also requires fast cards. In that case, take a look at your bitrate, and choose your card accordingly. The writing speed of the card should at least match the bitrate. Note that writing speeds are usually given in MB/s. Bitrate is marked in Mb/s.
Card Brands: buying cards from well-known brands like Sandisk, Lexar, Kingston, and Transcend can save you a lot of troubles regarding memory card quality.
Best Memory Cards- Digital Cameras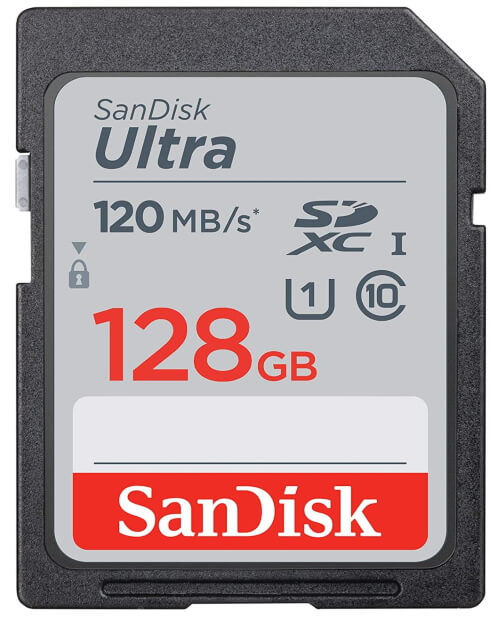 Designed for SD devices that can capture Full HD video, as well as raw and JPEG photography, the 128GB Ultra SDXC UHS-I Memory Card from SanDisk, has a capacity of 128GB and delivers read speeds of up to 100 MB/s.
It is compatible with the UHS-I bus and features a speed class rating of Class 10 and U1, both of which guarantee minimum write speeds of 10 MB/s. Built for extreme conditions, this card is water, shock, x-ray, and temperature proof to help protect your data, while a built-in write protects switch further helps to safeguard your content.
Specs
Card Type SDXC
Storage Capacity 128 GB
Bus Type UHS-I
Speed Class 10
UHS Speed Class U1
Read Speed Maximum: 100 MB/s
Write Speed Minimum: 10 MB/s
Durability Shockproof, Temperature Extremes, Waterproof, X-Ray Proof
Built-in Write-Protect Switch Yes
Wireless Capability None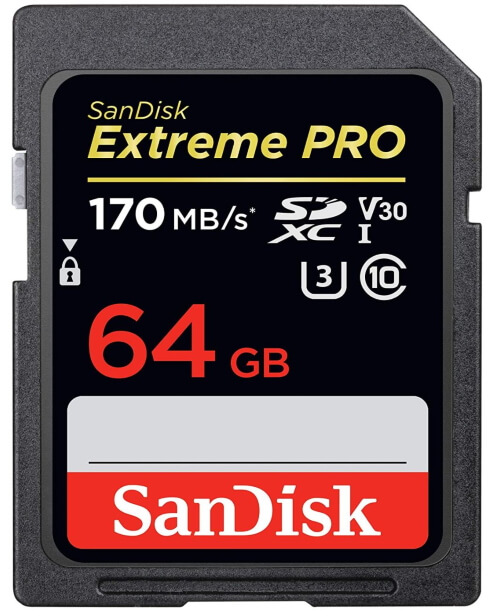 Designed for SD devices that can capture Full HD, 3D, and 4K video, as well as raw and burst photography, the 64GB Extreme PRO UHS-I SDXC Memory Card from SanDisk has a capacity of 64GB, is compatible with the UHS-I bus and features a speed class rating of V30, which guarantees minimum write speeds of 30 MB/s.
If your device does not support the V30 standard, this card also supports the U3 standard, which likewise guarantees minimum write speeds of 30 MB/s. Read speeds are supported up to 170 MB/s and write speeds max out at 90 MB/s. A built-in write-protect switch helps to safeguard against the accidental erasure of card data.
Specs
Card Type SDXC
Storage Capacity 64 GB
Bus Type UHS-I
Speed Class 10
UHS Speed Class U3
Video Speed Class V30
Read Speed Maximum: 170 MB/s
Write Speed Maximum: 90 MB/s
Minimum: 30 MB/s
Durability Shockproof, Temperature Extremes, Waterproof, X-Ray Proof
Operating Temperature -13 to 185°F / -25 to 85°C
Storage Temperature -40 to 185°F / -40 to 85°C
Built-in Write-Protect Switch Yes
Wireless Capability None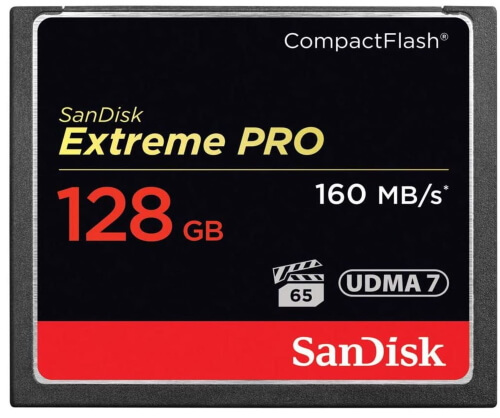 The 128GB Extreme Pro CompactFlash Memory Card from SanDisk features enhanced data read speeds of up to 160MB/s along with data write speeds up to 150MB/s. This Extreme Pro Compact Flash Card is designed to support both full HD and 4K video, as it is VPG-65 certified. VPG-65 (video performance guarantee) offers sustained data write speeds of 65MB/s ensuring a smooth flow of data keeping video streams crisp and clean. This CompactFlash card is also compatible with both RAW and JPEG file formats and comes equipped with an RTV silicone coating and writable label.
Specs
Card Type CompactFlash Type I
Storage Capacity 128 GB
Speed (X-rating) 1067x
Ultra Direct Memory Access (UDMA) UDMA 7 Compliant
Read Speed Maximum: 160 MB/s
Write Speed Maximum: 150 MB/s
Video Performance Guarantee VPG- 65
Durability Shockproof, Temperature Extremes
Operating Temperature -13 to 185°F / -25 to 85°C
Storage Temperature -40 to 185°F / -40 to 85°C
File System FAT32
Memory card Accessories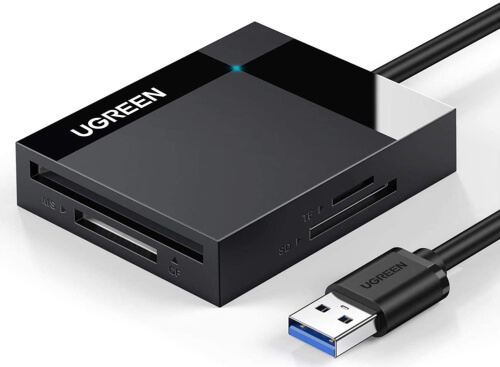 Ugreen USB Card Reader is designed with 4 card slots: SD, Micro SD, CF, MS slots, and USB 3.0 connector, which allow you to read and transfer data the most popular flash media on the computer, laptop, tablet through USB 3.0 interface.
Including SDXC/SDHC/SD/Extreme I III SD/Ultra II SD/MMC/RS-MMC or Micro SD/TF/Micro SDXC/Micro SDHC/UHS-I or CF I 3.0/4.0 /Extreme I III CF/Ultra II CF/HS CF/XS-XS CF/CF Elite Pro/ CF Pro/CF Pro II or MS/MS PRO/MS PRO-HG/MS XC DUO.
Ugreen USB Memory Card Reader support SD/Micro SD card up to 512G and allows super-fast data transfer up to 5Gbps, which allows you to transfer HD movies or files in just seconds when your host is equipped with a USB 3.0 port. Also backward compatible with USB 2.0, 1.1, and 1.0 (speed limited by USB bus).
Compact Design&Premium Quality: So useful but so compact. Easy to grab and go. Reinforced cable, Tin-plated pure copper core and multi-shielded inside, sturdy exterior, and heat-resistant connectors ensure high data transmission efficiency and ultimate durability. A 1.5ft short cable tail would reduce stress on the USB port on your computer and won't affect the use of adjacent ports. An LED indicator will be ON when the card reader is connected to a computer.
Broad Compatibility: Compatible with Windows XP/Vista/7/8/8.1/10, Mac OS, Linux, Chrome OS and etc. It could read and write multiple cards at the same time to keep you away from the hassle of constant unplugging and re-plugging.
One-sec Installation: Plug and Play. No driver needed. Hot swapping and auto-detection.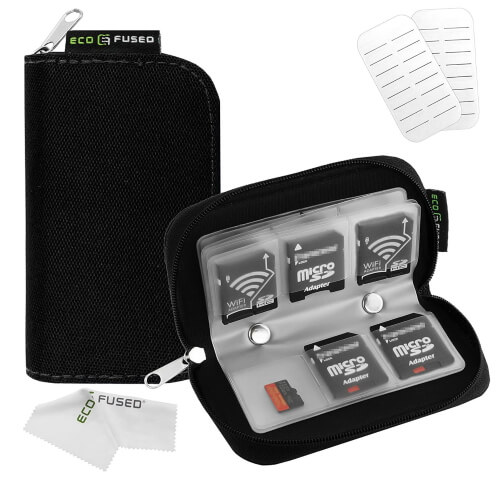 Keep your memory cards organized and labeled inside this strong nylon case. Perfect storage and travel accessory for your photo/video camera, mobile phone, audio player/recorder, and other memory card devices.
Each memory card case has 44 slots. The 36 small slots hold cards up to 24mm wide and the 8 large slots that hold cards up to 43mm wide.
All 22 slots (small and large) will fit SD, SDHC, Mini SD, Micro SD, Memory Stick Pro Duo, XD and MMC cards. The Compact Flash (CF) cards can be stored in 8 large slots.
The case has a high-quality zipper and it is made from durable nylon mesh. It's tough and lightweight, so it will protect the case contents.
The memory card cases can also be used to keep other things organized, like sim cards, coins, car fuses, guitar picks, button cell batteries, fishing hooks, etc.
Tips on using memory cards
Properly Format Memory Card
Format memory cards in your camera, and preferably, the camera brand you are going to be shooting with.
Safely Eject Memory Cards
Do not remove or unplug a memory card while any read or write operations are taking place. An interrupted write operation often causes memory card corruption. The same goes for unplugging memory cards from computers. The best practice is to safely eject the memory card via your operating system before removing it.
Although the exterior shell of most memory cards is made out of plastic, the pins that connect to devices are made from copper and other materials that conduct electricity. So Avoid touching them with your hands.
Keep Memory Cards Protected From Direct Sun and Moisture
To prolong the life of your memory cards, always protect them from extreme weather conditions.
If you accidentally lost the data on your memory card, please check my post "How to Recover Deleted Photos in SD Card", you may be able to recover your data
Related posts
Canon Camera Memory Cards – How to Choose
How to Recover Deleted Photos in SD Card
Thanks for reading, I hope you enjoyed the article, in case you have any questions just drop them below & I will be happy to answer you.
The featured Photo by Erik Mclean on Unsplash
If you enjoy the site, don't forget to subscribe, we will only inform you when a new article is posted.