Now that you've collected some fine artwork and organized it into what you intend to offer, how do you get it out there to the public? Good web hosting is mandatory for today's internet-oriented consumer market. And with literally hundreds of options out there, finding a good host can be a challenge. So let's talk about the best web hosting service for photographers in 2021!
The Best Web Hosting Services for Photographers in 2021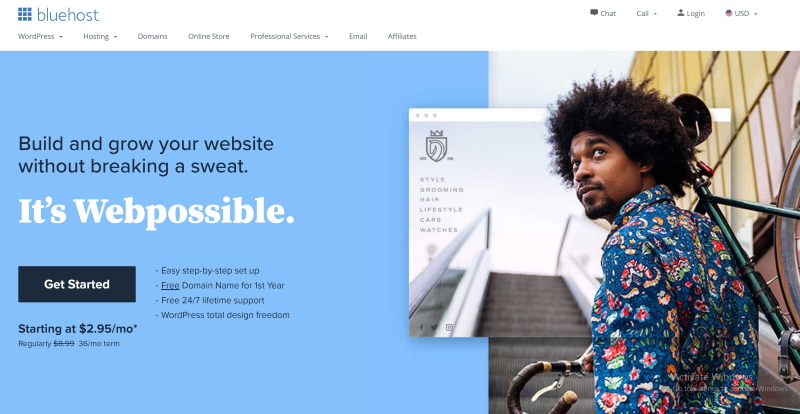 If you're looking to get up and running as quickly as possible it's hard to beat Bluehost! They offer reliable service with almost 100% consistent uptime. They also offer excellent security and regular backups of your site and no caps on bandwidth or visitor traffic, ensuring pages load instantly and efficiently.
Bluehost uses a tiered pricing program starting as low as $2.75 per month (for the first term), increasing to a reasonable $8.99 per month, thereafter. The base package includes a single website with up to 50 GB of content, a single domain, five parked domains, and 25 subdomains.
You also get 5 email accounts with 100 MB of storage per account. The two higher-priced tiers offer increases in all of these specifications. All of the tiers also offer a WordPress-focused hosting strategy centered around this incredibly well-known content management program. In fact, Bluetooth has been specifically endorsed by WordPress as being uniquely compatible with their platform!
Bluehost Specifications:
Average Loading Performance: 641 ms
Average Uptime:9%
Basic Package (per month): $2.75
Basic Account Features: 50 GB of storage, unlimited bandwidth, 5 email accounts, 1 free domain + 5 parked domains & 25 subdomains, 24/7 Customer Support
WordPress Integrated: Yes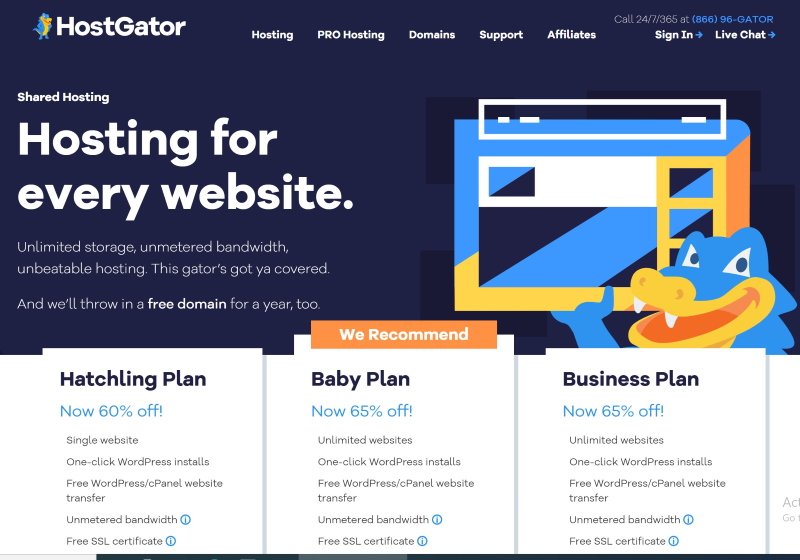 Hostgator's basic tier is an affordable $2.75 per month and offers not only their 99.9% uptime guarantee but a free SSL certificate, easy WordPress installs, and a free domain for a year. Their customer service is also excellent, with a customer support rep available through chat in mere minutes.
Like Bluehost, Hostgator is also extremely well integrated with the WordPress ecosystem, offering one-click installations in many cases! They already host over 2 million websites and have a system in place to ensure smooth porting over of new websites to their platform. The only real downside is that Hostgator tends to be fractionally slower at loading websites compared to Bluehost.
On average, you're looking at speeds of around 800 milliseconds to load a Hostgator-hosted page compared to around 600 milliseconds for a Bluehost page. Any further delays in loading time could encourage a potential client to click elsewhere…
Hostgator Specifications:
Average Loading Performance: 857 ms
Average Uptime:9%
Basic Package (per month): $2.75
Basic Account Features: SSL certificate, free domain, 45-day money-back guarantee, unlimited storage & bandwidth, 24/7 Customer Support
WordPress Integrated: Yes
Wealthy Affiliate uses a unique hosting model known as "double hosting." Every website on their platform has a backup mirror of itself in reserve that's updated every 24 hours. This way if for whatever reason, your site should go down, the mirrored version is booted up and swapped in instantly to avoid any downtime.
Your Wealthy Affiliate account includes quite a few unique offerings that other web hosting services for photographers don't. A 1 on 1 marketing mentorship is very useful if you're uncertain about how to grow your web presence.
They include live webinars, videos, and study materials to help solidify your grasp on successful branding. You also gain access to a basic version of the Jaaxy suite, an advanced keyword research platform designed for affiliate marketing purposes!
Wealthy Affiliate Specifications:
Average Loading Performance: 1300 ms
Average Uptime:9%+
Basic Package (per month): $49 ( There is a free trial package too)
Basic Account Features: 25 websites, Instant DNS, 500K visitors/month, SSL certificate, daily backups, unlimited email accounts, botnet security, marketing mentorship
WordPress Integrated: Yes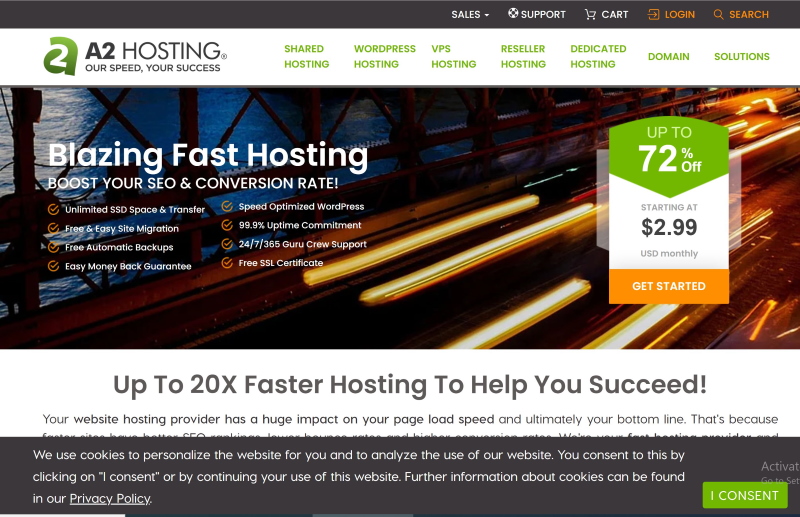 A basic A2 Hosting account offers unlimited bandwidth and promises 99.9% uptime. True to their word, their SSD hosting consistently rates as some of the fastest in the web hosting industry. They test regularly at between 200-250 ms; faster than any other service out there!
A2 Hosting also offers Linux-based Virtual Private Servers (VPS). They allow you to divide a server into smaller sub servers; ideal if you need something similar to shared hosting. You'll also get an SSL certificate for security purposes and your choice of data center location when first setting up your website.
A2 Hosting is also well integrated into the WordPress ecosystem! Just be aware that at their basic tier of service they don't offer the ability to restore a website from backups; you'll need to upgrade to Drive, TurboBoost, or TurboMax for website recovery.
A2 Hosting Specifications:
Average Loading Performance: 222 ms
Average Uptime: 9%
Basic Package (per month): $2.99
Basic Account Features: Lightning-fast SSD hosting, 1 website, unlimited emails, choice of data center location, 24/7 support, SSL certificate, free website account migration, 100 GB SSD storage
WordPress Integrated: Yes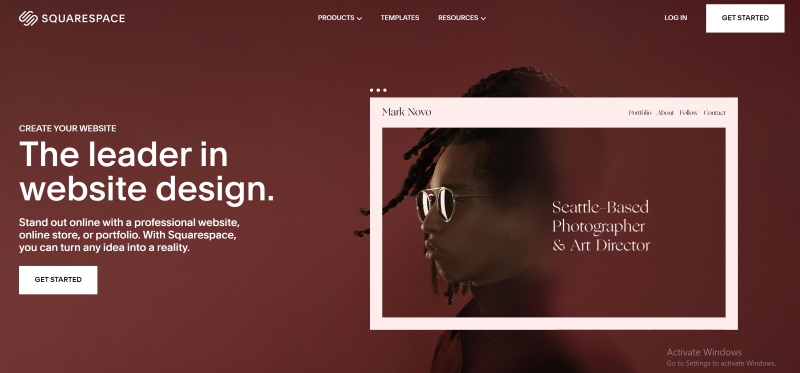 For photographers, storage can be a real issue. Especially if you're looking to backup RAW files for future use and you want to display full resolution JPEGs to customers. Squarespace offers unlimited bandwidth and storage with all tier levels, ensuring you'll never fear running out of space.
Another thing Squarespace offers (in its Business and higher tiers) is a fully integrated market for photographers looking to sell art. You can fulfill orders, maintain inventory, and maintain an organized product catalog all using the Squarespace platform. You can also create gift cards, discounts, and offer subscriptions to your website.
For this extra marketing advantage, you do pay significantly more per month compared to the other web hosting options. But if you're running a one-stop-shop for your photography business, Squarespace is an attractive platform for an e-commerce site! If you're not a fan of the Squarespace model, there are other sites you can use to sell photos, however!
The main downside is that it's definitely on the slower side in terms of average loading performance. At nearly 1 second, Squarespace is not the best web hosting service for photographers that want instant load speeds for clients.
Squarespace Specifications:
Average Loading Performance: 955 ms
Average Uptime: 95%
Basic Package (per month): $16
Basic Account Features: Custom domain, Unlimited bandwidth and storage, SSL certificate, website templates, 24/7 support, co
WordPress Integrated: No
Thanks for reading, I hope you enjoyed the article if you have any questions just post them below & I will be happy to answer you.
The featured Photo  by Carlos Muza on Unsplash
If you enjoy the site, don't forget to subscribe, we will only inform you when a new article is posted.