One of the challenging aspects of macro photography is choosing the right lens. Although there are some techniques that can help you get close to your subject and fill the image with it like using Extension Tubes, Close-Up diopters, and Reverse Lens Technique but using a true macro lens is the best option.
In the following article, I will discuss the probe lens as a very good option for macro photography and videography, and present a review on the amazing probe lens: Venus Optics Laowa 24mm f/14.
But first, let us recall some of the main futures of a true macro lens:
High magnification ratio:
A true macro lens has a magnification of 1x. For most of us, this magnification is going to make a substantial difference in our shots of small items.
This refers to the closest distance you can position your sensor to your subject without creating distortion or blurring in your image.
The lower the aperture number, the wider the shutter opening is, allowing more light into the lens to hit the sensor.
A camera lens with image stabilization (IS) aids you in capturing clear details without blurring resulting from a camera shake.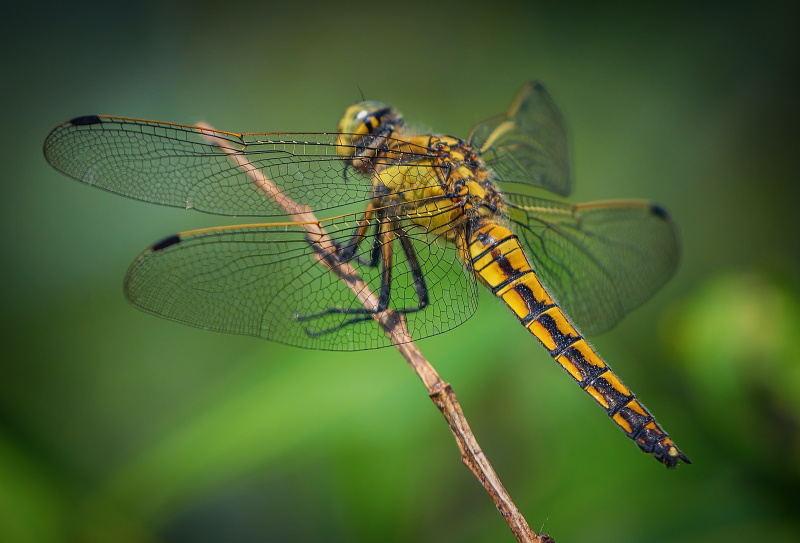 Photo by Pavel Hájek
What is a probe lens?
A probe lens is a macro-style lens capable of capturing footage and photos of very small objects and things in everyday life with an incredibly close focusing distance.
A probe lens has a special shape and wired look, it is an extremely long and skinny lens barrel with small LED lights wrapped around the end of the lens, due to the stopped-down aperture of the lens. It allows you to put the lens in tight, small places that couldn't be reached before.
An example of a probe lens is shown below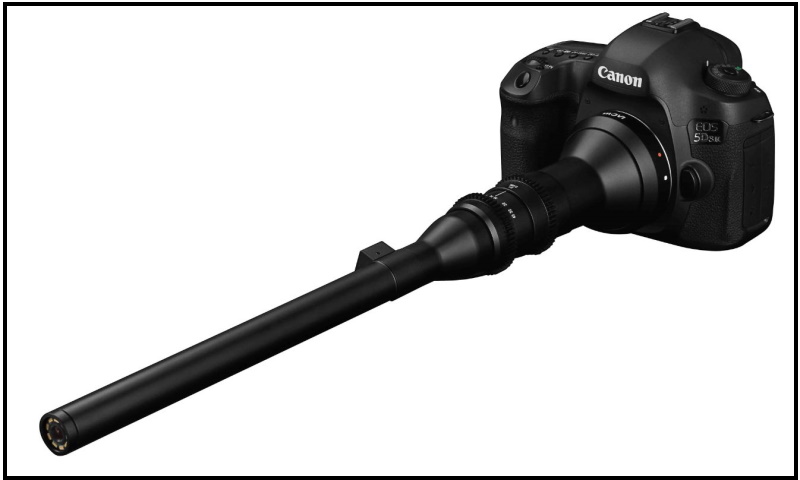 There are fewer manufacturers of probe lenses like the Innovision Optics Probe II and the T-Rex Superscope, but overall, the Laowa is the go-to brand for a probe lens. The only "probe lens" widely available on the market is the Venus Optics Laowa 24mm f/14


This is the world's first consumer-grade probe lens which focuses from 2:1 macro to infinity and with a compelling wide angle 'Bug Eye' perspective. The Laowa 24mm f/14 2X Macro Probe lens allows you to capture perspectives that are simply not possible with other existing lenses. Suitable for both videographers and photographers
Many macro lenses on the market tend to have a long focal length (from 60mm to 120mm) and the subject fills most of the frame, isolating it from the surrounding environment. The Laowa 24mm allows the exceptionally close focus to the subject of 2cm at 2:1 life-size reproduction, showing a great amount of detail and texture.
At the same time, you can enjoy a compelling wide-angle 'Bugs Eye' view (84.1-degree field of view). The fact that it can focus very closely on the subject enables a lot of shooting possibilities.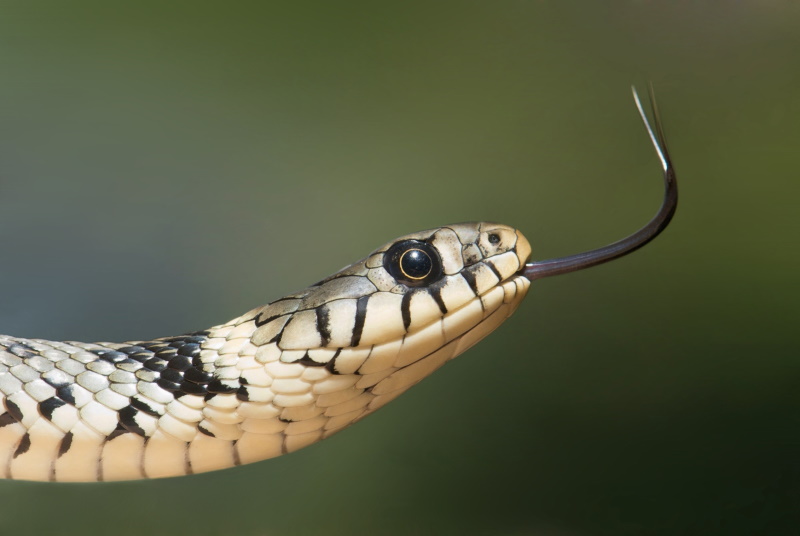 Photo by Pixabay
The front barrel of the lens is waterproof. This enables the front lens to be underwater whilst operating the camera out of the water, for shots in pools, streams, tanks, etc, opening up a wealth of creative possibilities like no other lens. an LED ring light is mounted at the tip of the lens.
The long tubular barrel with a small lens tip enables you to get into tight spaces and minimizes disturbance of the surrounding environment. It also enables you to keep a safer distance when photographing certain animals and provides access to areas that would be inaccessible with a standard macro lens kit. It can cover both standard 35mm full-frame & Super35 image sensors and is super lightweight to carry.
The slim 0.8″ front diameter allows for performing unique "slide-in" shots as well as affords a greater range of close-up, inconspicuous shooting opportunities. The smaller front diameter also makes it easier to illuminate close-up subjects from the front.
This Laowa 24mm F14 2x Macro Probe lens opens up possibilities unattainable with other lenses for not only animals but also product photography and videography. Getting in close to subjects, under, over, and between objects, through tunnels and tubes, underwater, explore creative possibilities and new perspectives.
Various lens mounts are available for Canon EF, Nikon F, Sony FE, Pentax K, Arri PL.  The "Cine-mod" version, with standard gear focus and aperture rings, is specifically designed for videography purposes. Includes variable-output Control cable and rugged aluminum carry case.
The optical design includes two extra-low dispersion elements that control color fringing and chromatic aberrations in order to produce greater clarity and color accuracy. One extra refractive index element is also featured, which reduces spherical aberrations and distortion for improved sharpness and accurate rendering.
Seven-blade diaphragm contributes to a pleasing bokeh quality.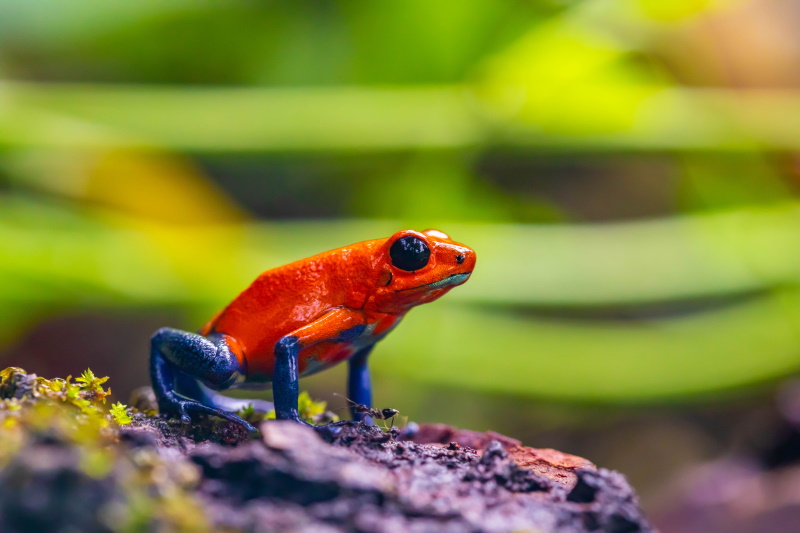 Photo by Diego Madrigal
Specification
Focal Length 24mm
Maximum Aperture f/14
Minimum Aperture f/40
Lens Mount Canon EF
Lens Format Coverage Full-Frame
The angle of View 85°
Minimum Focus Distance 54′ / 47 cm
Maximum Magnification 2x
Macro Reproduction Ratio 2:1
Optical Design 27 Elements in 19 Groups
Diaphragm Blades 7
Focus Type Manual Focus
Image Stabilization No
Filter Size None
Dimensions (ø x L) 5 x 16.06″ / 38 x 408 mm
Weight 1 lb / 474 g
Pros:
The unique design allows shooting in hard-to-reach places
24mm FOV with 2:1 magnification
Waterproof front end
Build quality is very good – smooth iris/focus ring
Lightweight
LED ring light built-in
Cons:
The image quality is okay, not amazing
it is still an expensive lens
A little unwieldy and difficult to take with you on shoots.
Not fully weather-sealed
No Image stabilization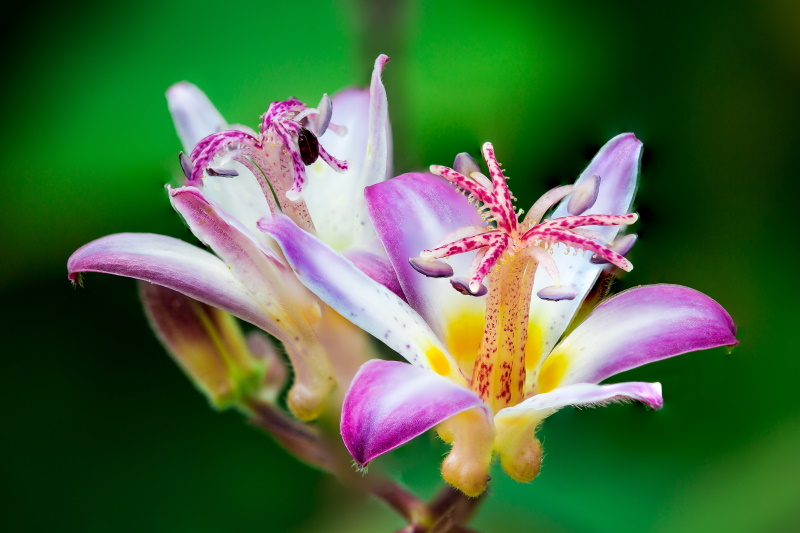 Photo by Thierry Fillieul
Main characteristics
The build quality on the 24mm probe lens is fantastic. The solid metal design is very pleasing and gives a proper premium feel to it. This lens is completely manual and does not have any electronic contacts on the mount. This means there's no autofocus and the aperture can only be controlled from the lens. The aperture ring is de-clicked, making it great for videographers.
The reason why this lens is so long in design is that it allows you to focus close enough to achieve its 2:1 magnification without disturbing the subject. This is double the magnification of most macro lenses available on the market, meaning you can have your subject much larger in the frame.
There are a couple of things I found. First thing is that although this lens does allow you to focus all the way to infinity, at that distance, footage and images look soft. You'll also notice some very heavy vignetting in the Laowa image, and the colors are different too. Sure, this can be corrected with some adjustments in post-processing.
When it comes to video, the color shift is actually very pleasing and gives a more cinematic, warm look to the clips.
This lens shines at very close distances, and that's where you can really get the most out of it. It's simply incredible how close you can get to your subject and still have sharp focus. Images at close distances look very sharp and detailed, and although the colors may need some work, the detail is definitely there.
Conclusion
The Laowa 24mm f/14 Probe Macro lens is a great and unique consumer lens. I agree, that the $1500 price tag is very steep for some, but I am sure some people will love the new and fresh perspective it creates. There are endless amounts of content that could be captured with this lens's perspective. It really shines when it comes to video work. A video needs to grab the viewers' attention and this lens really does help to do that.
Can't afford a brand-new lens?
Sometimes, buying a new Lens can be very expensive for many people. However, Keh is a great option to get a used one at a reasonable price. Read the full review here.

Related posts
Macro Photography Tips And Tricks – Guidelines & Examples
Using Extension Tubes In Macro Photography – Your Full Guide!
An Overview Of Reverse Lens Technique For Macro Photography
Thanks for reading, I hope you enjoyed the article, in case you have any questions just drop them below & I will be happy to answer you.
The featured Photo by Wang Teck Heng
If you enjoy the site, don't forget to subscribe, we will only inform you when a new article is posted.