Sony mirrorless cameras have gained great popularity, a recent survey from Shotkit showed that:
Mirrorless cameras are more popular than DSLR cameras for professional photographers. 63% of professional photographers use a mirrorless camera, while 36% of them use a DSLR camera. Only 1% use both.
The Sony a7III is the most popular camera used by professional photographers. 7% of pros use the Sony a7III mirrorless camera, with the Canon R6 mirrorless camera and Nikon D750 DSLR camera coming in joint 2nd and 3rd.
The Alpha a7III and the Nikon D850 are the most popular cameras used by amateur photographers.
Despite being over 4 years old, the Sony a7 III is still enormously popular among professional photographers. So, in this article, we will list some of the important accessories for Sony cameras especially those that are compatible with Sony a7III.
---
Accessories for Sony Camera- Alpha 7III
Screen Protector 
Most of us prefer to buy a screen protector for our smartphone, the same should be true of anything with an LCD touch screen including getting one for your camera.
For Sony Alpha camera screen protectors, we recommend: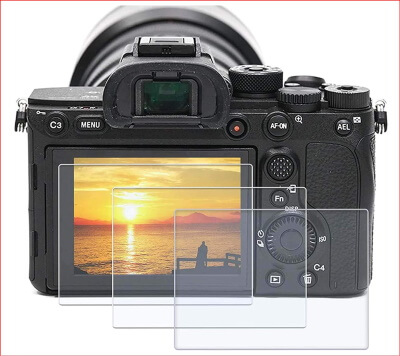 Product highlights
It has full compatibility with touchscreen sensitivity and features maximum protection, Its 9H Premium Tempered Glass prevents the camera screen from high-impact drops, scratches, scrapes, and bumps. It also protects your camera screen from sharp objects such as keys and knives.
99% HD Clarity – The high transparency provides you with high-definition clear viewing. Hydrophobic screen coating protects your a7RIII screen against sweat and oil residue from fingerprints and keeps a high-sensitivity touch response.
High-Density Anti-Fingerprint Layer – QIBOX tempered glass screen protector will protect your device from scratches, dust, water, oil and so on.
---
Camera Strap
While we spend a lot of time choosing our camera, choosing a camera strap is something we all pay no attention to. Despite the fact that we'll be spending as much time with our strap as we will with our camera! I recommend: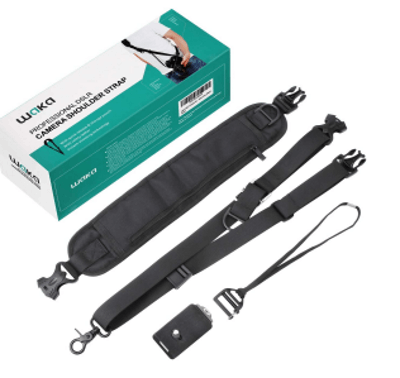 ---
Camera Grip
While the Sony a7 III camera may be the most technologically advanced full-frame camera on the market, it does not have the perfect ergonomics, and feels quite uncomfortable to hold! Especially for photographers who change from Canon DSLR cameras to Sony Mirrorless cameras.
The Sony Grip Extension is a simple way to increase the grip area of the camera body, giving a little extra space on which to rest your lower two fingers. Also, it provides your camera with a vertical-shooting function, it is the best choice for portrait shooting.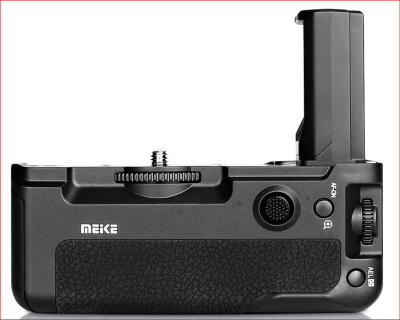 It supports two NP-FZ100 batteries, sold separately. The grip features a vertical shutter release and provides a 1/4″-20 tripod thread on the bottom. Other operating controls include front and rear dials, an AF-ON button, an AE-L button, and a multi-selector.
---
Spare battery & charger
With the new Sony Z battery, you'll be getting over twice as much power as before.
One helpful feature of Sony cameras is being able to charge them via micro-USB. That means you can always take extra juice with you via a portable power pack.
My favourite is the Jackery Bolt 6000. Many people already use it for their iPhones but it works great for Sony cameras as well.
Most Sony cameras come with a dedicated battery charger, but the Sony a7 III does not. If you get annoyed with the rather fiddly micro-USB cable, I highly recommend
The Newmowa Dual USB Charger for Sony Alpha mirrorless cameras.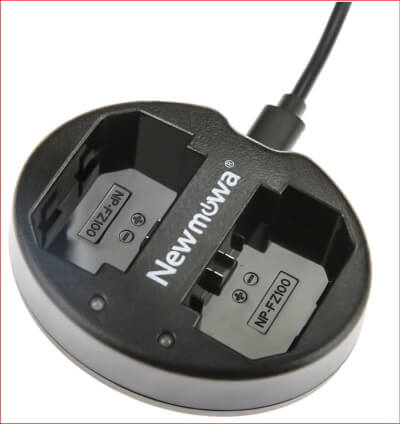 Key Features
The charger can charge a single battery as well as a pair and comes with a Micro USB cable
Can be powered by most standard USB Wall or Auto Charger or a computer
Smart LED light turns to RED when charging and GREEN when completed
---
Memory Cards
The Sony a7III has two slots for memory cards:
Slot 1: SD/SDHC/SDXC (UHS-II)
Slot 2: SD/SDHC/SDXC/Memory Stick Duo Hybrid (UHS-I)
It's best to buy a memory card with the biggest capacity you can afford since it is not advisable to frequently change your memory card because you increase the likelihood it will get corrupted. The larger the capacity of your SD cards, the less you'll be switching them out.
My advice to you is to get the largest capacity you can afford to ensure you never run out of space, and a fast USS-II memory card is highly recommended especially if you shoot 4k.
I recommend the following: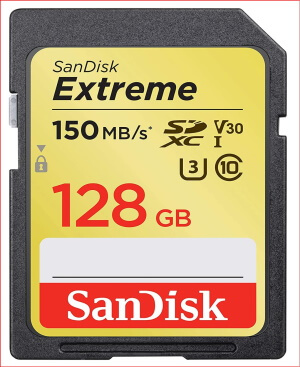 SanDisk 128GB Extreme PRO SDXC UHS-II Memory Card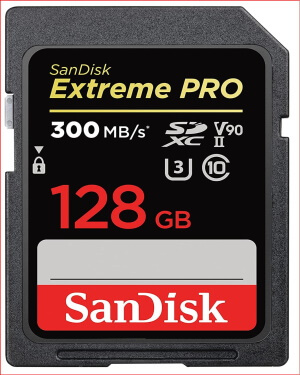 ---
Flash and Modifier
It is likely that you will desire advanced flash features to improve the image quality provided by your Sony A7III, which is why you should absolutely consider some external flashes.
Choosing the right flash for your need involves many factors to consider:
Knowing In what type of photography you are planning to use a flash. For instance, studio photography, portrait, social media, macro
Understanding the jargon and terms used in flash specifications, so you can objectively compare different flash units. Finally, find the best price that suits your budget.
If you are interested in buying a new flash for your camera, my advice to you is to read my article "How To Choose A Camera Flash"
For our Sony camera, I recommend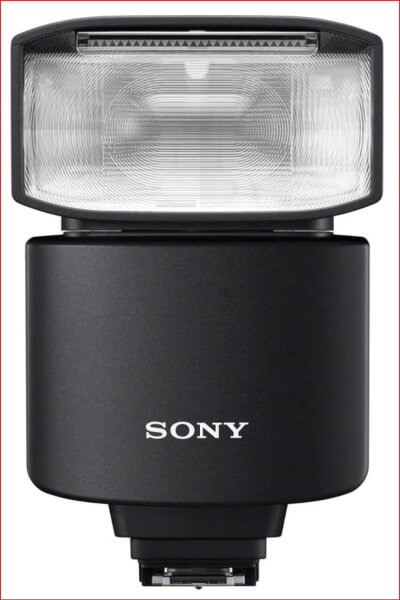 Product highlights
Compatible with Sony ADI / P-TTL
Per-Frame P-TTL Flash Control
On-Camera Flash & Transceiver
Recycle Time: 1.7 Seconds
Flash Control Linked to Face Detection
Up to 60 Consecutive Flashes at 10 fps
Comprehensive Control from Sony Alpha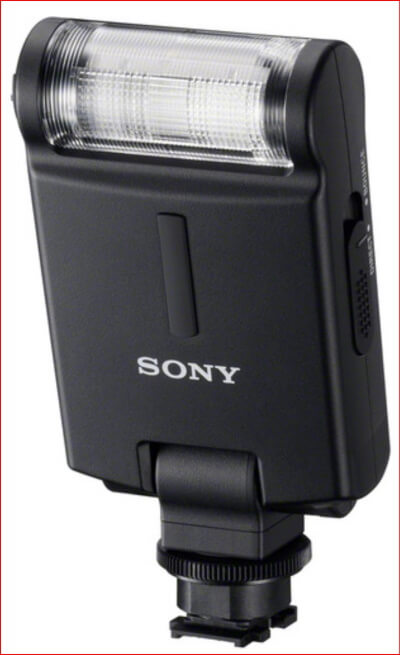 Product highlights
Compatible with Sony ADI / P-TTL
Guide Number: 66′ at ISO 100 and 50mm
Coverage: 27mm & 50mm (Full Frame)
Tilts Upwards 75°
Wireless TTL Controller
Recycle Time: 0.1-5 Seconds
Slow, 1st & 2nd Curtain Sync
Runs on 2 AAA Batteries
Flash modifier
The flash modifier is absolutely essential to sculpting light into the look you're seeking. Let's get to know one of my favourite flash modifiers the Magmod Magsphere!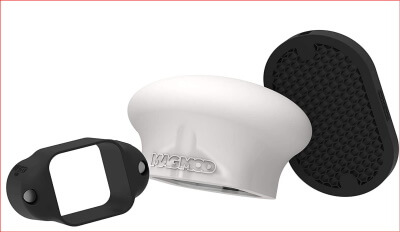 The MagMod Starter Flash Kit 2 includes the two most essential modifiers of the MagMod system. The kit features the MagGrid 2 grid and MagSphere 2 dome. The third item is the MagGrip 2 adapter, which secures over your flash head and provides a magnetic base for easily swapping in the other two modifiers. The adapter is optimized for round-head flashes and is suitable for standard ones as well.
---
Tripods
Photographers' needs and requirements for using tripods can be very different. For example, when a photographer uses a heavy camera and long telephoto lens, he needs a sturdy one that can support the heavy gear. While traveller photography may be interested in a light tripod that can easily accompany him on his travel.
I recommend checking the article "Digital Camera Tripod- How to Choose the Right One" to know how to choose a tripod for our camera.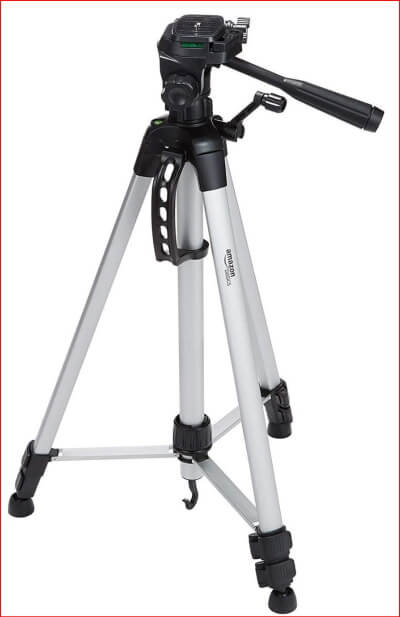 Product Highlights
Amazon Basics lightweight (6.6lbs / 3kg) 60-inch tripod, with max. supported weight: 6.6lbs (3kg)
Legs extend from 50.8 to 121.9cm; maximum height of centre post up to 152.4cm
The legs of the camera stand can be securely locked to the desired height with one simple motion
3-way pan head with bubble level, geared centre post & quick-release mounting plate
With a built-in level above the legs for horizontal alignment & additional level on the top to level the camera
It Comes with a bag for easier storage & transportation
---
Gear bag
One of the most important accessories is the camera bag. It holds your camera and other important accessories like lenses, flash, lens covers, flash modifiers, and so much more. They also act as a form of protection for all your precious gear.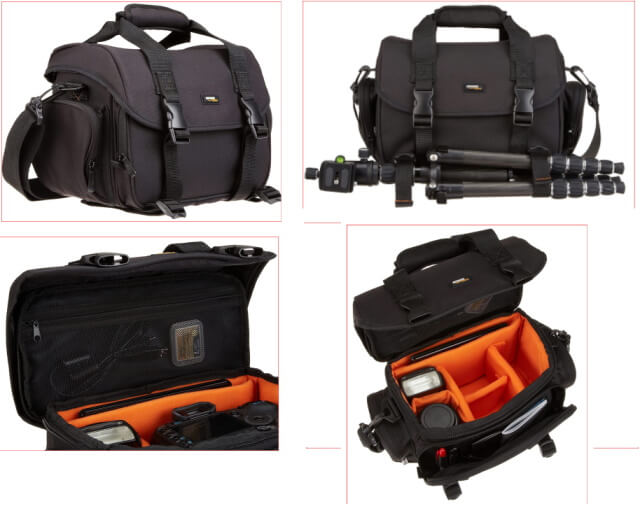 Holds 1 DSLR camera body and up to 3 lenses
External dimensions: 12″ x 7″ x 9″ (LxWxH)
Internal dimensions: 10″ x 5″ x 7″ (LxWxH)
---
Camera Lenses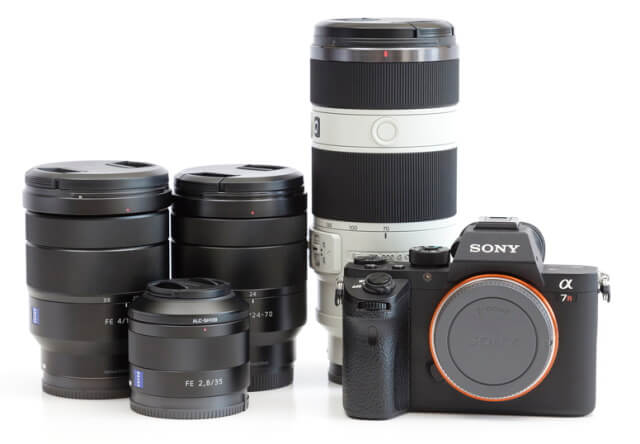 photo is credited to Depositphotos
While camera lenses are hardly considered part of the accessories list because you can't take photos or record videos without a proper lens. Choosing a lens depends on the type of photography you are interested in, for example when you are shooting in a tight space and want to include as much as possible of the scene in your frame, you will go for a wide-angled lens.
We have published a couple of articles dealing with the different kinds of camera lenses that are suitable for use with Sony cameras.
Below is our recommended list of the Best Sony Digital Camera Lenses for full-frame camera body
Sony FE 14mm f/1.8 GM        Price at Amazon
Sony FE 24mm f/1.4 GM      Price at Amazon
Sony FE 12-24mm f/4 G     Price at Amazon
Sony FE 16-35mm f/2.8 GM   Price at Amazon
Sony FE 35mm f/1.8    Price at Amazon
Sony Planar T* FE 50mm f/1.4 ZA     Price at Amazon
Sony FE 85mm f/1.4 GM Lens    Price at Amazon
Sony FE 90mm f/2.8 Macro G OSS   Price at Amazon
Sony FE 24-70mm f/2.8 G Master   Price at Amazon
Sony FE 135mm f/1.8 GM   Price at Amazon
For further reading, you may check my posts "Sony Digital Camera Lenses- The Best Picks", and "Best Sony FE Lenses – My 6 Top Picks!"
In addition to Sony lenses, there are also other very good options, I mean the Sigma lenses
Below is our recommended list of the Best Sigma Lenses for Sony full-frame camera body
For further reading, you may check my post, "Sigma Lens For Sony E Mount- Go For The Affordable Option"
---
Gimbal
To avoid a camera shack when recording video while moving the only solution is to use a proper handheld stabilizer or gimbal. My favourite gimbal stabilizer is :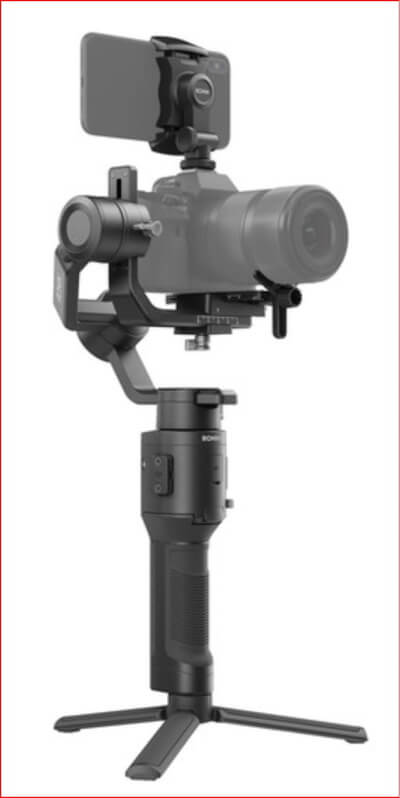 Key Features
Three-Axis Motorized Gimbal Stabilizer
Designed for Mirrorless Cameras
One-Handed Operation, 4.4 lb Max. Load
Force Mobile Smartphone Control
ActiveTrack 3.0 Subject Tracking
360° Panorama & Time-Lapse Control
Battery Grip Lasts up to 11 Hours
USB Type-C & Bluetooth Control
Motor Protection, Quick Release Slider
Control & Configure via Android/iOS App
---
External mic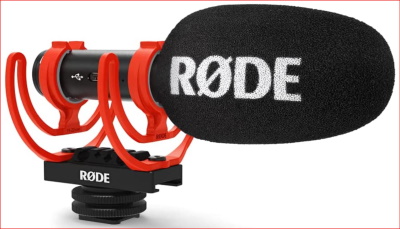 Key Features
Vlogger, Run & Gun, Voiceover, Podcaster
For Cameras, Mobile Devices & Computers
Runs on Plug-In Power or USB Power
Simple Operation with No Controls
5mm TRS Output to Camera or Headphones
USB Type-C Digital Audio Output
Detachable Flat 3.5mm Cable
Works with Rode Connect Software
Windscreen Reduces Wind Noise
Includes Shoe/Pole Shockmount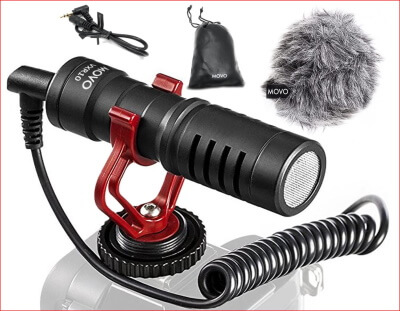 Key Features
Shotgun Mic for Viewable Media
Cardioid Polar Pattern
35 Hz to 18 kHz Frequency Response
No Battery, Powers from Device
5mm Output
Furry Windscreen Included
TRS Cable Included
TRRS Cable Included
Shockmount Included
---
External Camera Screen
Whether your camera has a front-facing (articulating) LCD or not, an external camera screen helps you see a larger live preview with better fidelity and colour calibration.
A large field monitor also helps when checking everything is in sharp focus, particularly when used in conjunction with mirrorless camera focus peaking.
Key Features
1920 x 1080 Touchscreen Display
10-Bit Exterior Viewable Monitor
4K HDMI 2.0 Input/Output
Supports ProRes RAW with Select Cameras
1000 cd/m² Brightness
AtomHDR Mode with 10-Stop Dynamic Range
10-Bit 4:2:2 ProRes & DNxHR Encoding
Records to 2.5″ Mini or Standard SSDs
Supports Multiple Log Formats
Single Sony L-Series Battery Slot
---
Thanks for reading, I hope you enjoyed the article, in case you have any questions just drop them below & I will be happy to answer you.
The featured photo is credited to Depositphotos
If you enjoy the site, don't forget to subscribe, we will only inform you when a new article is posted.