Although a tripod and monopod are camera accessories used to support a camera and reduce camera shake, they are different in some aspects. For example, a tripod has three legs (that's the "tri"), but a monopod has only one leg (that's the "mono"). When it comes to using, the differences became more apparent. Normally tripods are used to support the camera in some photography techniques like a long shutter, time-lapse, and panning, but monopods (because they cannot stand by themselves ) have different usage.
In this article, I will make a quick comparison between the tripod and the monopod, when it is best to use any of them. Early I wrote a couple of articles explaining in detail the tripods; you can check them at the end of the article.
Finally, I will recommend some good monopods that suit most applications and budgets.
What is a Monopod?
Although a monopod may seem less practical than a tripod. You still have to hold it; it is not as stable as a tripod, etc. However, there are definite advantages to using a monopod, and many photographers' kits wouldn't be complete without it.
Monopods collapse into themselves when they're not in use, and they usually come in three or four expanding sections that allow the pieces to collapse for easy storage. You can get monopods of varying heights, and they're an excellent alternative to the heavier tripod. Similar to tripods, they come in two materials:
Aluminum is the typically cheaper but heavier option, but it sports very strong durability. Aluminum monopods can generally withstand normal wear and tear including drops and dings.
Carbon Fiber: A newer option, carbon fiber monopods are much lighter than aluminum ones. They're more susceptible to damage because carbon fiber is more brittle than aluminum, but they are still able to withstand the elements. You will pay a higher price for a carbon fiber monopod.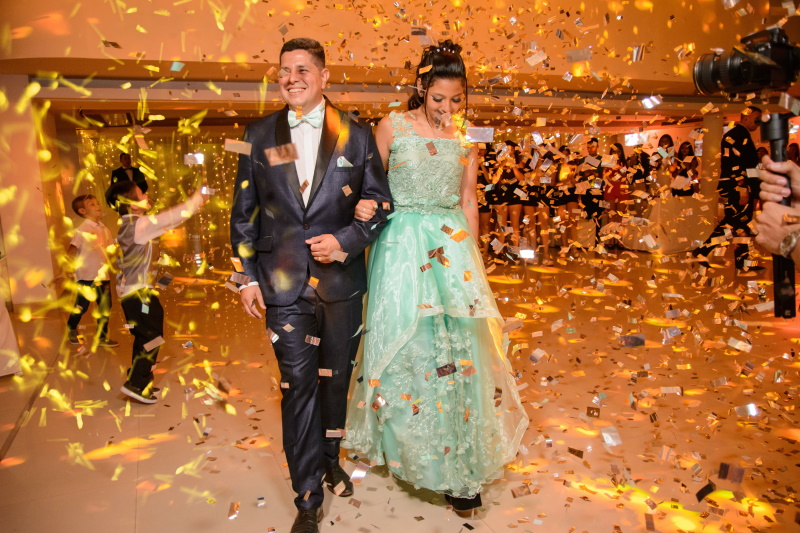 Photo by Fernando Cesar Cordoba
Reasons for Using a Monopod
There are a number of reasons and situations where you would choose a monopod over a tripod. Some of them are:
Weight: One primary benefit of a monopod is to reduce the weight of handholding all your camera gear.
Flexibility: they are much faster to set up and reposition. This means that in any situation where you need some stability but must still retain flexibility, a monopod is a king. For example, one common monopod application is for event shooting, such as a wedding, and particularly for video shooters, when your goal is to cover as much of the event as possible, which typically means quickly setting up your equipment. a monopod can be much faster while still providing good stabilization.
Size: This is particularly useful when you're in tight or restricted areas. Because monopods have a much smaller footprint than tripods, they can be used in tight areas or in large crowds much more effectively than tripods can.
Perspective: If you want a different perspective, it's relatively easy to boost your monopod up over your head with your camera attached without disturbing the people around you.
Legal Reasons: Some sporting arenas and public spaces don't allow tripods to be set up because they can obstruct the natural flow of traffic. Often, these rules do not apply to monopods because of their reduced footprint.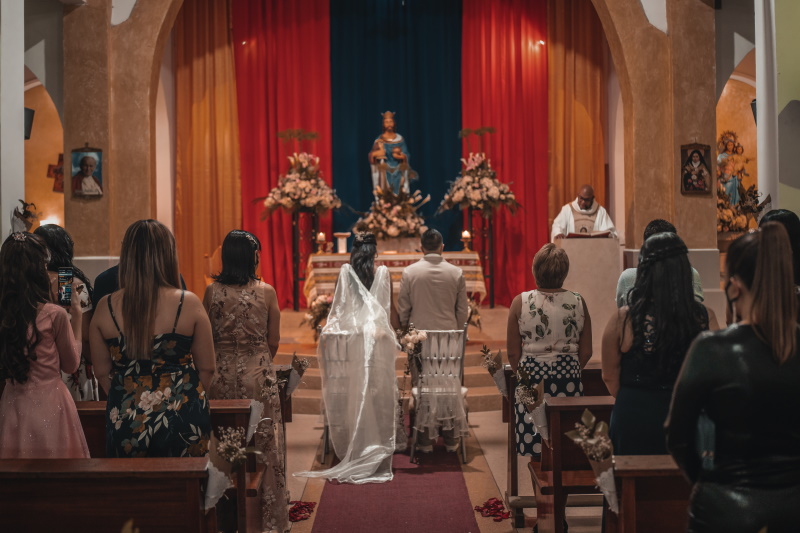 Photo by Cleyder Duque
How to Use a Camera Monopod
Using a camera monopod can greatly enhance your photography experience, providing stability and flexibility while capturing those amazing shots. If you're new to using a monopod, don't worry! I'm here to guide you through the process step by step.
1. Set up your monopod:
Extend the monopod legs to your desired height.
Tighten the leg locks securely to ensure stability.
Attach your camera to the monopod's mounting plate or head.
2. Adjust the monopod height:
Consider the shooting situation and adjust the height accordingly.
For low-angle shots, collapse the monopod or crouch down.
For high-angle shots, extend the monopod or stand on elevated ground.
3. Hold the monopod correctly:
Grasp the monopod grip firmly with your dominant hand.
Keep your other hand on the camera, ready to operate the controls.
Maintain a relaxed stance to minimize camera shake.
4. Find your balance:
Position yourself with your feet shoulder-width apart.
Distribute your weight evenly for stability.
Rest the monopod on the ground at a slight angle to support the weight of your camera.
5. Stabilize your shots:
Lean against a wall or tree for additional support.
Tuck your elbows into your body to minimize movement.
Breathe deeply and exhale slowly while pressing the shutter button to reduce shake.
6. Move with ease:
Unlike a tripod, a monopod offers more mobility.
Rotate the monopod in any direction to track moving subjects.
Walk with the monopod to follow the action and capture dynamic shots.
Remember, practice makes perfect! Experiment with different techniques and angles to discover what works best for you. Using a camera monopod can significantly improve the sharpness and stability of your photos, especially in challenging shooting conditions.
Tripod vs. Monopod
Both tripods and monopods have their advantages and serve different purposes in photography. Tripods offer superior stability and are ideal for still shots, long exposures, and situations where absolute steadiness is crucial. On the other hand, monopods provide greater mobility, making them perfect for action photography, sports events, and situations where you need to move quickly while maintaining stability.
Below is a comparison table highlighting the differences between a tripod and a monopod.
| Feature | Tripod | Monopod |
| --- | --- | --- |
| Stability | Offers excellent stability due to three legs | Provides moderate stability with a single leg |
| Portability | Generally bulkier and heavier to carry | Lightweight and easy to carry around |
| Setup Time | Takes longer to set up and adjust | Quick and easy to set up |
| Flexibility | Provides a fixed position for steady shots | Allows for more freedom of movement and quick adjustments |
| Height Adjustment | Offers adjustable legs for various heights | Adjustable height, but typically limited compared to tripods |
| Mobility | Less mobile due to three legs | Highly mobile, ideal for fast-paced photography |
| Versatility | Suitable for long exposure and precise framing | Ideal for action shots, sports, and traveling |
| Space Requirement | Requires more space for setup and storage | Takes up less space and easy to store |
| Weight Capacity | Can support heavier cameras and lenses | Limited weight capacity compared to tripods |
| Price | Generally more expensive | Usually more affordable |
Recommended Monopods
The following is a list of my recommended monopod, the list is ordered starting with the low-budget one, and ending with two recommended monopods for video shooters.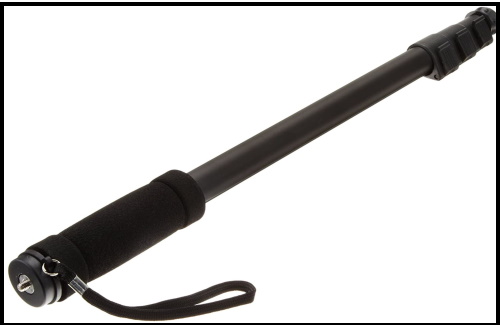 Product Highlights
Supports cameras, and scopes up to 6.6 lbs.
1/4-inch universal thread mount
Four leg sections able to extend 67-inches
Max height 170 Centimeters
Min height 54.5 Centimeters
Non-skid rubber foot and retractable spikes
Includes carrying bag
Built-in cushion grip and adjustable wrist strap
Made of lightweight aluminum weighing less than 1 lb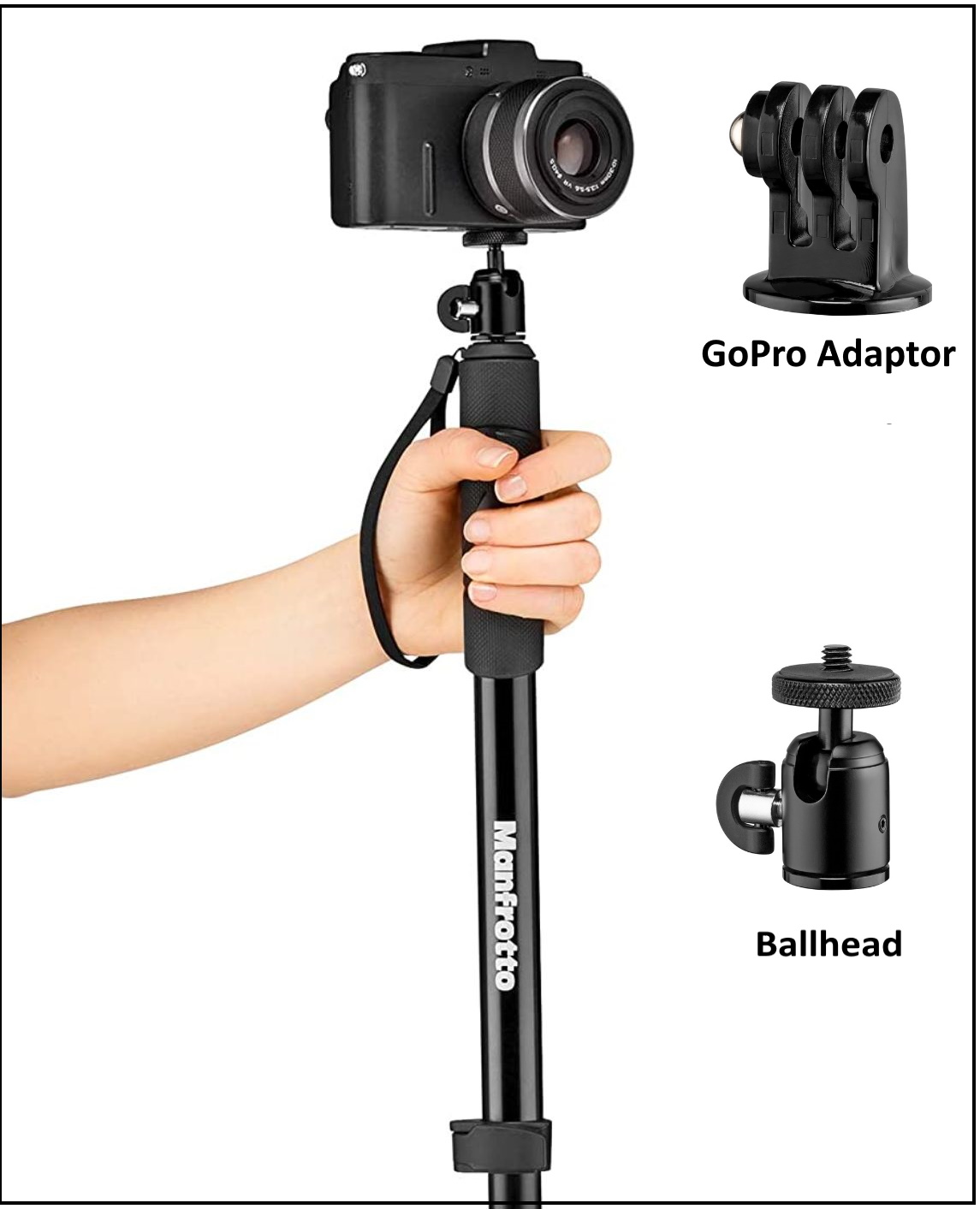 The Compact Extreme 2-in-1 Monopod & Pole from Manfrotto is versatile support designed for your point-and-shoot or action camera. With a dual configuration design, the compact extreme can be used as a handheld pole for getting high or low-action shots as well as self-recordings. It can also be converted to a monopod in order to stabilize your camera in low light or for effect. In order to utilize these functions, the monopod includes two 1/4″-20 threads, one on top, and a removable rubber foot covers the threads on the bottom.
The monopod features an aluminum and technopolymer 4-section design, allowing it to maintain its strength and be lightweight. It can support up to 2.2 lb, folds down to a compact 15.8″, extends to 51.5″, and weighs only 0.7 lb. Included with the monopod are a single action ball head and a proprietary GoPro mount.
Product highlights
Camera Mount Type1/4″-20 Thread
Change configuration fast from the top or bottom
Pole Lock Type Flip
Pole Sections  4
Load Capacity 2.2 lb / 1.0 kg
Pole Length 15.8 to 51.5″ / 40.3 to 131.0 cm
Weight 0.7 lb / 0.3 kg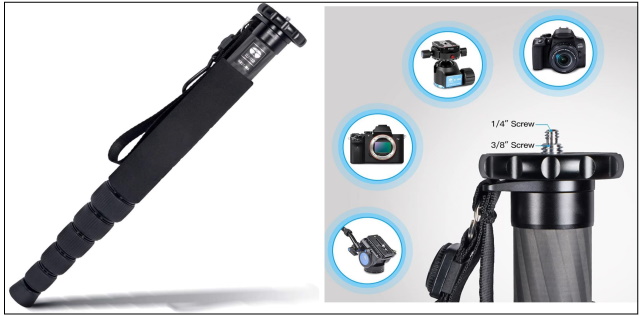 The Sirui P-326 Carbon Fiber Monopod is an extremely lightweight camera support that's ideal for mobile operation with a DSLR, point & shoot camera, or a compact camcorder. For some situations, such as tourist locations where tripod use is prohibited, a monopod is a perfect way to fly under the radar but still ensure steady shots.
Composed of 8x carbon fiber, the six-section P-326 weighs just 0.9 lb and folds down to 15.6″, so the monopod is an ideal travel companion – compact, very lightweight, and ready to be set up quickly & easily. Extremely sturdy, the monopod supports loads up to 22 lb. via twist locks; its five leg stages extend to a generous working height of 61.4″, for comfortable eye-level operation for most users.
The Reversible 1/4″-20 & 3/8″-16 screw-on the mounting plate enables the attachment of virtually any camera, camcorder, or head
The Durable silicone twist locks enable the fast leg-stage extension and prevent inadvertent collapse
It has a Foam grip for comfortable, secure operation and mitigation of extremely cold temperatures, and a wrist strap for security in case the operator's grip slips
Product highlights
Camera Mounting Screw 1/4″-20 Male, 3/8″-16 Male
Leg Lock Type Twist Lock
Leg Sections 6
Leg Diameter 1.26″ / 32 mm (Maximum)
Monopod Foot Features Retractable, Spiked
Load Capacity 22 lb / 10 kg
Maximum Working Height 61.4″ / 156 cm
Closed Length 15.6″ / 39.5 cm
Materials Carbon Fiber
Weight 0.9 lb / 0.4 kg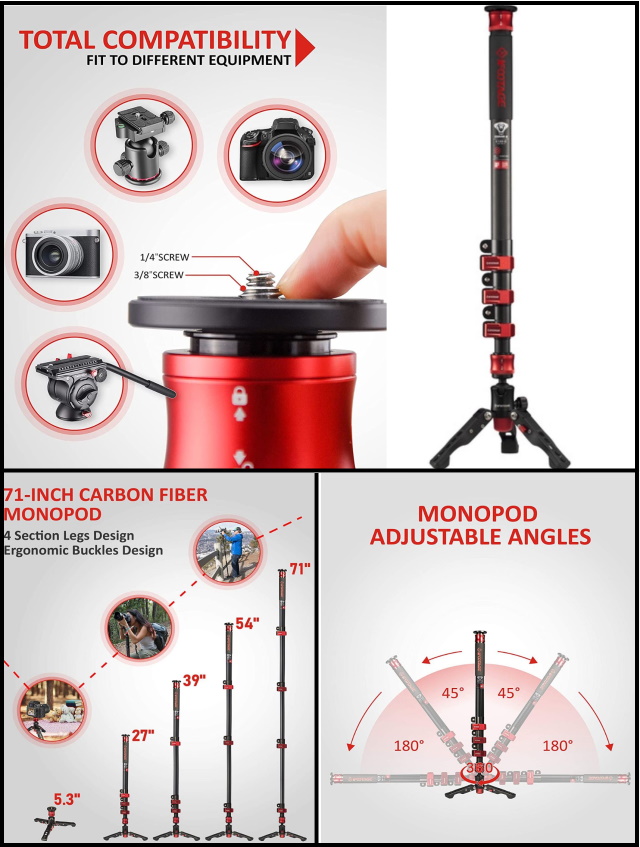 The versatile 2.8 lb Cobra 2 C180-II Carbon Fiber Monopod with Low-Profile Tripod from iFootage stabilizes your camera to produce still images, or it swivels smoothly to capture video. By disengaging its flip leg locks, you can extend the 4-section monopod, which has a load capacity of 22.1 lb, from a folded length of 27.8″ to a maximum height of 70.9″. At the bottom, the base folds out to three feet with a swiveling base that has tension control with a lock, and it allows you to follow a subject easily while capturing video. With the feet folded up, a rubber foot is exposed, so the monopod can be used in a conventional way without the swiveling base. The base is also removable, and it converts into a mini tripod that can be used for macro or tabletop photography.
Product highlights
Camera Mounting Screw 1/4″-20 Male, 3/8″-16 Male
Leg Lock Type Twist Lock
Leg Sections 6
Leg Diameter 1.26″ / 32 mm (Maximum)
Monopod Foot Features Retractable, Spiked
Load Capacity 22 lb / 10 kg
Maximum Working Height 61.4″ / 156 cm
Closed Length 15.6″ / 39.5 cm
Materials Carbon Fiber
Weight 0.9 lb / 0.4 kg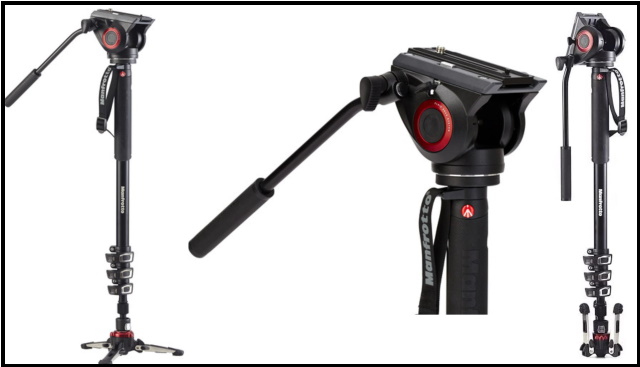 The MVMXPRO500US XPRO Monopod from Manfrotto is a 4-section aluminum video support equipped with Manfrotto's FLUIDTECH base and a 500-series fluid tilt head.
A versatile kit for nearly any videographer or filmmaker, the MVMXPRO500US can often travel places tripods cannot, providing additional stability and supporting heavy equipment when required. The 4-section design, paired with aluminum construction, results in an easy-to-transport setup weighing just 4.6 lb. With a maximum height of 79.9″ and a minimum height of just 30.7″, the MVMXPRO500US can be adjusted to suit users of varying heights and for various different tasks.
The integrated FLUIDTECH base utilizes a "3D" fluid cartridge which facilitates smooth pans and tilts from a single connection point. The cartridge may be locked vertically to isolate movement to only the 360° panning axis, allowing for smooth, level, uninterrupted rotation. While engaging the vertical lock may allow the monopod to stand, it does not support a free-standing function and should not be left unattended when not in use.
Product highlights
Head Type Fluid Head
Leg
Leg Lock Type Flip Lock
Leg Sections 4
Load Capacity 6 lb / 8 kg
Maximum Working Height 9″ / 203 cm
Closed Length 7″ / 78 cm
Materials Aluminum Alloy
Weight 6 lb / 2.1 kg
Conclusion
Monopods and tripods have a similar purpose, but with vastly different features. Tripods are more stable, while monopods are more mobile.
Tripods are ideal for long-exposure photography and macro work. Monopods are great for steadying long lenses while on the move in sports photography.
When choosing a monopod, it is very important that you make sure that it can support your camera weight, and has the appropriate height for you.
Related Posts
Digital Camera Tripod- How To Choose The Right One
3 Legs Good – Top Rated Tripods For DSLR Cameras
Best Tripods In 2021 – Top 5 For Sharper Photos!
Thanks for reading, I hope you enjoyed the article, in case you have any questions just drop them below & I will be happy to answer you.
If you enjoy the site, don't forget to subscribe, we will only inform you when a new article is posted.