Action photography can be challenging when you're using an inexpensive, entry-level camera. These cameras tend to have slower burst rates, no stabilization, and other features that come in handy when shooting sports, motocross, and other high-speed events. Fortunately, there are a few cameras that have the durability and speed required! Consider this list of the best digital cameras for action shots in 2021!
The 5 Best Digital Cameras for Action Shots
1) Sony A9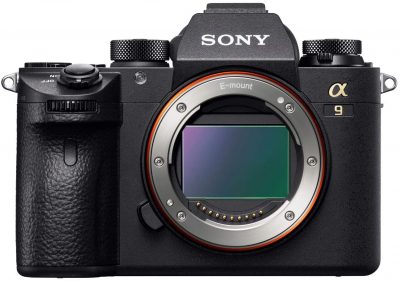 When it comes to sports and action photography Sony A9 series are the cameras to beat. Full-frame cameras typically lag behind crop sensors in frames per second because they have so much data to process. But the A9 uses a stacked CMOS sensor architecture that speeds up its processing while still providing the results you'd expect from a 24-megapixel sensor. It also uses Sony's BSI (backside sensor illumination), increasing its sensitivity in low light even further.
693 phase-detection autofocus points reliably track subjects across the frame, making this a mirrorless camera that truly competes with the best sports DSLRs on the market. And despite having such an incredibly large, light-sensitive sensor the A9 only weighs 673 grams, on par with any other crop sensor in the market today!
There is also a Sony A9 II but, the updates are pretty incremental. The A9 II has slightly improved battery life and dynamic range but is almost identical to its predecessor, making the original A9 a better purchase.
Check out the best Sony digital cameras from here.
2) Olympus OM-D E-M1 Mark III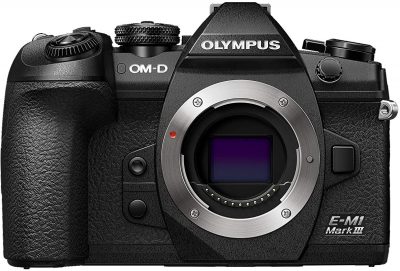 Micro 4/3rds is an excellent system for photographers who value speed, image quality, and smaller cameras and lenses. And the Olympus OM-D E-M1 Mark III is the latest generation flagship model, using a moderate resolution 20 MP sensor that's 5-axis stabilized in a rugged, weather-sealed body! This last feature is especially important; Olympus is the only camera company that actually rates their cameras for the weather; in this case, the E-M1 III has IPX1 level sealing.
A key advantage of the smaller Micro 4/3rds sensor is that it processes faster since it has less data to work with compared to a larger sensor. Assuming the plane of focus isn't changing (or you're good at manual focusing) you can achieve 60 frames per second rate that's faster than just about anything else on the market! When using autofocus the frames per second rate slows to 10 fps when using the mechanical shutter and 18 fps when using the electronic shutter.
And if you shoot action or sports video the E-M1 III offers DCI 4K at 24p and UHD 4K at 30p along with Log footage and a collection of stabilized lenses that work in harmony with the sensor stabilization of the camera!
Read more about full frame vs crop sensor cameras.
3) Panasonic Lumix G9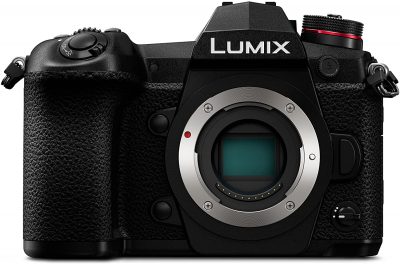 Panasonic's flagship Micro 4/3rds camera is the Lumix G9. While slightly heavier than its Olympus counterpart (658 grams vs 580 grams) it offers a substantial grip for photographers that prefer that. The maximum mechanical shutter speed is slightly slower than the E-M1 III (9 fps) but faster when using the electronic shutter (20 fps).
And as a high-end action camera, the Lumix G9 is weather-sealed, preventing dust and moisture from penetrating the outdoors. It also includes in-body image stabilization, preventing motion blur from robbing your images of sharpness.
Panasonic has stuck to its proprietary Depth From Defocus technology, which uses a contrast detection-based sensor to track subjects. Coupled with 225 selectable autofocus points, the G9 can easily track birds in flight and players on a distant field.
Olympus and Panasonic are the main players in the Micro 4/3rds arena. And since they share a lens mount, you can use the excellent lenses from either company on their cameras! Just be aware that certain features, such as the Depth From Defocus autofocus of the G9, may not work properly using Olympus lenses.
4) Nikon Z6 II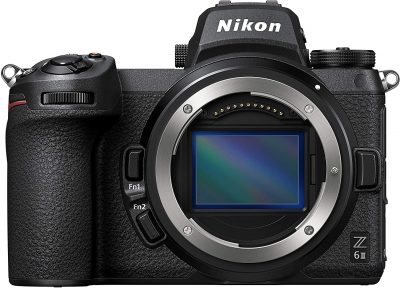 Nikon's mirrorless cameras are improving with each new release. And of the entire lineup, the Nikon Z6 II is their best digital camera for action shots by a slim margin. Because the Z7 II is also an extremely attractive option thanks to its 45.6-megapixel sensor, which is great for large prints and cropping in on the action.
But the faster burst rate of the Z6 II (14 fps vs 10 fps) gives it an edge in situations where you want as many frames of the action as possible. Both are a far cry from the 20 fps of the Sony A9 but they are also much more competitively priced relative to that camera.
The Z6 II also uses a BSI sensor stabilized in-body to prevent motion blur from spoiling your action shots. And while the Z lineup of lenses is fairly small for now you can use the Nikon FTZ Adapter to open up hundreds of Nikon DSLR lenses to the camera. Add a weather-sealed magnesium chassis and you're set for any fast-paced event!
5) Fujifilm X-T4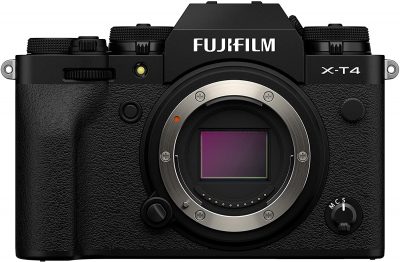 If you're split between Micro 4/3rds and full-frame then APS-C might be just right for your needs. APS-C cameras tend to be beginner-level models like the Nikon D3500. But Fujifilm makes an entire professional lineup of APS-C cameras and lenses that fit this gap perfectly.
As a sports camera, the X-T4 has a lot to offer, including a stabilized 26.1-megapixel X-trans sensor. Keep in mind that X-trans files don't always work well in Lightroom and other software when it comes to sharpening; you'll have to take extra steps to extract all of the detail from the RAW files. But most photographers who use the system feel it's a small price to pay for the color science found in their Film Simulations, vintage exposure control dials, and premium build quality.
The X-T4 also uses a dampened shutter that's not only quieter than the previous models but faster as well, allowing it to fire at up to 15 fps in mechanical mode and 20 fps using the electronic shutter. Its combination of speed, size, and image quality make it one of the best digital cameras for action shots!
Read about the best accessories for Fujifilm.

Thanks for reading, I hope you enjoyed the article, in case you have any questions just drop them below & I will be happy to answer you.
If you enjoy the site, don't forget to subscribe, we will only inform you when a new article is posted.